Welcome to the Dyson Newsroom Archive.
The latest Demo Store in Piazza Gae Aulenti, Milan becomes the sixth Dyson store in the country. Home to a dedicated beauty salon, the 180-metre space allows shoppers to get to grips with the full range of Dyson products as well as access to a personalised styling service.
Taking on traditional, inflexible and heavy vacuums, Dyson has unveiled two new solutions to ease cleaning frustrations. Introducing the Dyson Omni-glide™ and Dyson Digital Slim™ cord-free vacuums.

Dyson Global Education Manager Amy Johnson shares her top five summer styles and how to achieve them using Dyson personal care technology. 


Four previous winners of the award talk about their inventions, goals and advice for future engineering enthusiasts helping to #ShapeTheWorld
Lockdown restrictions have resulted in a surge of indoor activity, impacting the quality of the air we breathe at home.


Dyson Global Styling Ambassador, Jen Atkin shares her insights on how increased time in lockdown has impacted summer hair trends.
After sifting through the entries on social media, here's our top five homemade engineering projects.

Dyson announces global project using wearable air monitoring technology to investigate air quality changes in cities during and after the COVID-19 lockdown period.
See how the Dyson team, from nearly every function, came together to help combat the COVID-19 crisis.

Dyson has spent years studyihng just what's in your carpet and floors, find out why.

Learn from a Dyson engineer how to choose the right machine and get the most out of it.

Research by the World Health Organisation found that we spend approximately 90% of our time indoor. ¹
Watch Dyson ambassadors Jen Atkin, Matt Collins and Larry King as they reveal their top tips for styling hair at home.

The new Dyson Pure Humidify+Cool™ machine is engineered to purify and humidify your whole room all year round.

Dyson announces the appointment of Roland Krueger as its new CEO.
First established in peacetime and built on farmland the airfield opened as an RAF Flying Training Station on 6th June 1937.

With schools closed and limited opportunities for outdoor activities, learning at home has become a challenge for parents all around the world. Helping combat the boredom, the James Dyson Foundation has 44 of the best science and engineering tasks to keep the mind ticking over during the isolation period.

We are looking for inventors solving big problems.
This year there will be two winners – not one.
Watch James Dyson and Dyson Ambassador Jen Atkin unveil the new Dyson Corrale™ straightener at its global launch event in Paris.
Check out the top photos from the livestream launch event for the new Dyson Corrale™ straightener.

The Dyson Corrale™ straightener uses patented Dyson flexing plates that shape to gather hair, causing half the damage1, delivering enhanced styling, whilst also being cord-free.

Get an inside look at the technology inside the new Dyson Corrale™ straightener, including the flexing plates, designed to reduce heat damage when styling your hair.

Everything you need to do know to get volume and movement with the Dyson Corrale™ straightener.

Learn how to achieve a straight and sleek look with the Dyson Corrale™ straightener.

Here's how to get a straight and smooth style with the Dyson Corrale™ straightener.

At their best so-called functional tones should be the subtle sonic signposts that guide us through our increasingly tech-driven lives. But at their worst they are just more irritating noise pollution. One Dyson engineer asks: "Is it time to redesign beeps?"

Anthony Turner takes you backstage with Dyson to find out the inspiration behind the looks and how the Dyson Supersonic brought the looks to life.

Hear from James Pecis, Bob Recine, Jawara, and Jon Reyman on how the Dyson Supersonic brings looks to life during Fashion Week.

Dyson goes backstage at New York Fashion Week to ask models and stylists what hair means to them.

This study equipped school age children with the technology, in their backpacks, to map out London's air quality.


In conjunction with the ACT Education Directorate, 400 purifiers will be donated to 88 schools.

New Dyson light tracks natural day light and intelligently transforms for different uses – providing the right light at the right time, precisely where it is needed.

Dyson Shanghai Technology Lab launches Dyson Link Mini Program to provide owners a supplementary platform to elevate their Dyson experience.

Dyson On: Dyson Year in Review: 2019
Dyson's technology ambitions and global growth did not slow down in 2019.  The year saw massive innovation and development in Dyson's technology, spaces and among its people, as it seeks to inspire the next generation of engineers. Here are some of the highlights.

A London blow-dry engineered to give healthier looking hair.
Dyson officially opens the doors to its new Beauty Lab, which is situated above the Dyson Demo Store on Oxford Street, London.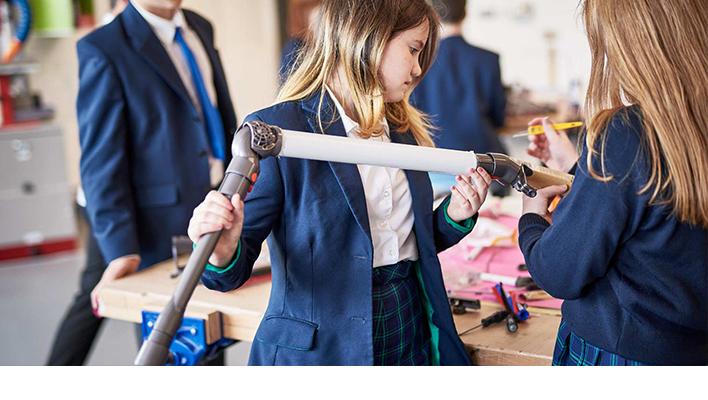 Dyson On: Addressing the skills shortage
The James Dyson Foundation (JDF) has been working with schools in Bath in an effort to transform the way that Design and Technology (D&T) is taught and to address the subject's decline.

Marine bioplastics nets UK National James Dyson Award 2019
University of Sussex students invents award-winning plastic alternative made of organic marine waste.

JDA International Winner 2019
James Dyson has chosen MarinaTex as the International Winner of the James Dyson Award 2019. Thank you to all of our brilliant entrants for making the judging so difficult. We'll be back in 2020!

The James Dyson Award international top 20 shortlist is made up of inventions that have the potential to transform the way we live and address global environmental challenges.

Dyson launches the Airblade 9kJ hand dryer
With a completely unique design and cutting-edge technology, the Dyson Airblade 9kJ hand dryer enables people to dry their hands quickly and hygienically, while using low energy and offering an alternative to single-use paper towels.

The Dyson Airblade 9kJ hand dryer has been in development for more than three years, with more than 700 prototypes made.