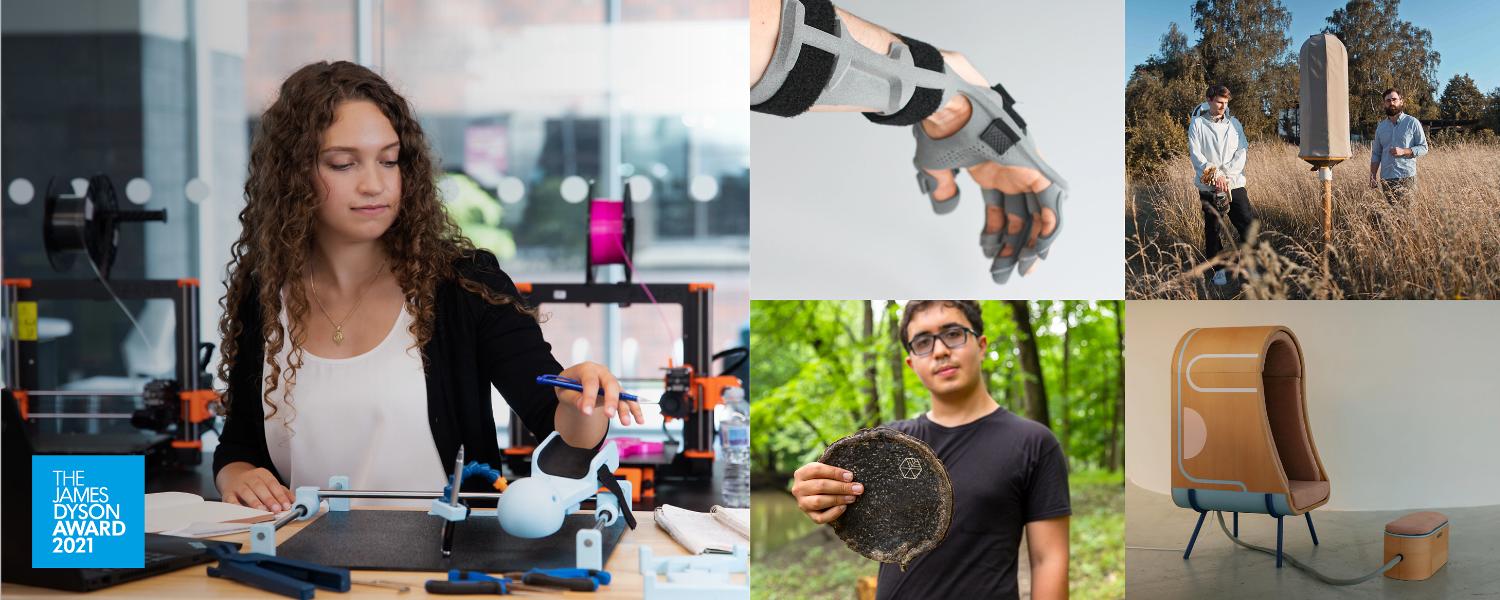 Dyson engineers select the James Dyson Award Global Top 20 finalists.
Invention never stops.
Students around the world continue to prove that invention never stops and that they have the capability to solve the world's most difficult problems. 2021 is another record-breaking year for the Award receiving the highest number of entries ever, with over 2,000 projects submitted to take part in the competition. The Top 20 inventions are designed to solve global issues head-on with unique solutions. Whether that is a scanner to determine types of plastics, an assistive drawing device or new male contraceptive, these solutions have global resonance. Many of these ideas have been developed over the past two years in a global pandemic. Collaborating with teammates virtually and making the most of at-home resources whilst laboratories were closed.
The Top 20 shortlist.
15 Dyson engineers and designers have reviewed the 83 national finalists to curate this year's global Top 20 shortlist of inventions. We asked them to share their thoughts on the line-up.
"I believe the James Dyson Award is an extremely effective way of encouraging young engineers to focus hard on their ideas and move the designs forward quickly. The Award provides a fertile starting ground for innovation to take root and get the support and recognition that teams and individuals need to succeed."

 

 - John McGarva, Global Head of Design Engineering at Dyson and Top 20 judge.
The panel analysed, debated and reviewed all the national finalists, coming together virtually to whittle down the final shortlist.
ArchGuard uniquely offers complete cerebral protection during transcatheter aortic valve replacement (TAVR) procedures.

An ultrasound-based, reversible and hormone-free male contraceptive device for home use that temporarily modifies spermatogenesis.

An electronic tool that makes traditional art equipment accessible. It can be attached to a wheelchair, drawing on the floor as the person moves their chair. 

A handheld device that allows visually impaired users to experience football matches via touch.

A mechanical assistive device that enables anyone living with limited hand mobility to write, paint, draw and use a touch-screen device.

HIIVE enables beekeepers to keep bees in a natural environment, by supporting the behaviour of the Apis Mellifera. 

A wearable biomedical device for pain-free, low cost, at-home intraocular pressure (IOP) testing. 

A sustainable sanitation solution leveraging upcycled waste and reduces use of freshwater.

ManiFlex offers a new functional and integrated orthosis with the unique properties of TPU.

Colour changing material to identify how much pressure is applied, for use across medical and athletic purposes.

A two-component sealant that serves as the base ingredient for aircraft fuel tank sealant production.

The low-cost, handheld Plastic Scanner tells you on the spot what type of plastic a product is made of, to improve recycling processes.

A petroleum-free wood-like material sustainably produced with waste from the kombucha industry.

The REACT system uses a rapid, inflatable Tamponade device that is inserted into a stab wound. The automated inflation provides internal pressure direct to the bleeding site, controlling bleeding faster than current methods.

In contrast to conventional wheelchair models, people with limited arm and hand function can control S'werve by shifting their weight and operate it with one hand.

Zerogap helps people with paralyzed lower limbs shorten the distance between the wheelchair and the toilet. 
"What impressed me the most about the Top 20 shortlist was that many entries originated from a very human origin – empathy. Inventions were inspired by the suffering of others, be it limitations in mobility, visual impairment, barriers in communication and so on. Addressing these issues shows that young people care and want to bring a genuine difference to those that are less fortunate."

 

 - Eilenne Loh, Floorcare Design Engineer at Dyson and Top 20 judge.
What makes an entry Top 20 worthy?
Lead Technology Scout, Kay Yeong, says: "The invention needs to solve a real challenge with a well-researched and elegant design. The entrants need to demonstrate that they really understand what the problem is, engaged with experts and end-users, and try as much as they can to test and improve their solutions."

 

 

"A thoroughly considered design is key, with evidence of a deep iterative process, and an openness around failure – the lessons learnt and improvements made. Great inventions take time to flesh out, and failures are necessary to refine the design." Alex Davison, Undergraduate Engineer at the Dyson Institute of Engineering and Technology.
Stay tuned for 17 November 2021 when Sir James Dyson will announce the global winners of the James Dyson Award.
Read more about 2020's International winners here.