Tatler Beauty Awards Winner
---
Dyson Airwrap - winner of 'The Gadget' in the New Beauty Category
In the box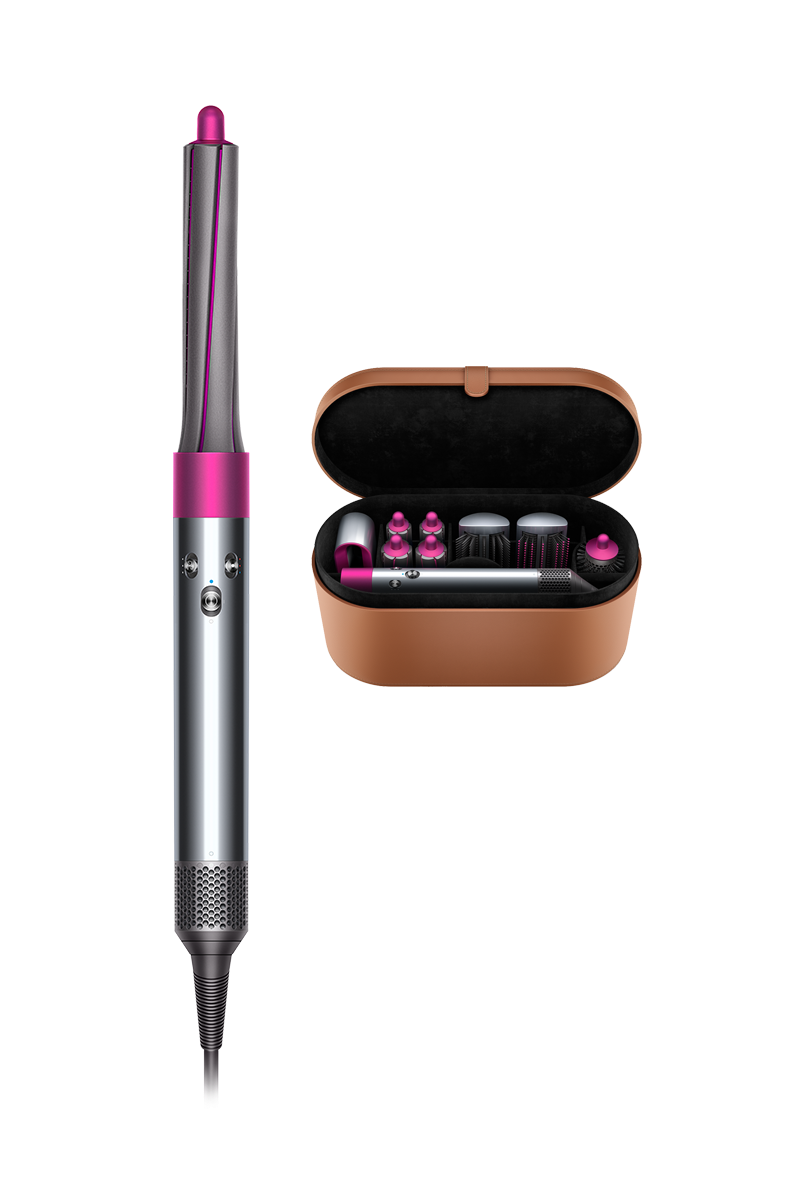 Dyson Airwrapᵀᴹ Complete Long
30mm Airwrap™ long barrels

40mm Airwrap™ long barrels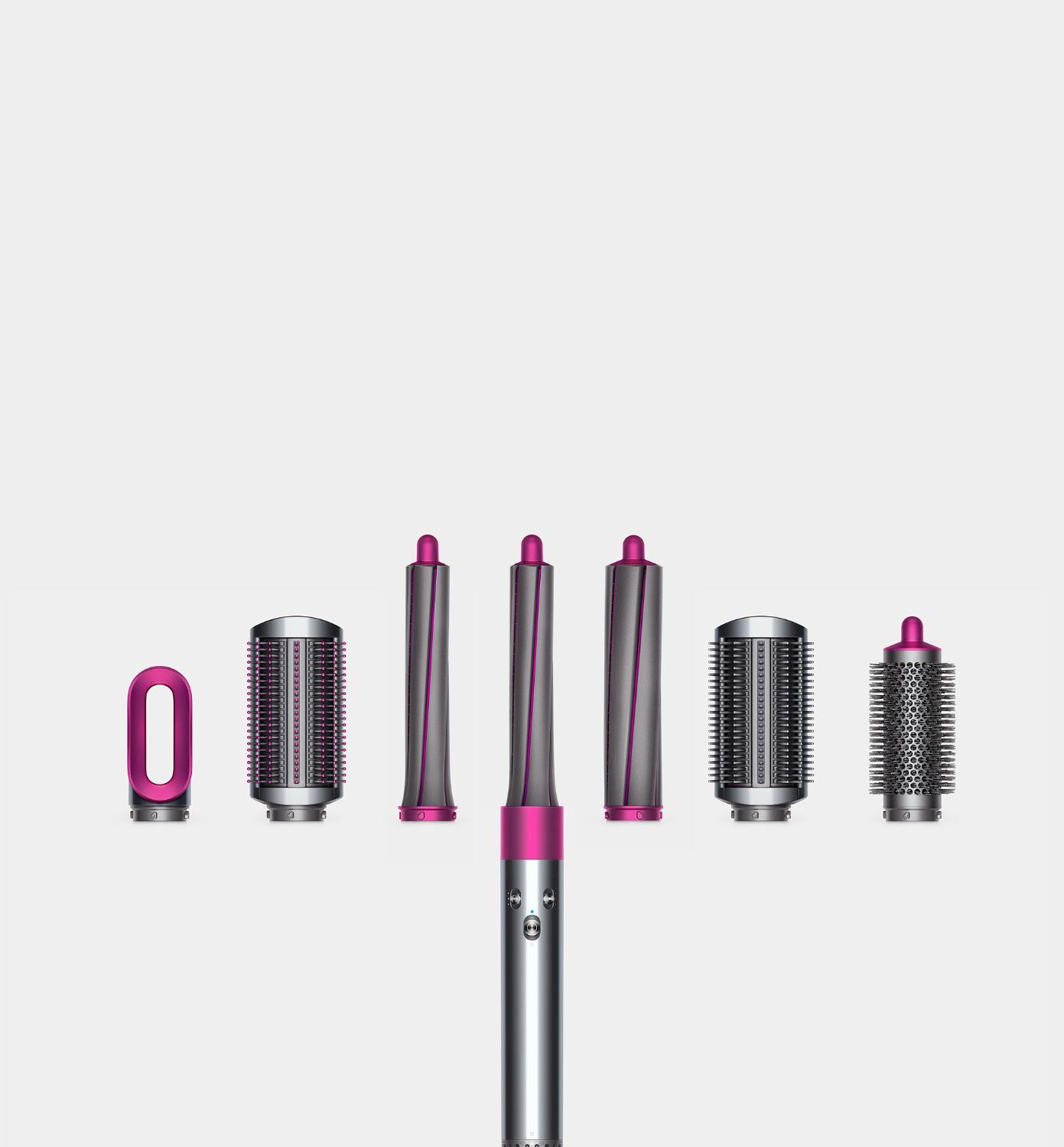 Attachments engineered to curl, wave, smooth or control
30mm Airwrap™ long barrels
Create and set voluminous curls or waves. For longer hair. 
40mm Airwrap™ long barrels
Create and set loose curls or waves. For longer hair. 

Firm smoothing brush
Creates a straighter style with less frizz and fewer flyaways.¹ With firm bristles engineered to control unruly, frizz-prone hair.

Soft smoothing brush
Creates a smooth, straighter style. With soft, ball-tip bristles engineered to be gentle on the scalp. 

Round volumising brush
Directs air into the hair to give body, and the bristles create tension to shape the hair as it dries.

Pre-styling dryer
Takes hair from wet to damp, ready for styling.

Powered by the Dyson digital motor V9
Its 13-blade impeller spins at up to 110,000rpm, generating 3.2kPa of pressure - enough to create the Coanda effect.

No extreme heat
Intelligent heat control measures airflow temperature over 40 times a second and regulates heat, to ensure it always stays below 150°C.

Attracts and wraps hair, using air
The Coanda effect attracts hair to the barrel, then wraps it for you. No clamping, gloves or awkward winding mechanisms. Just voluminous curls and waves.

Styles and dries simultaneously
The Dyson Airwrap™ styler combines powerful airflow with controlled heat, to dry and style your hair from damp – with no extreme heat.

Coanda to smooth
The smoothing brushes harness the Coanda effect to attract hair to the surface of the brush, propelling air along the strands for a smooth, straighter style.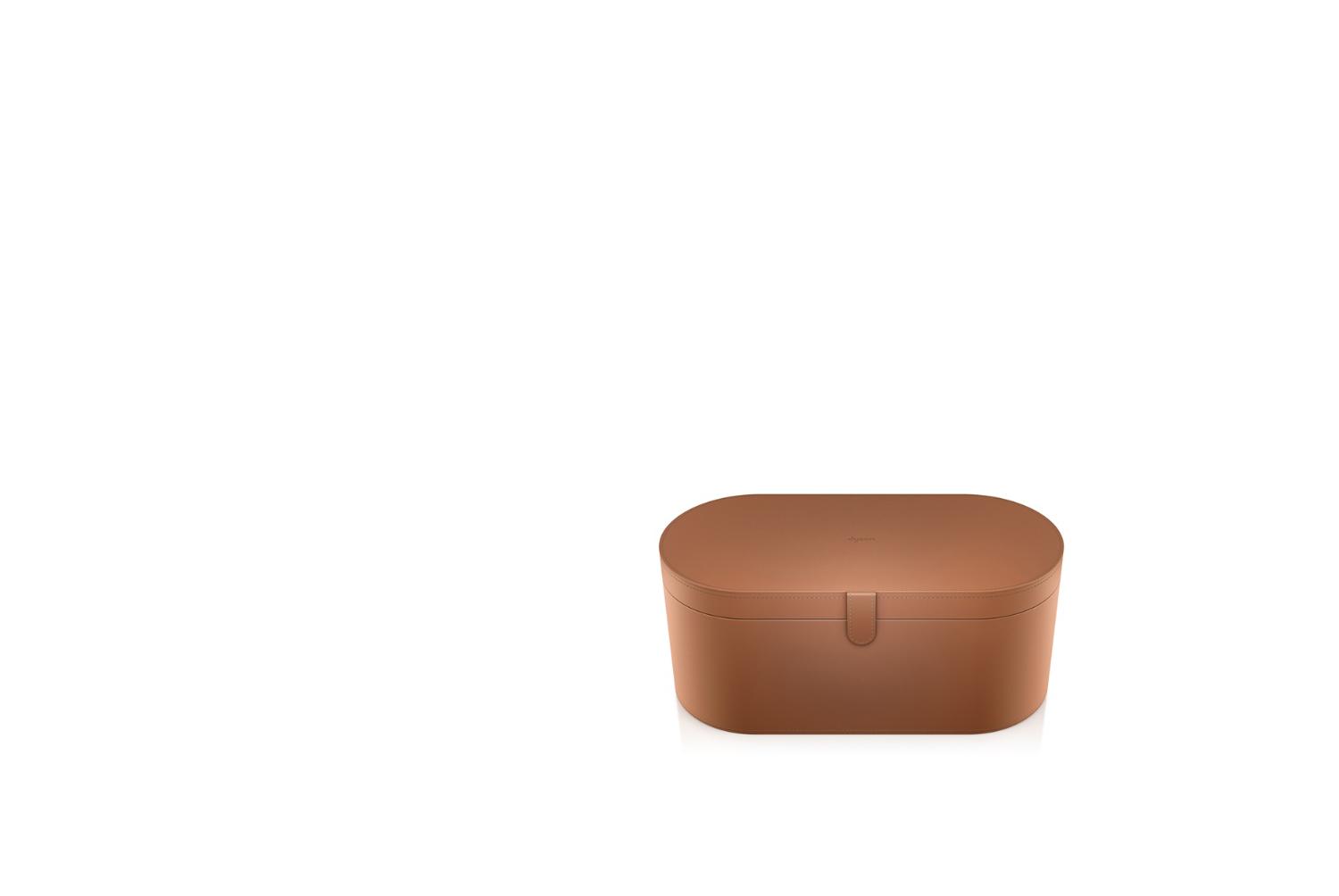 Storage case
Protects and neatly stores your Dyson Airwrap™ styler and its attachments. Finished in tan, cushioned with soft fabric and secured by a magnetic clasp.
Specifications
Weight

0.61 kg

Negative ions

Help reduce static

Power/Heat setting

4 heat, 3 speed

Power

1,300 W

Cable Length

2.62 m

Air Flow

13 l/s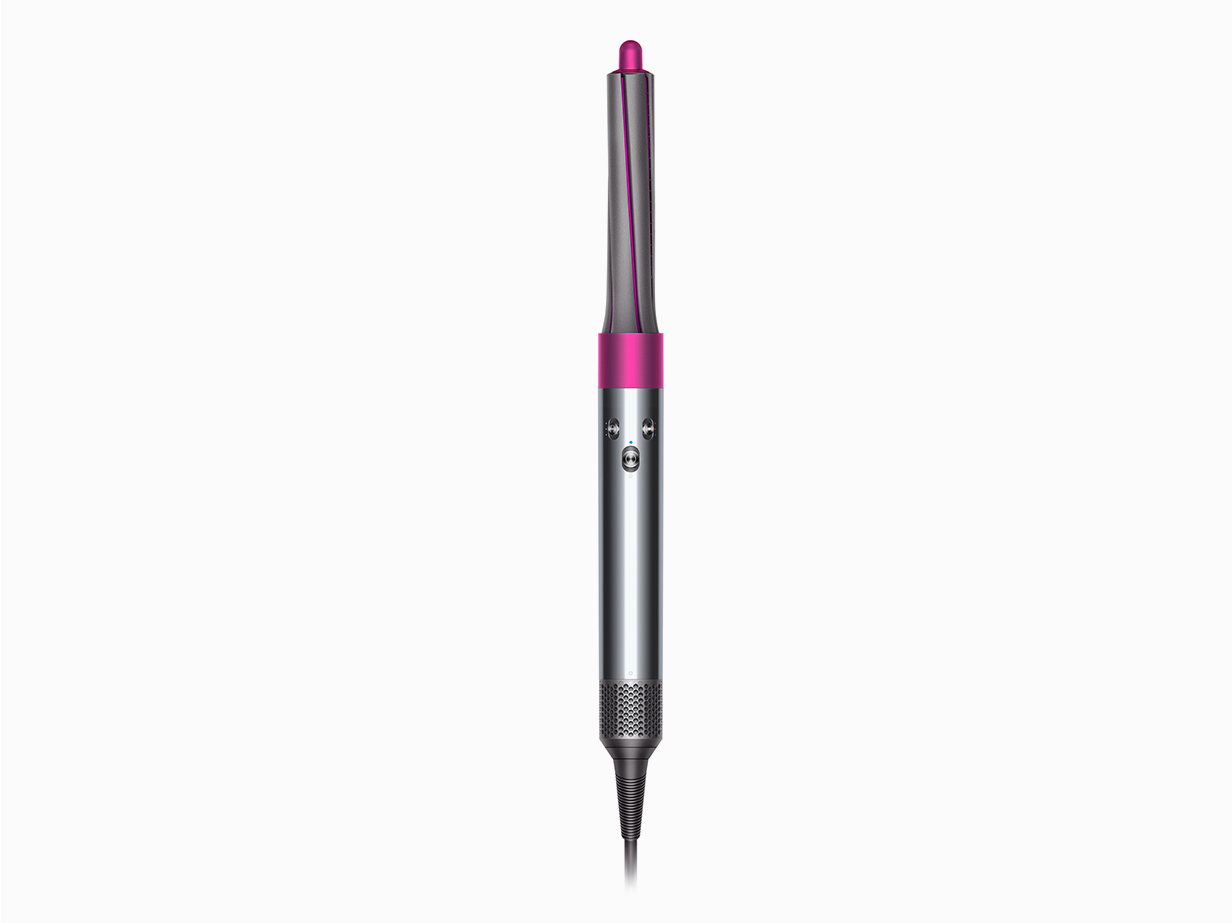 Height

272 cm

Length

41 cm

Width

48 cm
Which Dyson Airwrap™ styler is right for you?
With four options to choose from, we can help you select the best one for your hair type.
Dyson Airwrapᵀᴹ Complete Long

Includes 6 Dyson Airwrap™ styler attachments and 3 accessories for multiple hair types

9 accessories included

See all

Click to learn more

30mm Airwrap™ long barrels

40mm Airwrap™ long barrels

Firm smoothing brush

Creates a straighter style with less frizz and fewer flyaways1

Soft smoothing brush

Creates a smooth, blow-dry finish. Engineered to be gentle on the scalp.

Round volumising brush

Engineered to give body and shape to limp, flat hair

Pre-styling dryer

Takes hair from wet to damp, ready for styling.

Dyson Airwrap™ styler Complete

Includes 9 Dyson Airwrap™ styler attachments for multiple hair types

9 accessories included

See all

Click to learn more

30mm Airwrap™ barrels

Create and set voluminous curls

40mm Airwrap™ barrels

Create and set loose curls or waves

Firm smoothing brush

Creates a straighter style with less frizz and fewer flyaways1

Soft smoothing brush

Creates a smooth, blow-dry finish. Engineered to be gentle on the scalp.

Round volumising brush

Engineered to give body and shape to limp, flat hair

Pre-styling dryer

Takes hair from wet to damp, ready for styling.

Storage case

Finished in tan, cushioned with soft fabric, and secured by a magnetic clasp

Dyson Airwrap™ styler Complete Black/Purple

Includes 6 Dyson Airwrap™ styler attachments and 3 accessories for multiple hair types

9 accessories included

See all

Click to learn more

30mm Airwrap™ barrels

Create and set voluminous curls

40mm Airwrap™ barrels

Create and set loose curls or waves

Firm smoothing brush

Creates a straighter style with less frizz and fewer flyaways

Soft smoothing brush

Creates a smooth, blow-dry finish. Engineered to be gentle on the scalp

Round volumising brush

Engineered to give body and shape to limp, flat hair

Pre-styling dryer

Takes hair from wet to damp, ready for styling

Storage case

Cushioned with soft fabric and secured by a magnetic clasp

Dyson Airwrap™ styler Smooth+Control

Engineered to smooth and control unruly, frizz-prone hair

7 accessories included

See all

Click to learn more

30mm Airwrap™ barrels

Create and set voluminous curls

40mm Airwrap™ barrels

Create and set loose curls or waves

Firm smoothing brush

Creates a straighter style with less frizz and fewer flyaways1

Pre-styling dryer

Takes hair from wet to damp, ready for styling.

Storage case

Finished in tan, cushioned with soft fabric, and secured by a magnetic clasp

Dyson Airwrap™ styler Volume+Shape

Engineered to smooth or volumise limp, flat hair

7 accessories included

See all

Click to learn more

30mm Airwrap™ barrels

Create and set voluminous curls

Soft smoothing brush

Creates a smooth, blow-dry finish. Engineered to be gentle on the scalp.

Round volumising brush

Engineered to give body and shape to limp, flat hair

Pre-styling dryer

Takes hair from wet to damp, ready for styling.

Storage case

Finished in tan, cushioned with soft fabric, and secured by a magnetic clasp