The Dyson Omni-glide cleans up with 5 awards and accreditations 
Chasing fine, floating dust across the living room floor. Reaching under the sofa to capture hidden dust. Catching the last piece of cereal under the kitchen table. Traditional vacuums typically struggle with getting into hard-to-reach spaces and are inflexible to the daily assault course of cleaning obstacles at home. 
The Dyson Omni-glide™ vacuum delivers a brand-new way to clean hard floors. It's the first ever Dyson vacuum cleaner engineered for daily cleaning in city homes, making it the perfect choice for users who like to vacuum often and get into the difficult nooks and crannies. Its omni-directional Fluffy™ cleaner head has been engineered to glide in all directions – forwards, backwards and even sideways. Rearranged into a new in-line format, the machine can lie flat1 and clean in tight spaces.
"We're pioneers in the vacuum cleaner industry – we created our cyclone technology, removed the bag, and cut the cord with the introduction of our powerful cord-free machines. Today, we're introducing a brand-new way to clean hard floors with the Dyson Omni-glide vacuum," says James Dyson, Founder and Chief Engineer. "The new omni-directional Fluffy™ cleaner head is a true testament to our engineering capabilities, and is powered by a Dyson Hyperdymium motor, and features two counter-rotating brush bars that spin at the same speed for pick up in both directions."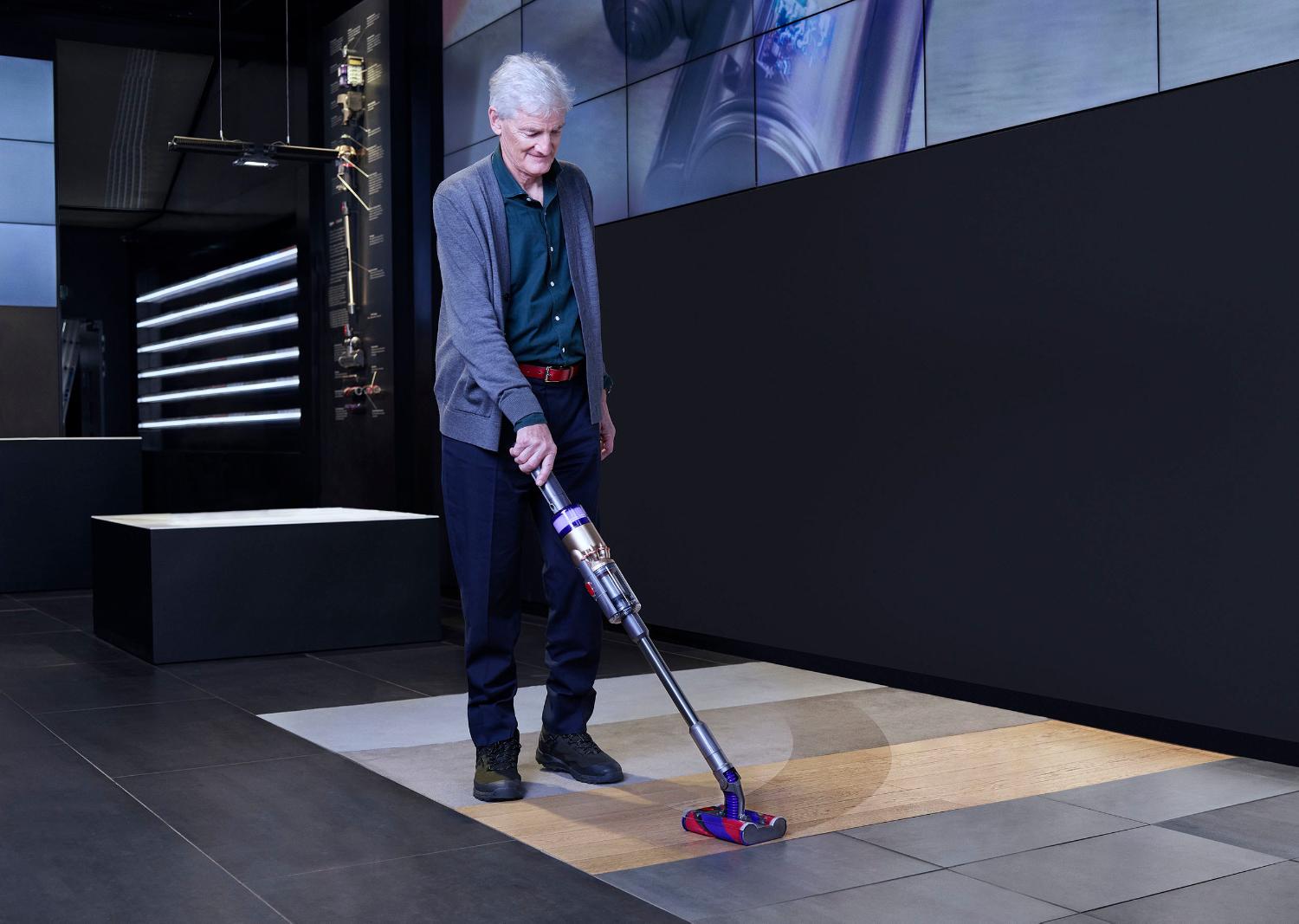 Brand new in-line format
The Dyson Omni-glide™ has also been engineered with an in-line format, with the separation system, the motor, filter and handle all aligned, to enable the machine to lie flat to the floor and clean in tight spaces3, such as under a sofa or between furniture. This new format is the result of extensive research, including 470 hours of trials with 277 users in their homes across six countries.
With this new format, the engineers had to design a machine that had the core Dyson technologies – including a Dyson Hyperdymium™ motor – concentrated and rearranged in-line but still able to achieve no loss of suction, and spins at up to 105,000rpm.  Dyson engineers have also maintained the Dyson five-stage filtration proprietary technology, even in this compact format, which ensures the machine can efficiently suck up fine dust hidden in those hard to reach places and capturing 99.97% of particles as small as 0.3 microns and expelling cleaner air2.
Omni-directional Fluffy™ cleanerhead
The Dyson Omni-glide™ is the first omni-directional Fluffy™1 cleaner head floats on four 360° stabilising castors that allow it to move effortlessly in all directions and into tight spaces3. It is our most manoeuvrable vacuum due to two core technologies: the omni-directional fluffy cleaner head and the in-line format. The castors' height and placement were engineered to ensure minimal resistance – whether rolling forwards, backwards or sideways. Sealed ball bearings also allow for a smooth change of direction and minimise build-up of dirt.
Editorial Awards and Accreditations
Following the launch earlier this year, the Dyson Omni-glide has been awarded five editorial accolades, including being named Expert Reviews Hard Floor Cleaner of the Year 2021, and the much-coveted Tech Advisor Appliance of the Year 2021.
Here's what the publications had to say:
"The Dyson Omni-glide is a specialist in hard floor cleaning." Expert Reviews – Hard Floor Cleaner of the Year 2021
"It can move in any direction, and this allows you to vacuum hard floors in a completely different way to back-and-forth motion we're all so accustomed to." Tech Advisor – Appliance of the Year 2021
"A very small, lightweight, flexible vacuum, the Dyson Omni-glide is a top cleaner for hard floors and a great handheld vacuum for smaller spills." Trusted Reviews – Highly Recommended Award 2021
"It can swivel on its axis and be used at any angle, even side to side, to reach the areas that other vacuums will almost certainly struggle to deal with." T3 – Best Buy 2022
Footnotes
1Lie flat backwards only
2 Filtration tested against EN 60312-1 cl 5.11, tested in Max mode
3Tight spaces refer to gaps that are wider than 20.7cm.