Larry King explains why sculptural and silhouette hair trends are popular in 2022

Global Styling Ambassador, Larry King discusses with ELLE magazine how he brought the sculptural and silhouette hair trend into 2022 and how he created structure within hair using our Dyson tools.

 
'It's about making a statement - from your hair to the clothes you're wearing - being confident, being out-there, being more individual and embracing all of that. It's about wearing your hair to the maximum and fulfilling its potential' says Larry.
His inspiration behind the trend-focused shoot for ELLE and interpretation of SS22's architectural swerves and curves was simply a matter of smoothing, sculpting, pinning and plaiting and, in a few cases, carving, his way to hair art using Dyson hair care technology.
Image credit: Jenny Brough

Image credit: Jenny Brough
With the importance of hair health in mind within this trend, Larry ensures that achieving a smooth symmetrical look for a sculptural feel is key.
To create the above desired look, he used our wide-tooth comb attachment to stretch out and shape the hair, finishing it off by using the Dyson Supersonic Flyaway attachment.
Inspired by professional stylists, the new Flyaway attachment harnesses the Coanda effect to lift longer hairs and hide flyaways. Giving you a smooth, salon finish, at home.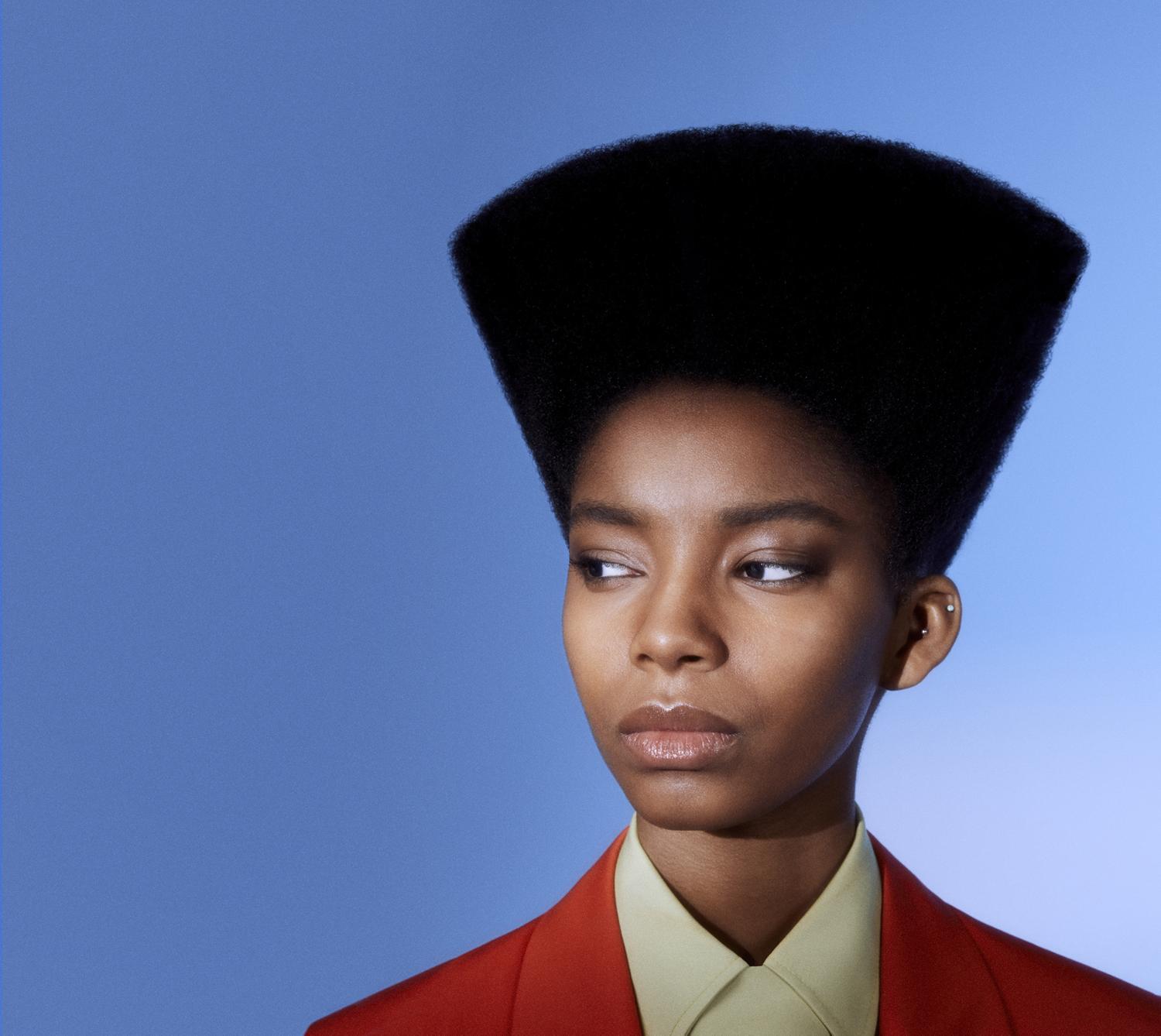 Image credit: Jenny Brough
Inspired by asymmetric hair and style icon Grace Jones, Larry recreated the buzz cut with his own spin on the flat top using the Dyson Supersonic Styling Concentrator attachment. He shaped the hair into a faux flat top whilst pinning the rest of the hair into a bun at the back, explaining that from the front it looks like a cut, but it's actually an 'illusion'.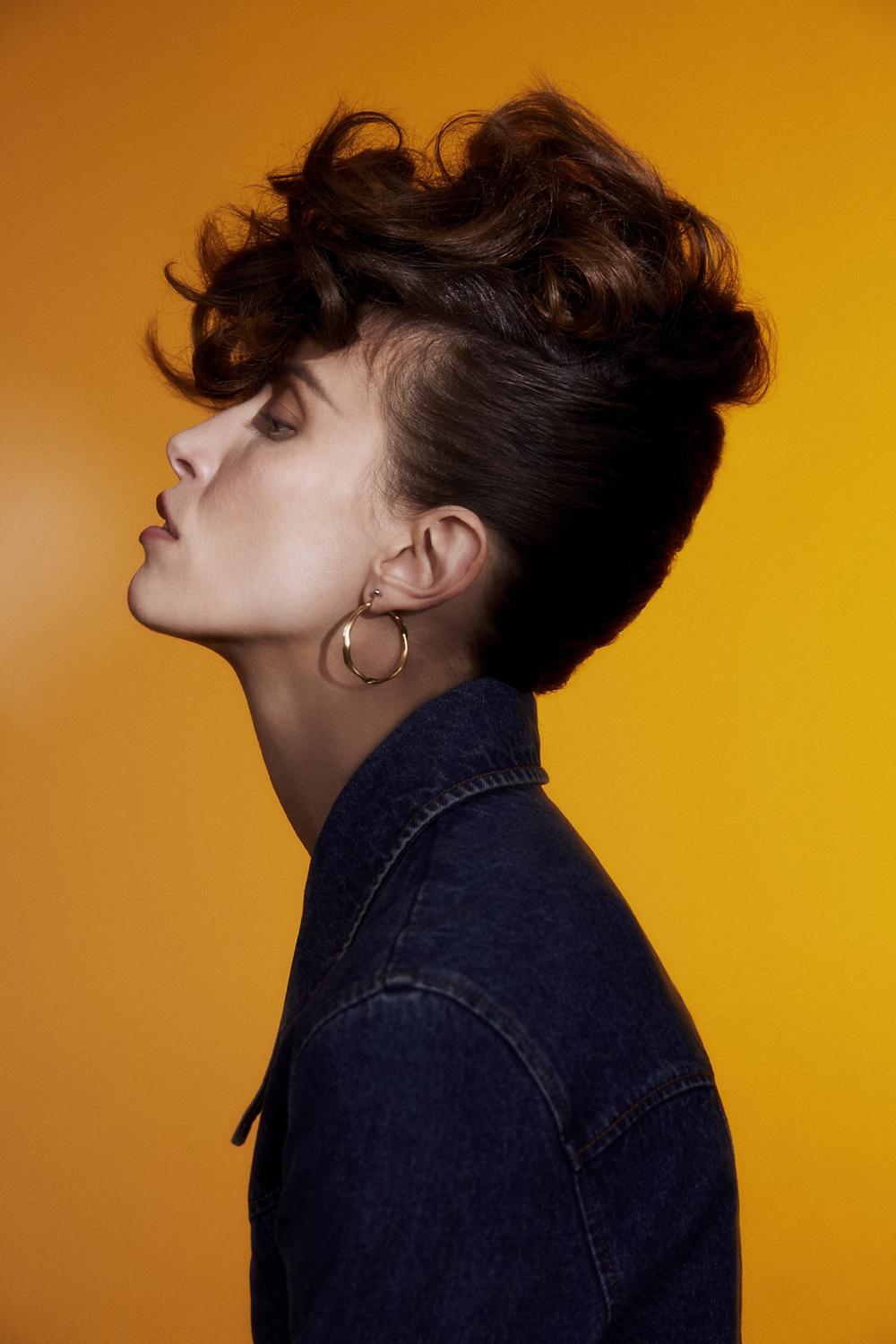 Image credit: Jenny Brough
Another style amongst the sculptural and silhouette trend was the 'rockability quiff' where the classic was given a modern twist - texture and volume was enhanced with the Corrale straightener to create voluminous, bouncy curls.
The Dyson Corrale™ straightener is engineered to create a range of styles - from curls and waves, to smooth and sleek.
"The Dyson Corrale gives me the freedom to be creative and more in control from the flexing plates with less heat – I absolutely love it." Larry King, Global Styling Ambassador
For more information on these looks which were created for ELLE's march issue, please head here. 
Hair. Our healthy obsession
Dyson is dedicated to understanding the science of hair – it is the foundation underpinning all our beauty technology. With sights set on engineering tools that not only create great style, but help keep hair looking healthy too, it is vital for our engineers to understand every aspect of hair – what makes it strong and glossy, what cause it to become weak and break and how to make it look and feel great. 
"Since we first started developing the Dyson Supersonic™ hairdryer, we have continued to explore the science of style, seeking to understand what makes hair smooth, shiny and glossy, and what makes it dull, damaged and lifeless," says James Dyson, Founder and Chief Engineer.
Image credit: Jenny Brough

Image credit: Jenny Brough
Health for all hair types
We know that protecting hair health looks different from one hair type to the next. The Dyson Supersonic™ hair dryer is equipped with attachments specific to every hair type, including the Gentle Air attachment for fine hair and sensitive scalps, and the Wide Tooth Comb attachment for curly and coily hair types. 
The Dyson Corrale™ straightener offers three different heat settings - 165°C, 185°C and 210°C., allowing the user to ensure they are not using excessive heat unnecessarily. This adaptability allows those with more sensitive hair types to embrace styling with a straightener, where previously they may have steered clear.
"Unlike traditional straighteners which rely on conventional solid plates, the unique flexing plates of the Dyson Corrale straightener adapt to the hair so they apply tension more evenly, stop strands splaying, and reduce frizz and flyaways," says Lead Design Engineer, Sandra Lup.
"Considering that damage can affect the shine of your hair, this greater control allows outstanding styles to be created with less reliance on heat and reduce damage by 50 per cent".
Style without sacrifice
With the right education and the right tools, damage can be easily avoided. Yet often, unnecessarily, people sacrifice hair health in pursuit of great style. Dyson Hair Care technology has pioneered a change in attitudes towards the use of extreme heat styling tools and damage within hair styling, which was previously accepted as an inevitable part of the styling process.