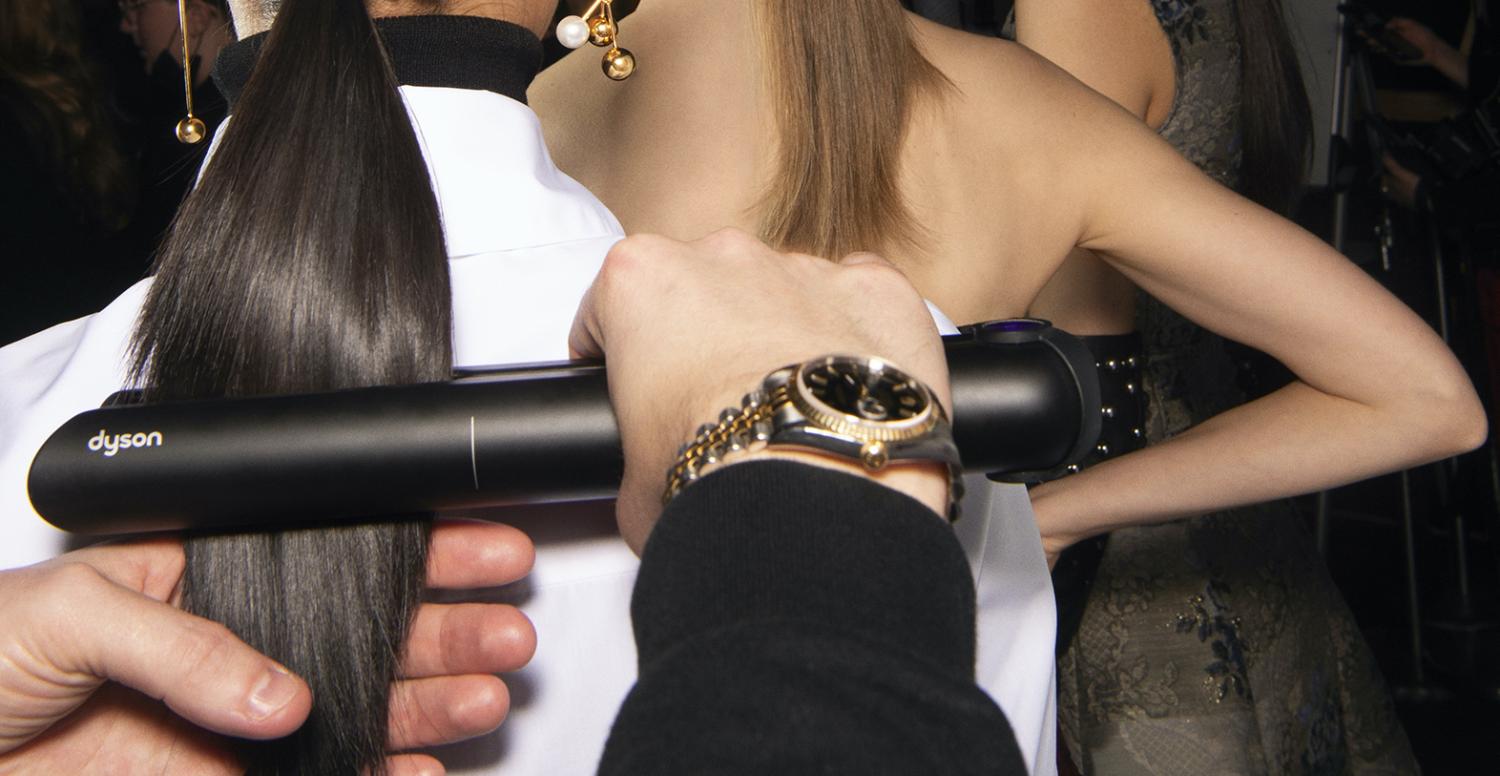 Equipped with Dyson hair technology, leading session stylist deliver a spectacle of styles across Fashion Week runways around the world. Dyson technology is engineered to meet the demands of these high-pressure professional styling environment, where the pace is fast and the stakes are high, yet the heat doesn't have to be.
This season, Dyson Global Styling Ambassadors, Jon Reyman, Larry King and Jawara deliver strong, sleek and sharp shapes using the Dyson Corraleᵀᴹ straightener across many shows, tailoring the tools to meet the needs of multiple models of all hair types. Here, our ambassadors show you how to recreate the runway, using your very own Dyson Hair Care machines.
The cord-free freedom of the Dyson Corraleᵀᴹ straightener empowers stylists to deliver precision styling from backstage to final line up, or for those recreating at home, from dressing table to bathroom mirror. Delivering enhanced styling with half the damage, the Dyson Corrale™ straightener features pioneering microhinged plate technology, which flex to shape and gather hair. Keeping hair strands perfectly aligned, this flex ensure heat and tension is applied evenly in every pass, enabling the same desired styles to be achieved at lower temperatures, and more quickly.
The Dyson Supersonic™ hair dryer is the fastest hair dryer, powered by the small, yet powerful Dyson digital motor V9, which spins at up to 110,000rpm – up to 6 times faster than other hair dryer motors, and includes a range of precision engineered attachments to style different hair types. 
Jawara for Brandon Maxwell

Jawara delivers a sophisticated, chic style for a show inspired by Maxwell's grandmother who has Alzheimer's. Paying homage to the glamour of his grandmother, whom Maxwell credits for his passion for design, Jawara blends classic elegance in an embellished bun shape with modern braiding, using Dyson Hair Care technology to achieve this look.

 

Use the Dysonᵀᴹ Corrale straightener to give an added sleek finish, selecting from the three precise heat settings to suit your hair type, before running the tool through the lengths and ends.

 

The Dyson Corraleᵀᴹ straightener is the first and only straightener with flexing plate technology that delivers enhanced styling with half the damage. Featuring 4-cell lithium-ion battery technology, the tool delivers the thermal performance of a corded straightener without being anchored to a power source. 
Jon Reyman for Christian Siriano

Drawing inspiration from 80's and 90's power dressing, Reyman builds on Siriano's strong silhouettes. Entitled a 'Victorian Matrix', Siriano and Reyman blend tech and femininity to present a powerful and dreamlike aesthetic. A glass finish, embellished with crimping and rhinestone elements complements Siriano's experimental collection, inspired by the uncertainty of the pandemic.

 

From its unstyled state, use the Dyson Supersonicᵀᴹ hair dryer to prep the hair, adjusting attachments according to your hair type – use either the Smoothing Concentrator with Dyson Paddle brush on straight and wavy hair, or select the Wide-tooth comb attachment, engineered with robust teeth to lengthen, and shape curly and coily hair.

 

Delivering the ideal starting point for the finish of this look, the fast and precise airflow of the Dyson Supersonicᵀᴹ hair dryer increases smoothness and shine and decreases frizz and flyaways.
Jawara for Peter Do

In a look inspired by confidence and power, Jawara presents a strong, structured shape in complement of the sharp tailoring of Peter Do's AW22 collection. Jawara says: "I really like the suit. I like that it takes time to make, that you don't need to buy many, and that when you find a good one it becomes your safe space. I want to be that for women".   

 

To achieves this futuristic slick finish, Jawara used the Dyson Supersonicᵀᴹ hair dryer professional to blow dry the hair back from the face, before refining using the Dyson Corraleᵀᴹ straightener, smoothing and aligning the hair in a backwards direction away from the face. 
Jawara for Vivienne Westwood

Entitled Wild Beauty, Jawara enhanced used Dyson tools to enhance each model's unique hair type. Set against the eclectic backdrop of Lots Road Antiques, the presentation paid homage to Westwood's ethos of 'quality not quantity', encouraging people to 'buy less, choose well, and make it last'.

 

Each look enhanced the model's individuality and personal style with a quintessentially Westwood grunge take. The variety of models – cast by spontaneous street casting – showcased a diverse range of hair types and styles, with Dyson tools arming Jawara with the agility and adaptability to respond to the unpredicted, unexpected, and unrehearsed range of models.

 

Jawara used the Dyson SupersonicTM hair dryer with Wide-tooth comb attachment to lengthen tight curl patterns, and the Diffuser to define shape. For those with straighter styles, the Dyson CorraleTM Straightener achieved a sleek, smooth look, before a final finish with the Dyson Flyaway attachment to hide any unwanted frizz and flyaways.  

 
Larry King for Erdem

The ambition for the AW22 Erdem show was to capture the androgynist era of the late 1920's and early 1930's, a period of dissolving boundaries and subverting conventions. It was a time of exploring notions of gender, identity, and expression where everyone is welcome, and all participate.

 

Global Styling Ambassador, Larry King focused on Avant Garde expressionism and the strong iconic look from the late 20's and early 30's. Using Dyson Hair Care technology, he embraced androgynous style with high shine, deep partings but brought up to date and worn in a very modern and wearable way.

 

To finish off the look use the Dyson Supersonicᵀᴹ Flyaway Attachment – which harnesses the Coanda effect to hide flyaways without extreme heat – it's used to smooth any flyaways around the crown of the head. The new Flyaway Attachmentᵀᴹ harnesses the Coanda effect – a phenomenon first engineered for styling within the Dyson Airwrapᵀᴹ styler – to attract and lift longer hairs to the front, whilst pushing flyaways through the tress and out of sight. It adds to the Dyson Supersonicᵀᴹ attachments engineered to suit all hair types, including the Wide Tooth Comb for curly and coily hair and a re-engineered Diffuser and Professional Styling Concentrator.
Sam McKnight for Vivienne Westwood

Drawing inspiration from Parisian Street style, Sam McKnight presented styles for the Andreas Kronthaler for Vivienne Westwood AW22 show. Embracing each model's individuality, Sam showcased a variety of cuts, textures, and shapes using the Dyson SupersonicTM Diffuser to amplify natural texture and the Dyson CorraleTM straightener to smooth lengths and ends.

 

Using the Dyson CorraleTM straightener on a low heat setting, Sam smooths unwanted body and volume, while retaining a level of natural movement and texture to achieve a smaller silhouette.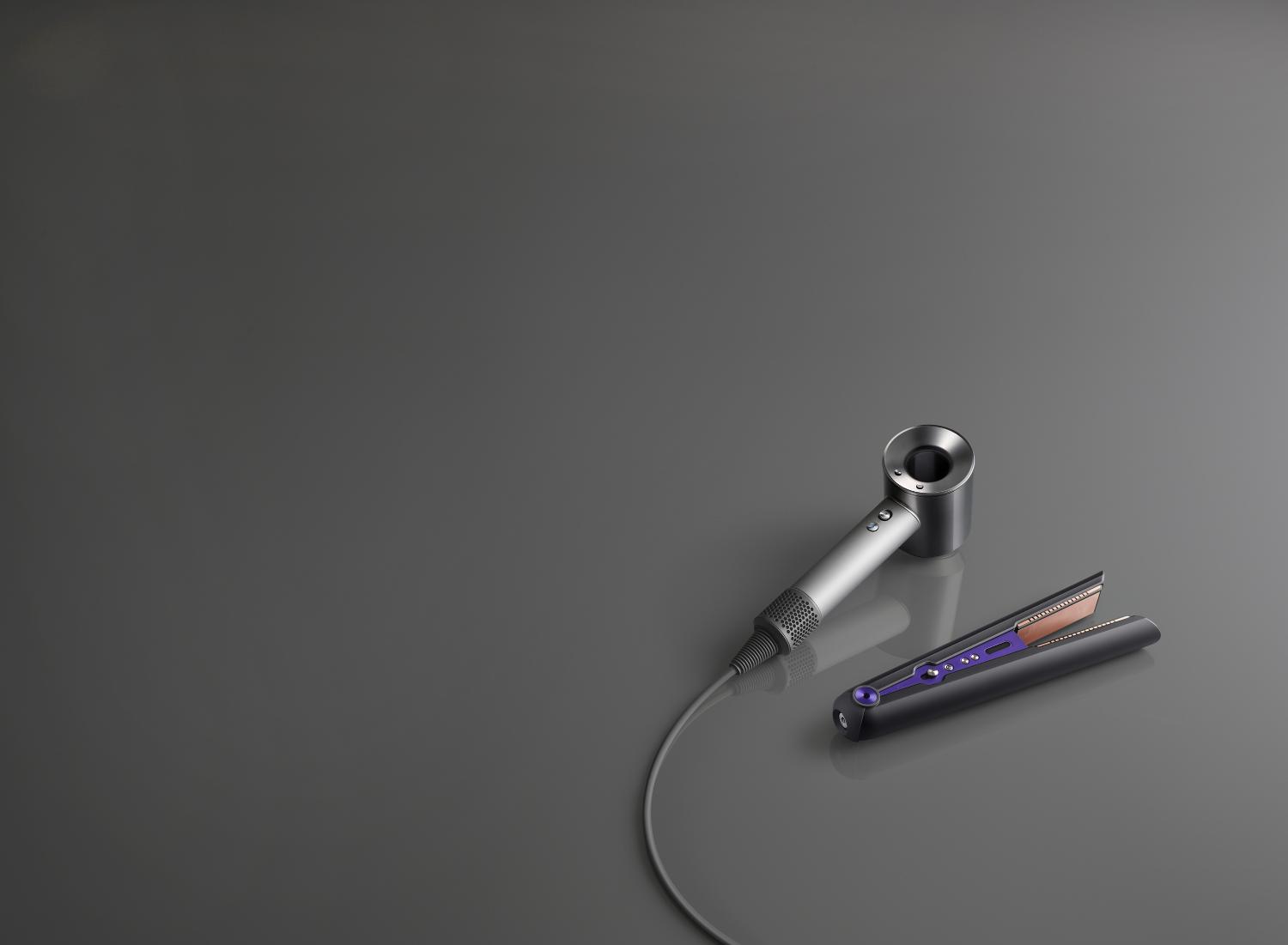 Hair care technology for salons and stylists
Re-engineered for stylists. For fast, effective styling.