12 Dyson styling tips for the festive season
Dyson engineers and ambassadors share their styling secrets and hair hacks for the festive season
Dyson Hair Care Engineers and Styling Ambassadors come together to offer advice for ending the year on a healthy hair high. Read through their styling secrets and learn how to keep hair healthy during the holiday season and into the New Year.
Diagnose your hair type

"Like skincare, it's important to find out what your hair type is to ensure you're selecting the right tools, techniques and treatments to get the best results while taking care of your hair.

At Dyson, we categorise hair into four main types, alongside texture, which are then divided into categories a-c. To the untrained eye, flatter hair will typically be type 1 or 2 hair, while curlier hair is type 3 or 4.

Whatever your hair type is, its texture will be somewhere between fine and coarse. Once you know your hair type, it will be easier to style as you find the right tools for your hair type. For example, with the Dyson Airwrap™ styler, the firm brush is engineered for straightening out thicker, curlier type 3 or 4 hair, while the soft brush achieves this result for hair types that are finer or require less manipulation. The different barrels have also been engineered for different hair types, so it's easier to personalise your styling routine for your specific hair type and the end style you're seeking."

Siona Tebbutt, Dyson Engineer
Team tools with technique

"Pairing the correct tool with the right technique is vital. Hair is weaker when wet and so is more vulnerable to damage. It's essential to take extra care when working with hair when its still damp or wet.

The Dyson SupersonicTM hair dryer delivers powerful fast and focused airflow alongside Intelligent Heat Control to ensure heat doesn't damage the hair. Choosing the right attachment to suit your hair type is incredibly important, too. For those with coarse or coily hair, the Wide Tooth Comb is engineered with super smooth round-tipped, robust teeth that glide seamlessly through the hair without snagging or pulling it - a common form of mechanical damage.

For those with finer hair or a more sensitive scalp, the Gentle Air attachment will deliver that same speed of drying but dispersing air for a more delicate airflow."

Jon Reyman, Dyson Global Styling Ambassador
Tame flyaway frustration

"We can all agree that flyaway frustration is real! Nothing feels as good as that salon blow dry finish. The trick to taming annoying flyaways is a core skill for a stylist.

However, we want our clients to now be able to get that same glossy finish at home. The new Dyson Flyaway attachment does exactly that – it allows smooth seekers to get a super sleek finish, on their own, not just from the salon.

My tip for a sleek look would be to style your hair with the Dyson Corrale™ straightener first, then to finish it off using the new Flyaway attachment on the Dyson Supersonic™ hair dryer."

Jen Atkin, Dyson Global Styling Ambassador

 
Protect hair from colour fade

"The more that heat is used on hair, the more significant the colour fade can be. Hair pigment is housed within the cortex of your hair - this is the second layer after the cuticle. Hair dyes work by penetrating each hair cuticle and bonding with the hair, so using excessive heat damages the cuticle, allowing dye to escape from hair and dulling the vibrancy of the colour.

The Dyson Corrale™ is the only hair straightener with flexing plate technology alongside its Intelligent Heat Control technology. The three different heat settings give users the ability to style at lower temperatures, while a glass bead thermistor inside the body of the Dyson Corrale™ gives the machine the ability to measure the temperature of the flexing plates 40 times a second, meaning you know exactly what temperature – 165°C (330°F), 185°C (365°F) or 210°C (410°F) – you are using on your hair at all times."

Veronica Alanis, Dyson Engineer
Maximize Curl Patterns

"No matter what your natural texture is, Dyson's Supersonic Diffuser attachment will boost a greater wave or the natural curl pattern of your hair. Less is always more — less heat, less movement and a less powerful airflow setting will help protect the integrity of the shape, avoiding unwanted frizz. The Dyson diffuser works to simulate an air-drying effect while styling, with longer prongs to reach deeper into the hair for fast drying throughout the whole style, defining the curl patterns as it dries."

Matthew Collins, Dyson Global Styling Ambassador
Secrets for smoother volume

"Flat hair at the roots is something I hear my clients often struggle with. For a volumised finish, blow-dry against the flow of the hair. For example, blow the right side to left and blow the back side to the front using the Dyson SupersonicTM hair dryer and Gentle Air attachment. To add that little bit of extra volume at the end, I like to use the new Flyaway attachment to gently lift the roots and to smooth out any flyaways that might have appeared during styling. This then makes the volume look more natural, making your hair look thicker while keeping it smooth."

Guo Zijing, Dyson Global Styling Ambassador

Straightening thick locks

"Many are guilty of not sectioning the hair before styling in an effort to save time. However, this can be inefficient and also compromise the end style. Dividing the hair sections first is the secret to super smooth styling. You will be surprised at the difference this preparation can make to the finished result. The Dyson Corrale™ straightener completely disrupted the hair industry with its flexing plate technology and ability to style faster. With its great control, you are able to style more efficiently and at lower temperatures, reducing styling time whilst preserving the health of the hair."

Guo Zijing, Dyson Global Styling Ambassador
Effortless beach waves

"This texture-adding tip is brilliant for type 1, 2 and 3 hair, particularly using the Dyson Airwrap™ styler. Using the pre-styling dryer, dry the hair until it is around 80 per cent dry – this is when it looks dry, but is cold to touch –making sure you get as much volume as possible into the roots. Do this by lifting sections upwards from the head and directing the airflow directly into the roots as you dry.

Then, take smaller sections around the head, attracting the sections using the Coanda effect, keeping the ends of the hair section out to give an unstructured wave. Alternate the direction of the curls by switching between barrels as you work your way around the head. This will deliver a more natural look to the waves for that beautiful beacy effect."

Pete Thomsen, Dyson Global Styling Ambassador
Couture cornrows

"Traditional couture hair is usually minimal. Lately, I've been loving protective braided styles for shows because they're simple, clean and elegant. I use the Dyson SupersonicTM hair dryer with the Wide Tooth Comb to stretch out the curl, while quickly drying the hair before going in for the braid. Once the cornrow braids are in place, I go back in with Supersonic and Diffuser attachment to set the hair in place."

Jawara Wauchope, Dyson Global Styling Ambassador
The proof is In the prep
"To truly lock in a great style, it's important to invest in your prep. Lasting style is all about what you do before you do the do! Your make up needs a great foundation and so too does your hair. To keep your curls and waves from dropping, start with damp hair (damp it down if you don't want to wash it). Apply volumising, texture spray or mousse. Use more than you think you should – don't be stingy! Blast your hair dry using the Dyson Supersonic™ hair dryer with the Gentle Air attachment, then go in with your Dyson Corrale™ straightener using your favourite styling technique and finish. Use hold spray if it's a damp day, and off you go!"   
TT Hart, Dyson GB Lead Stylist
Voluminous 90's blowdry

"Achieving a big, bouncy 90's blowdry for fine, type 1 or 2 hair can be challenging, but it's easy with the Dyson Airwrap™ styler. For speed and maximum volume, apply a volumising mousse to the roots when wet and massage in. Then tilt your head upside down and brush through the roots with the soft smoothing brush until dry. Once dry, flip your head back up – the ends of your hair should be almost dry. With the Dyson Airwrap™ styler, attach the 40mm barrels, set to high heat and high airflow and curl the ends of your hair. Make sure you use the cold shot once each section is dry. Once all the hair is dry and the ends are curled, give your hair one more flip upside and shake it into position."

Amy Johnson, Dyson Global Lead Stylist
Avoid hair damage for healthier hair

"Mechanical damage is the most frequent form of hair damage. This is from brushing, towel drying or running fingers through the hair repeatedly. Hair is also weaker when wet as the hydrogen bonds which contribute to its strength are disrupted by water, making hair even more susceptible to damage. The best thing to do is to avoid brushing hair when wet and don't leave the house with wet hair – dry it first with the Dyson Supersonic™ hair dryer at a comfortable heat setting."

Fred Howe, Dyson Engineer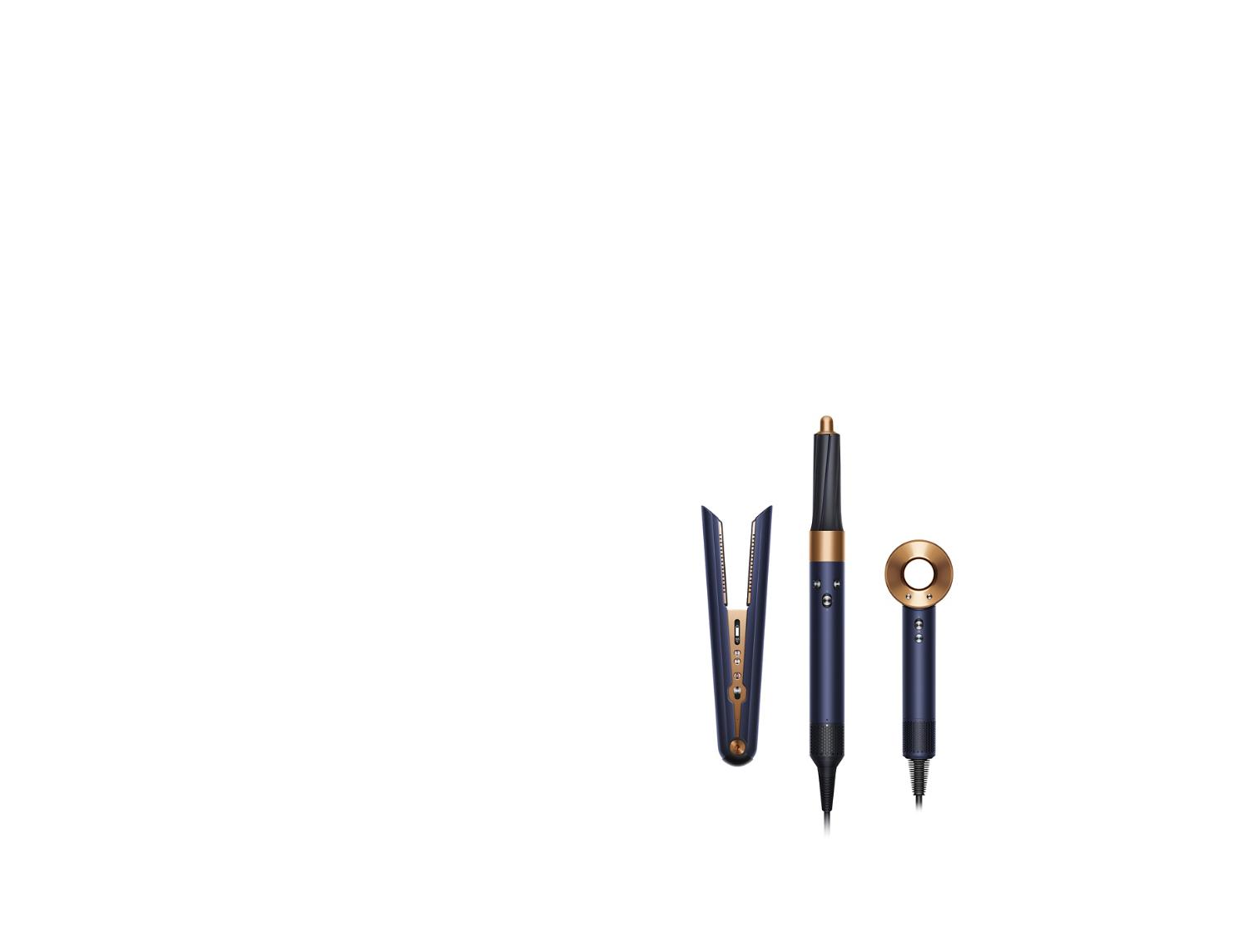 Shop Dyson hair care products & accessories
Dyson hair care technology
Protect against extreme heat damage. With more focus on control and less reliance on heat.