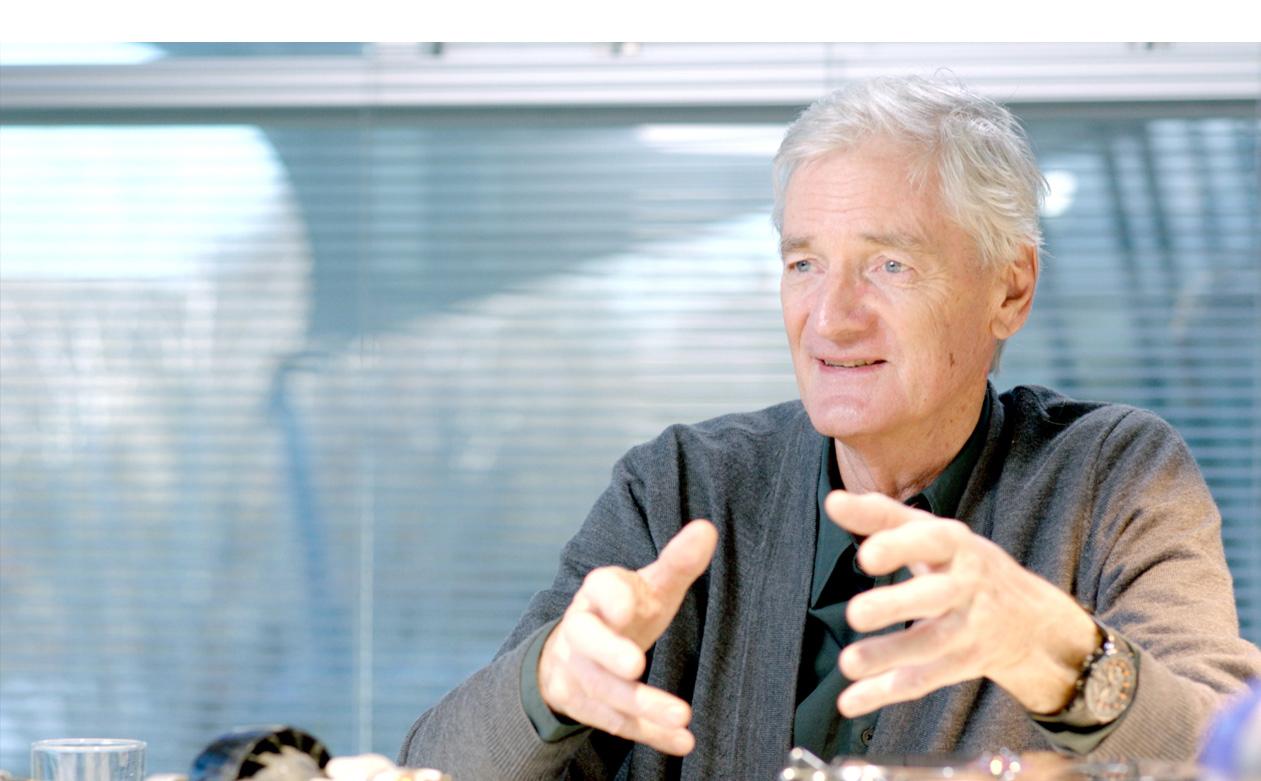 Built on sustainability principles
We're always looking at how we do more with less, in the right way. Making things work better. Whether in engineering, education, farming or good works.
Download our products and technology sustainability magazine to learn more.
Dyson is built on sustainable principles. At every step, we have focused on solving problems; engineering better technology, using fewer materials and less energy.
First, we removed the bag from the vacuum to prevent loss of suction. This was an engineering decision, but in saying goodbye to the bag, we removed an unnecessary, single-use consumable.
We created a more energy-efficient machine, which contributed to less woven plastic bags going to landfill ever y year. The vacuum cleaner industry followed us. This is the power that new technology has to change behaviour. 
As engineers, we continue to focus on problem-solving and doing more with less. Take the Dyson Digital Motor. The result of more than 15 years of research and development, it is five times lighter than its old-fashioned predecessor and achieves a step change in performance.
The power density of Dyson's motors has increased 25 times from the brushed motor in our first cordless vacuum, to the Digital Motor in our latest cordless machine. 
The motor drives our products – drying hands, styling hair, purifying air and cleaning homes, efficiently. Dyson Airblade™ hand dryers, for instance, use 10% of the energy of hot air hand dryers and can dry six pairs of hands for the equivalent embodied carbon in a single paper towel. Dyson Supersonic™ hair dryers dry hair with a powerful air flow, not extreme heat. Our LED lights last for 60 years, meaning no bulb replacements. And our vacuums outperform predecessors, but with less energy, fewer materials, and much less weight.
Engineers are perpetually dissatisfied and want to do better, and we will; there is no end point, only continual improvement. Our competitors copy our ever y move, so the leaps we are pursuing remain secret. What I can reveal, however, is that through our battery research in Malmesbury and Singapore, we are driving a revolution in new technology, and the same goes for our programmes in robotics, software, material science and filtration.
We have also applied our sustainable approach to how we operate.
We prefer to restore buildings and workspaces, rather than create new ones, and we do so at scale, such as our new Global HQ, St James Power Station in Singapore, and Hullavington Airfield in Wiltshire. 
There is no doubt that the world faces some big problems, but we won't solve them by wearing a hair shirt – we need optimism, determination, and an engineering mindset. We also need many more engineers, which is why we launched the Dyson Institute of Engineering and Technology and why the James Dyson Foundation works with schools and universities around the world to inspire future engineers.
We see the optimism that young engineers have for a better future very clearly in the James Dyson Award entries each year. These brilliant young people don't grand-stand, instead they diligently and quietly apply themselves to problem-solving, making great progress as a result.
We also see it at Dyson Farming, where the leading minds in agriculture are developing new methods – and new technology – to produce nutritious food in the future in a more sustainable way. Robotic technology is already supporting our farms and we are working towards a future where materials grown on our farms are used in Dyson's technology.
I highlight these points, not to show off, but to show how a sustainable approach is wired into how we operate – and it always has been. Sustainability may be fashionable now, but it has always been important at Dyson – from the very beginning. We want more problem-solvers to join us on this mission.