Dyson doubles down on indoor air quality: Introducing the Dyson Purifier Big+Quiet air purifier range, reaching up to 10 meters to purify large rooms , quietly
Dyson's latest purifier is equipped with upgraded filtration, delivers double the airflow compared to previous Dyson purifiers and sets a new standard in acoustics, taking indoor purification further – literally
Dyson's quietest yet most powerful purifier: The Dyson Purifier Big+Quiet Formaldehyde is borne of Dyson's longstanding expertise in airflow, acoustics, filtration and compressors.
Cone Aerodynamics: New airflow delivery system offers more than double the airflow of previous models, up to 87 litres of airflow per second of purified air over 10 metres3 . New CO2 sensor indicates when to ventilate4 .
Re-engineered motor bucket: Ensures quiet operation – meticulous re-engineering incorporating ingenious acoustic solutions including a Helmholtz silencer and labyrinth seal.
Improved three-phase filtration system: Capturing up to 99.95% of ultrafine particles5, removing 3x more NO2 compared to previous Dyson carbon filter and permanently destroying formaldehyde6, with five-years of HEPA filter life. 
Singapore, 23.05.2023 - Today, Dyson unveils its latest air purification technology, designed to purify the air in large spaces. Controlling the air we breathe is crucial to our health and wellbeing . Outdoor pollutants can enter our indoor spaces and react with indoor pollutants, creating a complex mixture of dirty air – at times, causing indoor air to be more polluted than the outdoor air7.
The Dyson Purifier Big+Quiet Formaldehyde uses Cone Aerodynamics to deliver 10-meter projection, a new K-Carbon filter for 3x better NO2 capture compared to previous Dyson carbon filter3 and introduces a CO2 sensor2 in to promote a clean and comfortable indoor environment. Alongside powerful projection, the Dyson Purifier Big+Quiet Formaldehyde is also engineered to operate quietly, producing just 56 decibels of noise - making it Dyson's quietest yet most powerful purifier. 
"Poor indoor air quality is a much-ignored, growing issue. Our home environments can be filled with particle and gas pollution, be it pollen, pet dander, NO2, CO2, VOCs from cleaning products and more. Each of these particles can contribute to an unhealthy environment, causing potential health concerns. The Dyson Purifier Big+Quiet Formaldehyde is our first purifier specifically engineered to purify properly in spaces up to 100m2. It blends highly effective filtration and powerful projection, with intelligence, to automatically respond to imperceptible pollution events. With new Cone Aerodynamics to project purified air over 10 meters, the Dyson Purifier Big+Quiet Formaldehyde can reach every corner of your living space." – Matt Jennings, Dyson Engineering Director – Environmental Care 
New Cone Aerodynamics: 10-metre powerful projection
At Dyson, we are dedicated to solving problems that others ignore, and air purification is no different. The Dyson Purifier Big+Quiet Formaldehyde represents a step-change in air purification, as Dyson engineers address the problems with weak airflow projection in large rooms. Conventional large-format purifiers typically diffuse air upwards or have weak projection which reduces their ability to achieve a thorough large-room clean. To achieve better, they developed a new energy-efficient, low-pressure air delivery system: Cone Aerodynamics.
Cone Aerodynamics uses the Coanda effect to merge two streams of air over a smooth surface, resulting in a powerful and condensed jet of air that can be projected of more than 10 meters, with minimal noise. It delivers more than double the airflow of the previous generation Dyson Purifiers. Powerful projection is critical to ensure that the machine effectively delivers clean air to every corner and displaces dirty air back towards the filter. The Dyson Purifier Big+Quiet Formaldehyde projects purified air at angles of 0o, 25 o or 50 o depending on user preference.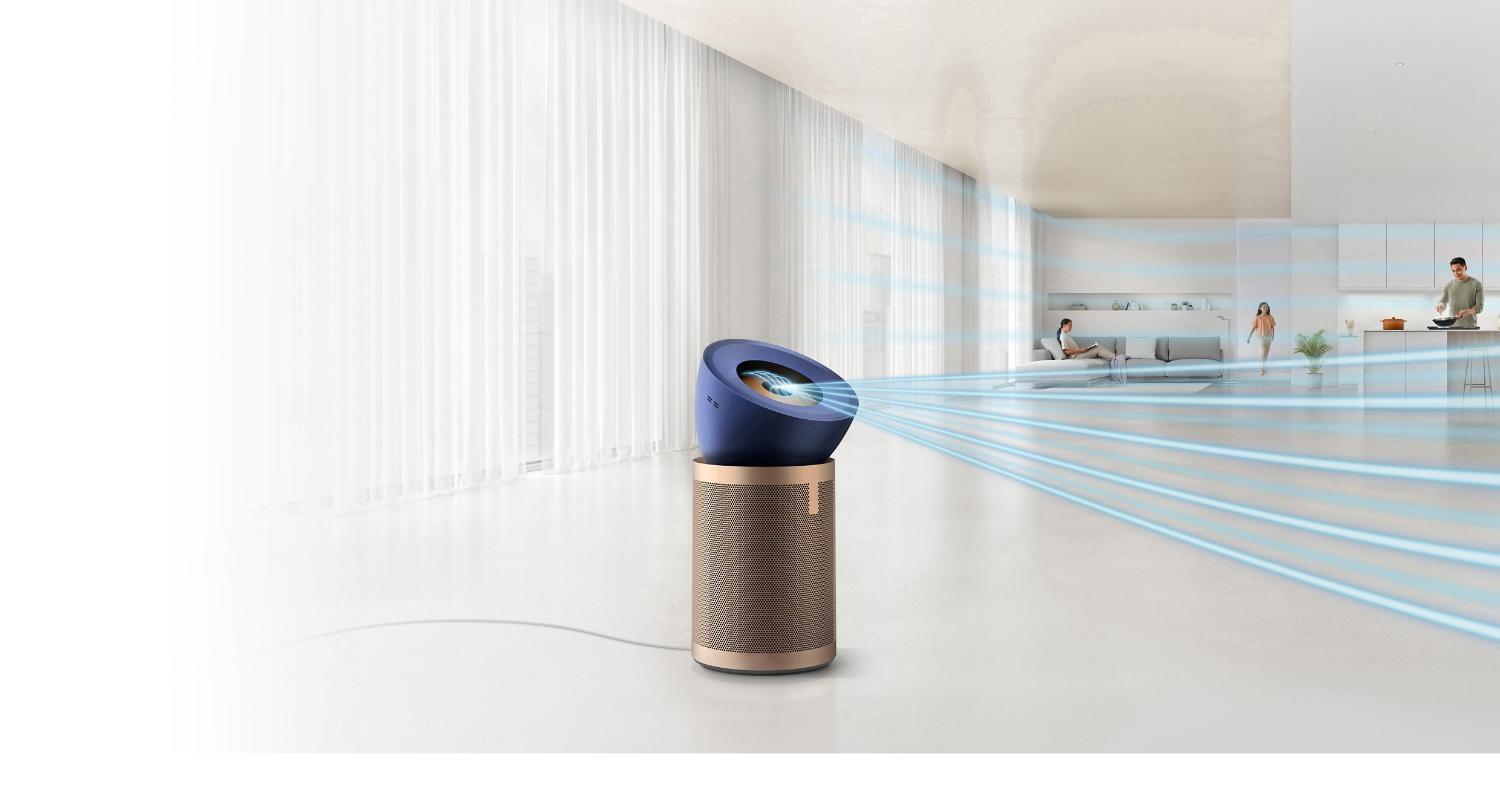 Breeze mode
Dyson's commitment to airflow research led our engineers to spend over 3 years collecting 40 million data points to help them recreate a natural breeze at home. The sensation from seemingly randomized air movement has been scientifically proven to be more refreshing than a stationary jet of air, a phenomenon termed thermal alliesthesia. Dyson engineers used a 3-axis ultrasonic anemometer across 8 different locations to study the shape and frequency of gusts of wind, using this data to inform a unique Dyson software algorithm that controls a single jet of air to oscillate in an up-and-down motion that mimics natural breeze patterns.

Three-phases of fully sealed filtration
The Dyson Purifier Big+Quiet is engineered to clean the air continuously, even in large spaces. Some common sources of indoor air pollution include tobacco smoke, household cleaning products, building materials, and outdoor air pollution that enters the home. These sources can emit pollutants such as formaldehyde, VOCs, NO2 and ozone. The machine has improved filtration to capture these harmful pollutants - featuring a fully sealed filtration system to HEPA H-13, ensuring purified air is projected back into the room and the pollutants stays in the filter. By scaling up all three filtration layers, and improving HEPA filter life by 5 times, Dyson engineers have taken filtration performance to the next level:

1.   The HEPA H13-grade particle filter is made of 21 meters of borosilicate microfibres pleated 459 times (making it 3.8x larger than predecessors and the equivalent area of 2 king-size beds or 127 pieces of A4 paper). It captures 99.95% of particle pollutants, including dust and allergens as small as 0.1 microns, and lasts up to five years.
2.   The new K-Carbon filter combats NO2 specifically, which can be emitted from activities like cooking or entering the home from outdoor sources, like nearby road traffic. It also captures benzene and household odours. Enriched with potassium, this filter now captures three times more NO2 than its predecessor.
3.   The Dyson Selective Catalytic Oxidation (SCO) filter is made up of billions of atom-sized tunnels which break down formaldehyde molecules into tiny amounts of water and CO2. It then re-generates with oxygen from the air to keep destroying formaldehyde continuously, without needing replacement.
Formaldehyde
The World Health Organization has published indoor air quality guidance on exposures to formaldehyde as it is a known carcinogen found in many household and commercial products. Exposure to high levels of the gas can cause health problems such as respiratory issues. Modern, well-sealed spaces exacerbate this problem by trapping pollutants inside. Formaldehyde, which is 500 times smaller than particles the size of 0.1 microns, is particularly challenging to trap and destroy.
Quiet event at full power
To be effective, many conventional large-format purifiers need to be used at full speed, which generates too much noise for users to tolerate. As such, many fail to be used to their full potential. Our in-house team of noise and vibration engineers re-engineered the motor bucket so the Dyson Purifier Big+Quiet Formaldehyde projects maximum airflow with minimum noise.

·        Broadband Helmholtz silencer is a cavity shaped to capture sound waves of target frequencies. As sound waves are transmitted from the source (the compressor) along the airflow pathways, the Helmholtz silencer traps sound energy and dissipates low-frequency noise.
·        A unique labyrinth seal controls air recirculation by extending the airflow pathway, reducing the amount of energy the air holds and reducing potentially noisy swirl in the recirculating air.
·        By soft mounting the motor within the compressor, we were able to isolate motor vibrations from the machine at the source before they became amplified, minimising the noise generated from vibrations. 
Sensing and monitoring
Most indoor pollutants can't be seen or smelled. The Dyson Purifier Big+Quiet Formaldehyde comes with a suite of integrated sensors monitoring particle, gas and formaldehyde levels, allowing owners to monitor indoor air quality through the live results on the LCD screen and in the MyDysonTM app. The sensors are also embedded with a unique Dyson algorithm which cross-checks data every second, analysing the air and automatically reacting to environmental changes to purify. The MyDysonTM app also acts as a remote control, even when you're not at home, or can be used to schedule and monitor purification.

The Dyson Purifier Big+Quiet Formaldehyde incorporates a CO2 sensor, making it the first time Dyson has incorporated this feature in our purifiers. Higher CO2 levels indoors can impact our wellbeing but can also affect our cognitive abilities. The CO2 sensor accurately reports when CO2 levels exceed recommended levels, preventing you from breathing in stale air. With the Dyson Purifier Big+Quiet, you can breathe cleaner air continuously, even in large spaces, and take control of your indoor air quality.
Real-World Testing
The industry standard test for purifiers, Clean Air Delivery Rate (CADR), is tested in a small test chamber of 12m2 with just one sensor and artificial air mixing. For our largest, quietest, and most powerful purifier to date, Dyson engineers constructed a 100m2 test chamber in Dyson's Hullavington campus. The chamber is equipped with 36 sensors to measure the machine's ability to thoroughly and evenly clean the equivalent of a large, open-plan living space. By implementing this rigorous testing method, Dyson can ensure that its purifier performs optimally in real-world settings, surpassing traditional testing methods to promote a healthy and comfortable home environment.