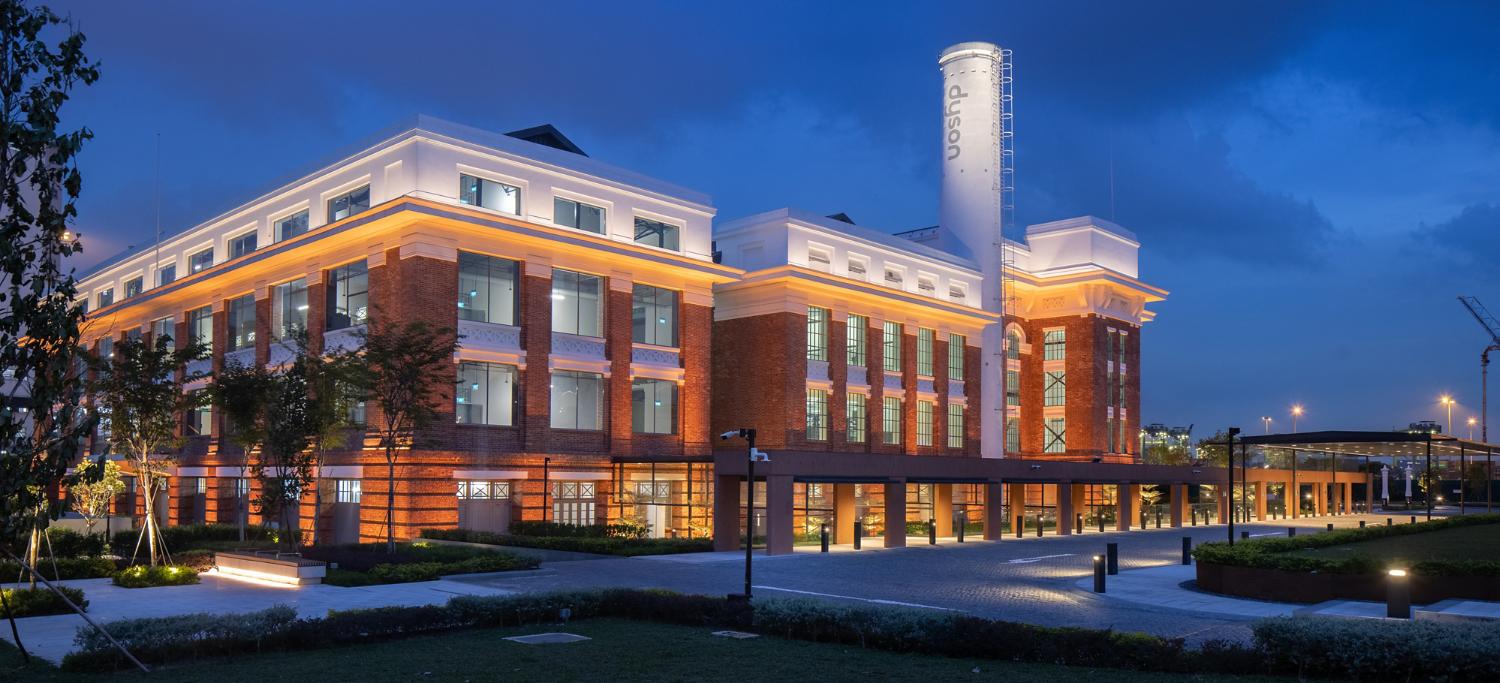 Dyson Spaces
By James Dyson
"Ideas need inspiring spaces to grow – surrounded by passionate people who believe in them. The most fragile concepts, if nurtured, possess the potential to change everything."
I have always wanted Dyson's people to work in inspiring spaces which have their own story and character. Buildings matter because they affect all of us as individuals. Architecture and the spaces we inhabit have a profound impact on our health, how we feel, and how we work creatively together.
While studying at London's Royal College of Art, I came to appreciate the brilliance of the revolutionary structures designed by Tony Hunt and Buckminster Fuller. Working with Tony Hunt, previously my structures tutor, and the late Chris Wilkinson to develop the first buildings on our Malmesbury Campus, I realised the importance of fresh, rather than recirculated, office air to avoid 'sick building syndrome' and keep us all healthy (this was controversial at the time, but in a post-Covid world the benefits are now plain to see). And through my Foundation's work, at the Dyson Centre for Neonatal Care in Bath, I saw how natural light can improve health outcomes for premature babies and improve the morale of those caring for them.
For these reasons, and many more, I believe a place of work should be inspiring – a destination to look forward to at the end of the commute and a place that inspires collaboration. There is nothing quite like walking into an exciting and uplifting building. That is how I feel when I walk into St James Power Station, our new Singapore global headquarters, and onto our campuses in Malmesbury and Hullavington, Wiltshire. That goes for our Demo stores too, from New York to Paris to Tokyo, which were designed to look like art galleries but work like traditional market stalls without the clutter. They are, I hope, inspiring places to visit and get hands-on with our technology.
At Dyson we make physical things, so it is vital that we interact face-to-face with each other and with our products. We collaborate, using the latest equipment in shared spaces and labs where we experiment and test out prototypes and ideas. We have taken this approach since we started out in the Wiltshire Coach House adjacent to my house near Bath – our 18th century English equivalent of the mythical Silicon Valley 'garage'. We had to do it up, restore the old building, fit windows and sweep away the fusty straw to make a space to work.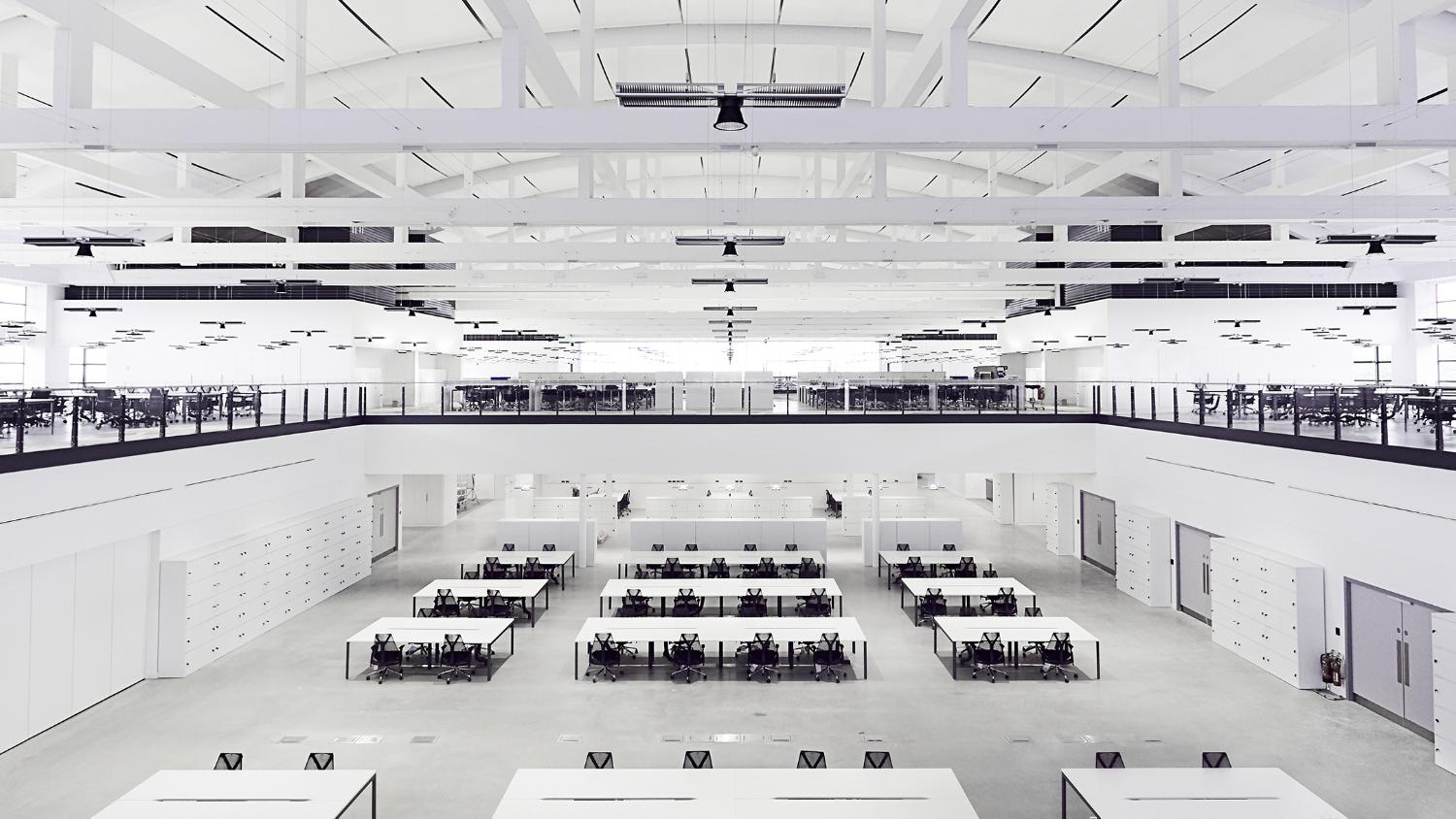 Things are a bit different now. The first vacuum cleaner we made, the DC01, involved four mechanical engineers sitting in the hayloft of a Wiltshire Coach House and two engineers downstairs, working machines. The latest, the V15 with laser and sensor technology, involved 400 engineers – engineers and scientists working in acoustics, AI, connectivity, energy storage and motor control – with a vast array of skills and expertise, all over the world. We have grown to become a global technology company and we are growing still, recruiting thousands of new engineers and scientists, and investing in the latest labs where they work.
Globally, we strive to build and engineer spaces that are well-designed – places that are enjoyable and exciting for our people and customers. I have always been sceptical of design that puts looks ahead of function. It is no use having a beautiful product that doesn't do its job – and the same goes for buildings.

We want to preserve the original purpose of our old buildings while modernising them for use today. It's something we've done since the very beginning because it's the right thing to do, both for the environment and the way we work. We don't hide things away; the services and structures are all there to see because what works begins to look beautiful.
We don't want people tucked away in offices so we have open-plan spaces, where teams can meet, talk and think together – the chance encounter being as vital to progress as the long-scheduled meeting. Our cafés serve great-tasting, locally sourced food (in the UK this is often from our own farms) cooked by world-class chefs. They serve as more casual forums for collaboration, dotted around our spaces, a coffee or tea within easy walking distance.
While much has changed since we started in a small Coach House three decades ago, growth has been constant and so has our habit of running out of space! Finding a new historic home for our headquarters in Singapore at St James Power Station was serendipitous and would not have been possible without the generosity and vision of Mapletree.
The building was in need of love – but when we first encountered it we could already see the vast potential and how we could design an interior that would suit collaborative working. Faithfully restoring historic buildings like this, is not quick, easy, or cheap, but the result is worth it. We first learned this with our Campus at Hullavington, Wiltshire, where we painstakingly restored the historic 1930s airfield. The architecturally significant, innovative and spacious hangars had fallen into complete disrepair but now they have now become light, airy and inspiring spaces busy with research activity and collaboration.
The move into St James Power Station is a momentous occasion for Dyson; this is just the latest space in our story. We are deeply honoured to be the custodians of this historic building and national monument. Once home to Singapore's main power station, the space has long been associated with cutting edge technology and innovation. Within it we will continue the next chapter for Dyson.
While still as beautiful as it was when Alexander Gordon first designed it in the early 1920s on the outside, St James Power Station is now totally modern inside. It is a thrilling and inspiring space on every level – from the spiral staircase, to the cathedral-like windows, to the iconic chimneys that make the building a Singapore landmark. I hope the team enjoy the space as much as I do, and that as Dyson grows, our buildings and spaces continue to uplift and inspire our engineers and all those that work in and visit them.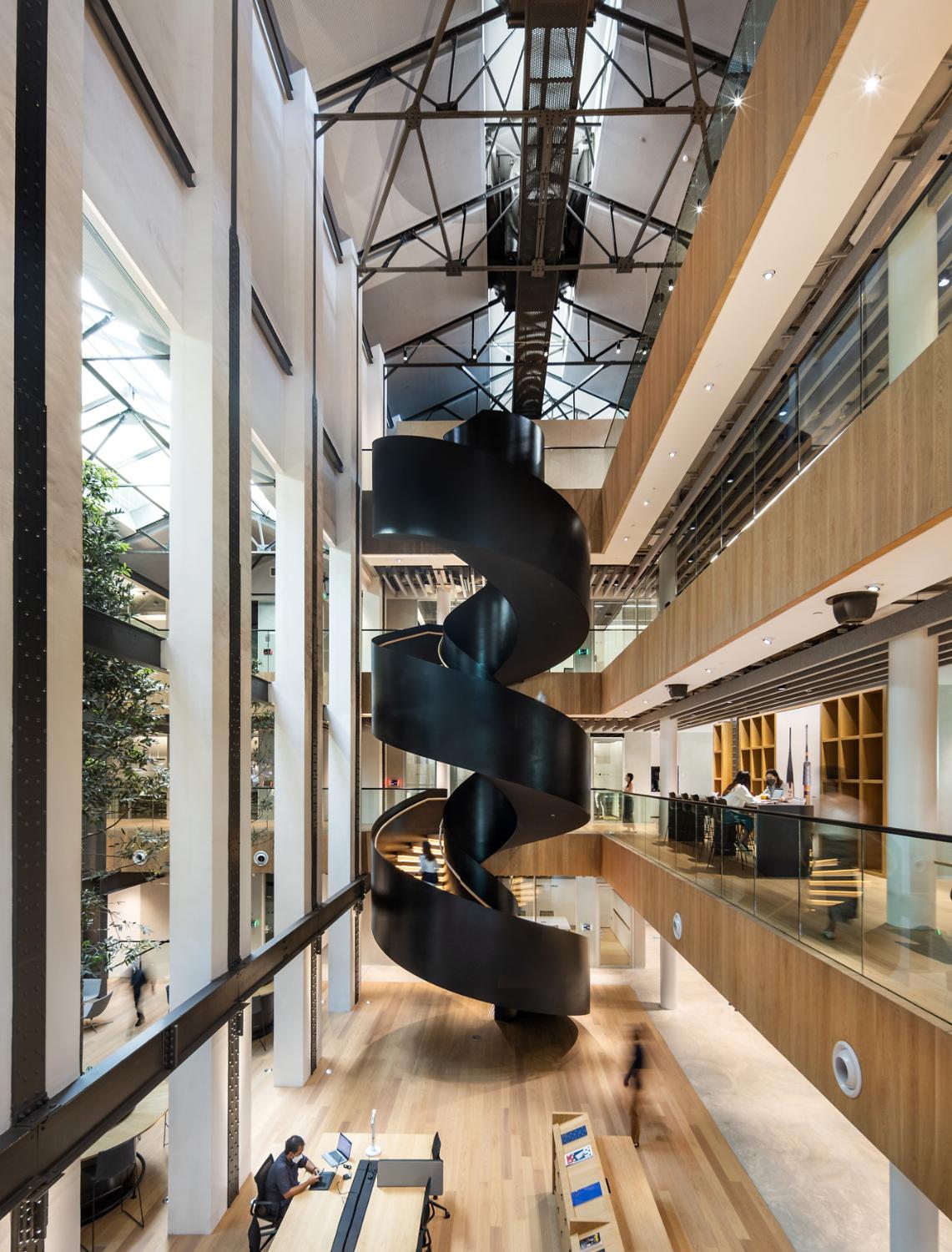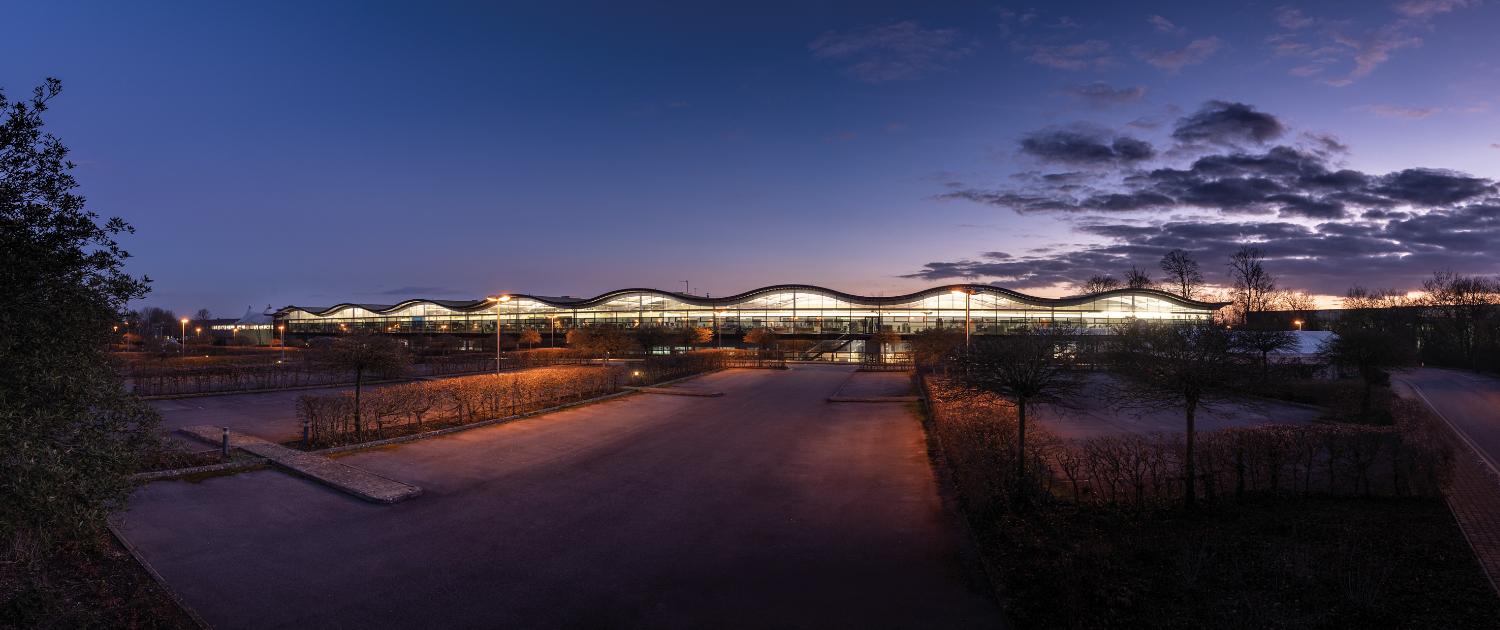 Evolution of Dyson Spaces
A distilled summary of Dyson spaces
1978
James sets up in an 18th-century Coach House near Bath
1994
Dyson moves into a former factory on the outskirts of Malmesbury, UK
1995
Dyson launches in Australia
1996
The first Dyson Demo Store opens in Paris, near the Champs Élysées
1998
Dyson launches in Germany, Benelux and Spain
1978
James sets up in an 18th-century Coach House near Bath
2000
Dyson opens Malaysia Development Campus
2002
Dyson launches in the USA
2004
Dyson launches in Japan with the DC12 at an event in the Roppongi Hills, Tokyo
2007
Dyson launches in Singapore
2011
The Dyson Centre for Neonatal Care opens at the Royal United Hospital, Bath
2012
The Dyson Building opens at the Royal College of Art, London
2013
Dyson opens the new fully automated motor-manufacturing plant in Singapore
2014
The Dyson Robotics Lab opens at Imperial College, London
2015
The Dyson School of Design Engineering opens at Imperial College, London
2016
The Philippines Advanced Manufacturing facility opens
2016
The James Dyson Building and the Dyson Centre for Design Engineering opens at the University of Cambridge
2016
Dyson opens an office in Shanghai
2016
The D9 building is completed in Malmesbury
2018
The Dyson Institute Village is established
2018
The restoration of Hullavington is completed
2022
Dyson moves into its new headquarters at St James Power Station