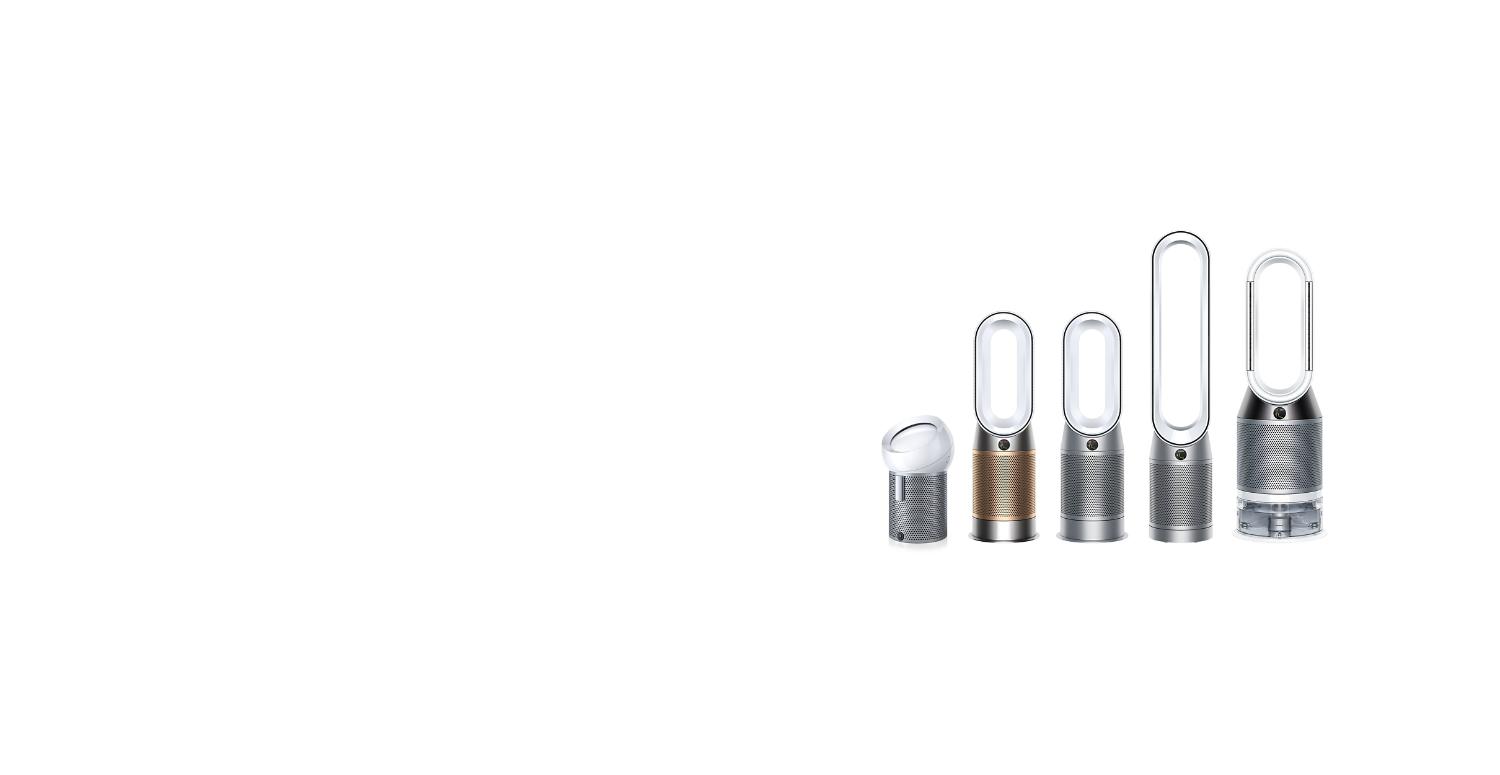 How do air purifiers work?
The Covid-19 pandemic has raised our awareness of indoor air quality and with it the benefits of an air purifier. We can do little to control what we breathe outside but with an air purifier we can help protect our health and wellbeing indoors.
What is an air purifier?
The basic function of an air purifier is to filter dirty air and release purified air out into the atmosphere. An air purifier engineered with HEPA and activated carbon filters can work effectively against pollens, fine particles, Volatile Organic Compounds (VOCs), viruses and bacteria. Dyson purifiers can remove up to 99.95% of particles as small as 0.1 microns.¹
More and more we're seeing air purifiers in the spaces around us. Hospitals, schools and office spaces are all reaping the benefits of air purifiers.
How does an air purifier work?
An air purifier tackles the pollution in our homes that we can't see. Most are engineered with a filter and a fan – to draw a cocktail of air inside and circulate clean air back out.
Dyson air purifiers have multiple sensors that detect pollutants in the air, before filtering them out in two or three stages. A HEPA filtration system captures dust, pollen, ultrafine particles and bacteria while an activated carbon layer removes gases and odours. In some of our purifiers, a selective catalytic oxidisation filter captures and destroys formaldehyde.²
Dyson engineers have re-engineered the machine's airflow pathways to achieve fully-sealed HEPA 13 filtration – not only ensuring that no air bypasses the filter but blocking any potential leak points through which dirty air might enter the airflow.
What's in our air?
Indoor air consists of a concoction of potentially dangerous volatile organic compounds (VOCs), including formaldehyde, as well as particulate matter such as pollen, dust, bacteria and nitrogen dioxide.
Volatile Organic Compounds (VOCs)

Understanding the impact of different sources of indoor VOC pollution is central to Dyson's research and development. Made up of carbon, hydrogen and sometimes oxygen, VOCs are potentially harmful compounds that can emit from common household items. DIY and personal care products, cleaning sprays, candles and perfumes are all common offenders.

 

Formaldehyde

A colourless gas that can be released from materials such as plywood and fibreboard, insulation and do-it-yourself products like paint, wallpapers, varnishes and household cleaning sprays. Formaldehyde is 500 times smaller than 0.1 microns and particularly difficult to capture. When left undetected, it can be trapped in a home for years.

 

Nitrogen dioxide

A reddish-brown gas released into the home through gas appliances, open flames, wood burning stoves and cigarettes. Fossil fuel combustion is a huge source of NO2 and it can enter through windows and ventilation.

 

Particulate matter

A complex mixture of extremely small solid particles and liquid droplets suspended in air. PM10 particles such as pollen and allergens, are small enough to pass through the throat and nose and enter the lungs. PM2.5 are microscopic particles from sources such as industrial emissions, bacteria and fungi. PM0.1 are inherently unstable particles that can easily grow into larger particles through coagulation and condensation. They're mostly found in vehicle exhaust emissions and tobacco smoke.

Bacteria and viruses


Bacteria and viruses may be found all over your home, including in household dust. Germs from a sneeze can even travel up to six metres.

 

Dust

Beyond the biological components of dust, synthetic particles like microplastics are increasingly common. In fact, even microscopic particles from rubber tyres have been found in dust samples analysed at the Dyson microbiology labs. Many of these particles are small enough to become airborne when disturbed. Read Dyson's dust report.

 

Pollen

Pollen grains are particles produced by trees, flowers and grasses. They're responsible for one of the most common seasonal allergies in the world. Infiltration through open doors and windows means that pollen is often found within homes – airborne when disturbed. As our homes become increasingly well-sealed, it may seem like we're shutting pollution out. But in truth, we're trapping it in. Whether we're sleeping, working, cooking or exercising, we now spend 90% of our time indoors,³ breathing potentially dirty air.
Why Dyson air purifiers?
When used in Auto mode, Dyson air purifiers automatically detect pollutants in your room and remove them from the air. This helps to reduce energy consumption, activating only when necessary.
The air we breathe is crucial to our health and wellbeing. Understanding our air quality has huge potential to influence how we construct our future cities, transport systems and homes. It's a complex matter. But Dyson engineers, microbiologists and research scientists have dedicated nearly three decades to understanding air science. And over 350 engineers globally are immersed in constantly-evolving research to inform our technology and help us breathe cleaner air inside our homes.
[1] Tested for filtration efficiency at 0.1 microns (EN1822, ISO29463)
[2] Third party full machine testing based on GB/T 18801-2015 formaldehyde cumulative clean mass testing with continuous injection until plateau of formaldehyde CADR is achieved. Results may vary in practice.
[3] Klepsis et al 2001, Schweizer et al 2007[2] 20% quieter than Dyson's predecessor machine, applies to Dyson Pure Cool and Dyson Pure Cool Formaldehyde only.
Understanding seasonal air quality nuances can help us to identify ways to reduce exposure to air pollution in our daily lives. 

Cleaning the common areas of your home is made easy with the right vacuum cleaner and accessories. See Dyson's checklist for cleaning the staircase, the hallway, and the living room.