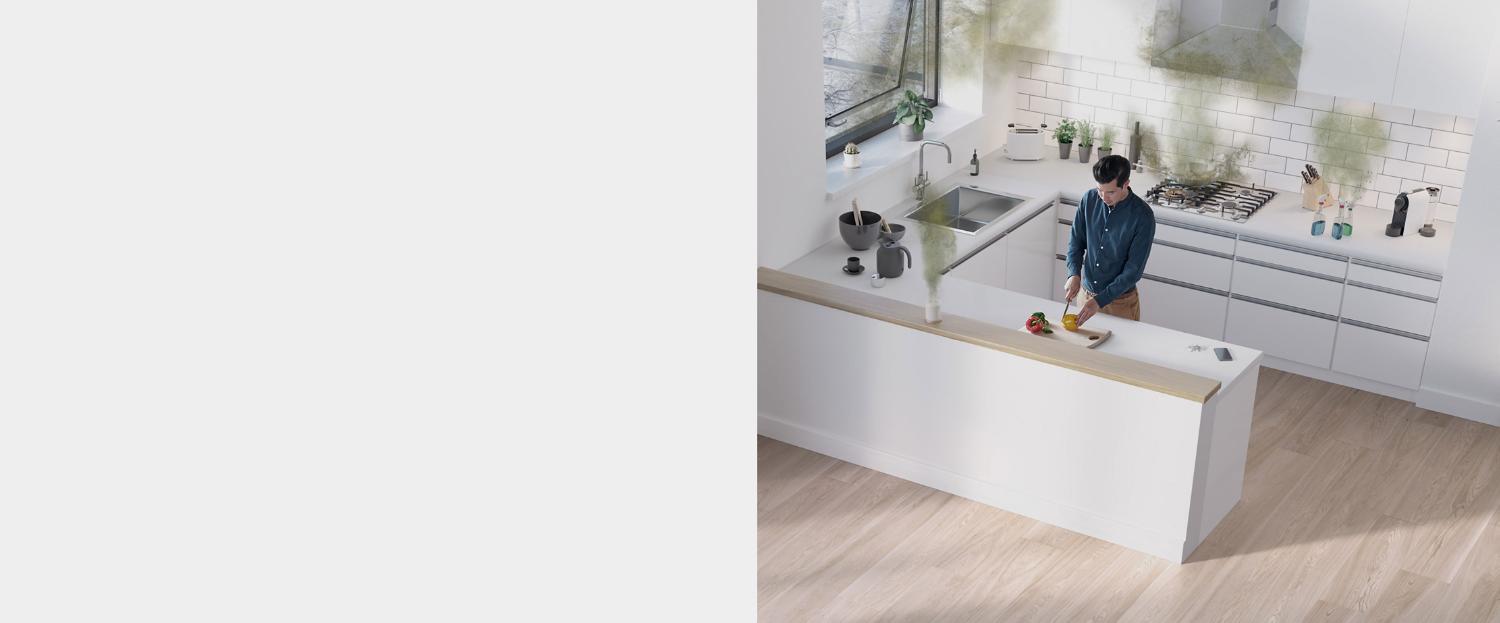 Eco-friendly cleaning: Easy and effective ways to reduce indoor air pollution
We all like a clean home. And whether we're doing a quick once-over or an intense deep clean, we usually have our favorite cleaning products to help us get the desired result. But unless we're using natural cleaning products we could, despite our best intentions, be creating another problem – high levels of indoor air pollution.
What causes indoor air pollution?
A range of activities can contribute to the quantity of airborne pollutants inside our homes. Cooking (frying and roasting in particular) and decorating can all release fine particles, as well as volatile organic compounds (VOCs) that include a variety of chemicals.¹ Some of these may have short- or long-term adverse health effects. VOCs are also emitted from many of our household cleaning products,² so while we clean floors and surfaces in our homes, we may also be dirtying the air that we breathe.
Can eco-friendly cleaning help improve indoor air quality?

Although manufactured cleaning products may do a good job, there are numerous natural-cleaning alternatives that can be just as effective. Using products home made from natural ingredients reduces the level of VOCs present in our homes³ – improving the air we breathe while still satisfying the need for a clean, fresh-smelling environment.
Using natural cleaning products
With just a few basic ingredients that are found in many homes, several everyday cleaning tasks can be completed without negatively impacting the quality of indoor air. These items include:
• white vinegar
• baking soda
• spray bottles
• essential oils for scent.
White vinegar
This can be bought inexpensively at most grocery stores. As a natural disinfectant,⁴ it has many uses for home cleaning. Its acidity makes it great for removing rust and hard water stains. Combining it with warm water in a spray bottle makes a simple and effective glass cleaner.
Baking soda
Readily available at many shops, baking soda can be used to clean and manage odors. Mixing it with vinegar and water makes a general-purpose cleaner. Use it on hard bathroom and kitchen surfaces, as well as mirrors and windows. Sprinkling it in rubbish bins and litter boxes will help with smells, as it absorbs odors in the air.⁴
These two items make the main combination in a long list of recipes for home made eco-friendly cleaning products.⁵ But there are numerous other things that can also be used to get some good results. Castile soap is made from 100% plant oils and is great at cutting through grease. Lemon juice helps to get rid of mildew and mold, and shines hard surfaces. And olive oil can even be used as a polisher. All these products add little to indoor air pollution.
Helping protect the environment
As well as reducing the level of VOCs in the air, using homemade cleaning products can help protect the environment in other ways. Making products at home reduces packaging waste. And by using non-toxic natural ingredients, there are fewer chemicals from manufactured cleaning products being released, reducing the negative impact on water and air pollution.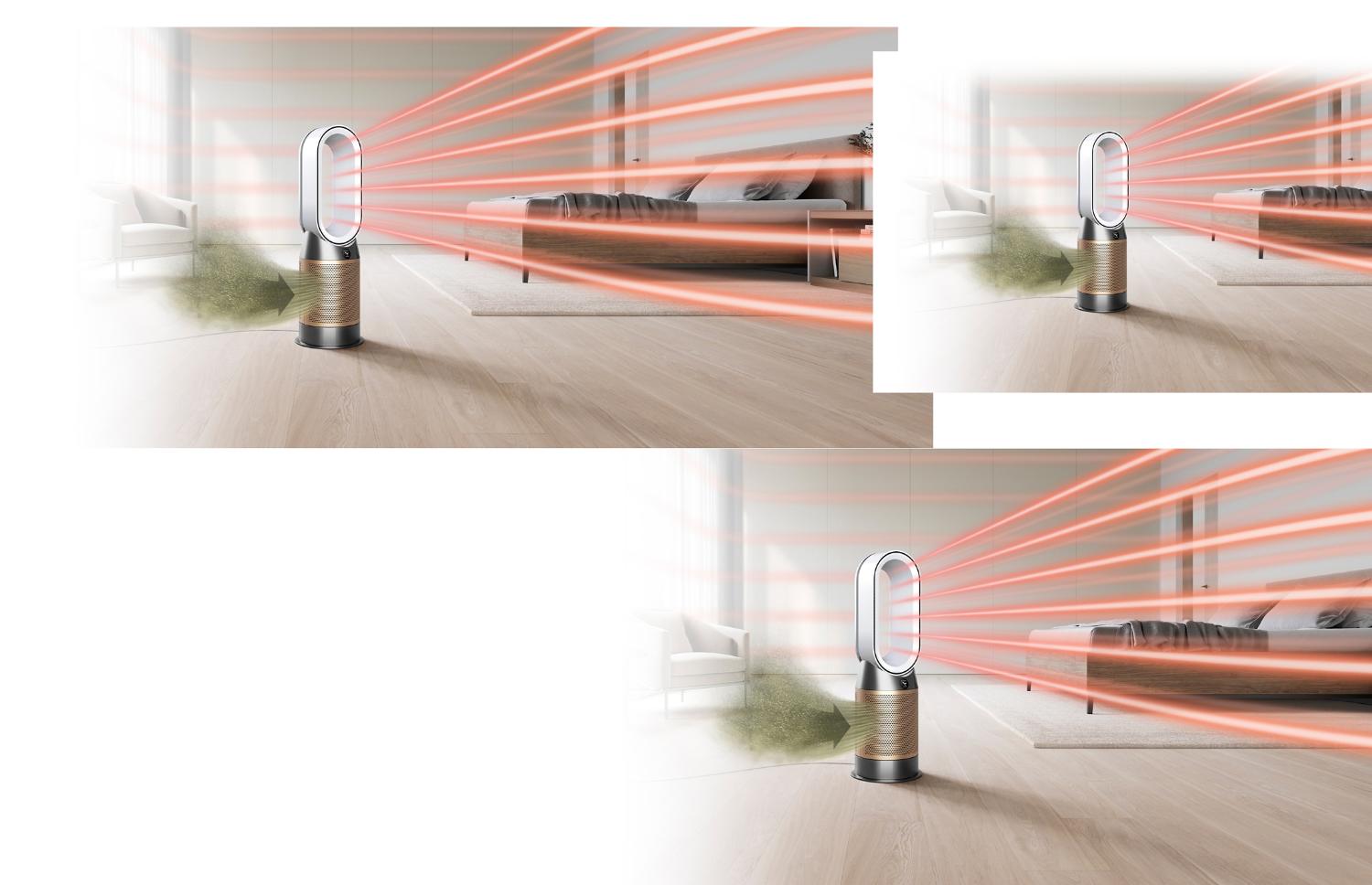 How else can indoor air pollution be reduced?
At Dyson, we've researched indoor air for many years and used this to engineer our advanced purifier technology. Our machines capture gases⁶ and 99.95% of particles as small as 0.1microns,⁷ removing them from the air we breathe to deliver clean, purified air to the surroundings. And because we spend an estimated 90% of our time indoors, the quality of indoor air is more important than ever.
Air quality can change by season, humidity, and many other conditions in your home. We break down the key effects of indoor air pollution on sleep quality.

Using an air purifier helps improve indoor air quality and gives you peace of mind that you can breathe cleaner air at home. The quality of the air indoors not only affects your comfort level but your health as well.
¹United States Environmental Protection Agency (2021) Report on the Environment, Indoor Air Quality. Available at: https://www.epa.gov/report-environment/indoor-air-quality 
²United States Environmental Protection Agency (2021) Volatile organic compounds' impact on indoor air quality. Available at: 
https://www.epa.gov/indoor-air-quality-iaq/volatile-organic-compounds-impact-indoor-air-quality 
³Which (2022) How to improve your indoor air quality at home. Available at: https://www.which.co.uk/reviews/air-purifiers/article/how-to-improve-your-indoor-air-quality-at-home-azaoP5x4Wcvl 
⁴WebMD (2022) Guide to natural cleaning. Available at: https://www.webmd.com/a-to-z-guides/ss/slideshow-guide-to-natural-cleaning 
⁵Friends of the Earth (2022) Homemade cleaning products: 5 fantastic recipes. Available at: https://friendsoftheearth.uk/about/homemade-cleaning-products-5-fantastic-recipes 
⁶Gas capture rates may vary.
⁷Tested for filtration efficiency at 0.1 microns (EN1822, ISO29463)