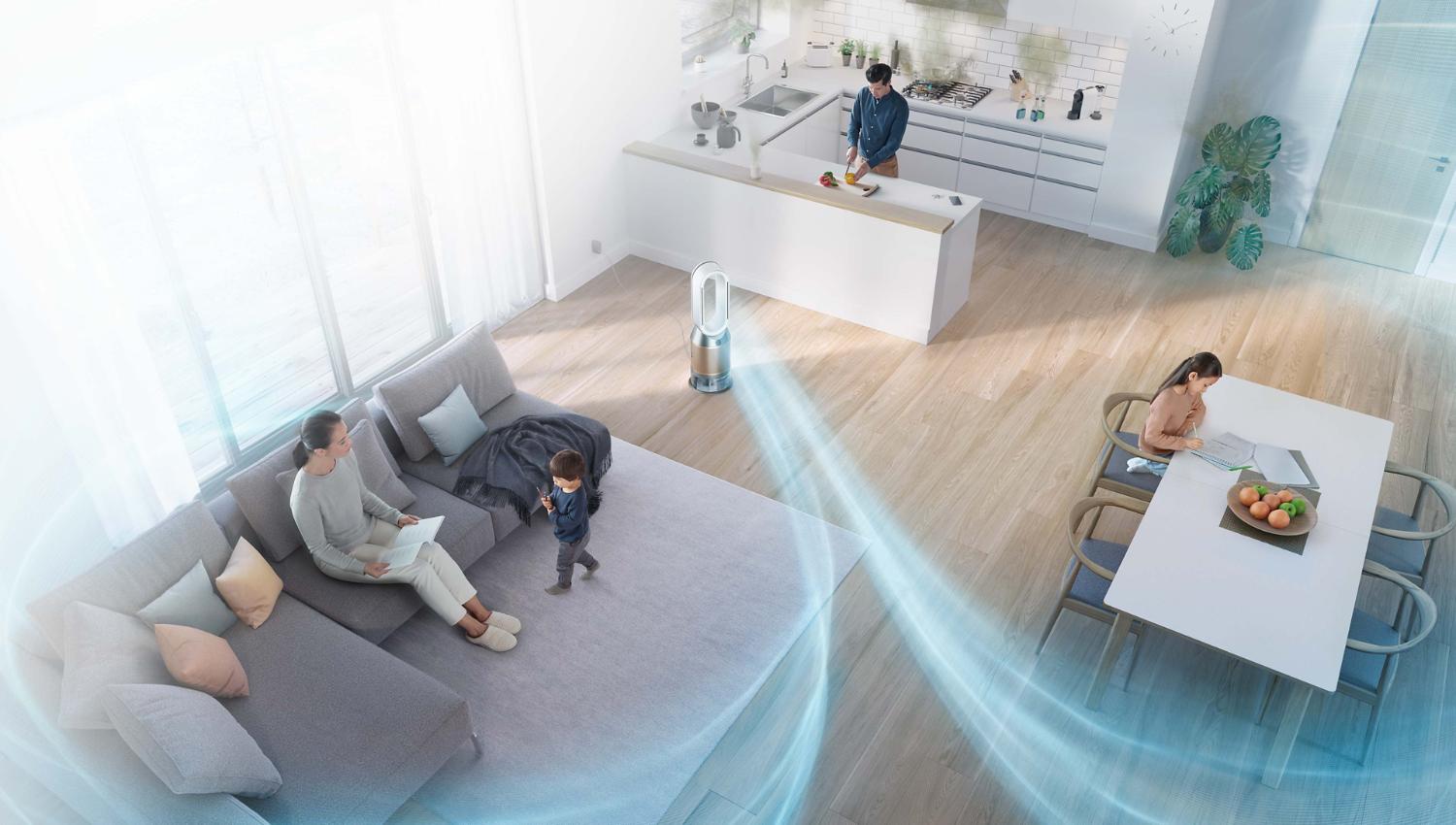 What does a humidifier do?
A humidifier adds moisture to the air. But why does that matter?
It's not just the climate that can dry out the air. Central heating in winter¹ and air conditioning units in summer² are the most well-known culprits for contributing to dry air developing in the home. This lack of moisture can cause skin, scalp and sinus dryness.

However, a humidifier can help protect our health and wellbeing indoors. And with a Dyson purifier humidifier, the thinking element is done for you. It's intelligent enough to monitor the air constantly, reacting to purify and humidify only when needed.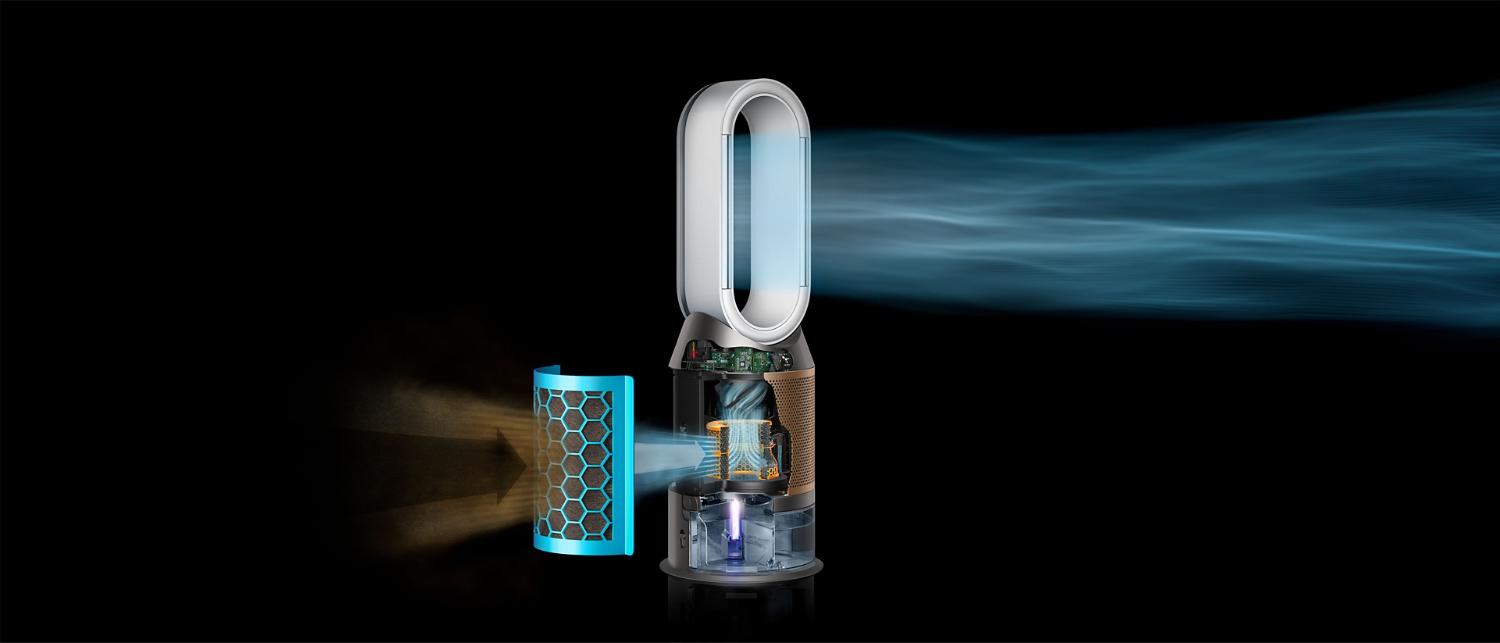 How does a humidifier work?
In its simplest form, a humidifier consists of a water tank with controls, emitting water vapour or steam into the air when needed. Increasing the moisture in the air can help reduce the spread of viruses and promote other potential health benefits.¹ To get the best results, a humidifier should be used all year round, even while sleeping. 
Most places in the world could benefit from a humidifier – even the most humid. This is because in humid climates, we run air conditioning units. And dry air from central heating¹ and air conditioning² can reduce the humidity in our homes.
Dyson purifier humidifiers take it a step further to remove up to 99.95% of particles as small as 0.1 microns³ from the air and hygienically humidify by removing 99.9% of bacteria in the water.⁴ 
What are the benefits of a humidifier?
Dyson humidifiers have in-built intelligence that adds moisture to the air automatically. Humidity comes with numerous benefits, including help with sleep and dry, itchy skin.
Sleep easy

Anything that disturbs our sleep can affect both our physical and mental health. A humidifier can have a positive effect on our sleep and well-being by adding moisture to the air and relieving congestion and other allergy symptoms.⁵

Help with dry skin 

Dry air can lead to dry skin. When moisturiser and lip balm are not enough, one effective way of easing symptoms is by investing in a humidifier. The Dyson Pure Humidify+Cool three-in-one purifier, humidifier and fan was the first machine of its kind to receive The National Psoriasis Foundation (NPF) Seal of Recognition in the US. 

"For many people living with psoriasis or severely sensitive skin, dry air can cause symptoms to flare, and air pollutants can create issues when they land on the skin or are breathed in," says National Psoriasis Foundation. 
Relieve congestion 
Humidifiers can help to loosen congestion in the nose and face. Dry air irritates your throat and sinuses, so if the air in your home is dry, try using a humidifier to add moisture.⁶
Whether we're sleeping, working, cooking or exercising, we now spend 90% of our time indoors,⁷ going about our day in compromised air quality.
How to clean a humidifier
It's important to prevent pollutants leaking back into the air, and to avoid dirty reservoirs and filters in humidifiers, as this can quickly breed bacteria and mould. 

Only a Dyson is fully sealed to HEPA H13 standard,⁸ plus our Ultraviolet Cleanse technology hygienically removes bacteria.⁴ Our machines provide up to 36 hours of hygienic humidification and a five-litre water tank gives continuous humidification without regular refilling.

However, some water types can leave mineral residue such as limescale. For simple and hassle-free maintenance, we've engineered a Deep clean cycle that thoroughly cleans all parts exposed to water, notifying the user when cleaning is required and directing them through the process. 
Dyson humidifiers
The Dyson purifier humidifier automatically maintains the target level of moisture in the air with an invisible stream of evaporated water – and no mist – for a more comfortable environment. Tested beyond the industry standard, they humidify with Auto mode, which scans the air for signs of dryness, kickstarting the machine to humidify only when needed. In Night mode, the purifier humidifier only uses the quietest settings with a dimmed display.
To help alleviate hygiene concerns, Dyson engineers expose every drop of water to a powerful λ275nm UV light, which destroys 99.9% of bacteria.⁴ Cleansed water is then evaporated and Air Multiplier™ technology propels purified, humidified air throughout the room.⁵
What we breathe in matters more than ever. Low humidity levels can impact the quality of our indoor air every day. At Dyson, we care deeply about your indoor air. In fact, thousands of engineers have dedicated years to creating a purifier humidifier that really targets the air indoors. We want our homes to be comfortable places to live – after all, it's where we spend most of our time.⁷ 
Understanding seasonal air quality nuances can help us to identify ways to reduce exposure to air pollution in our daily lives. 

Pollen allergies spike during the spring and summer months. Learn how to help manage pollen allergies and symptoms – Dyson air purifiers help to capture pollen allergens.
¹https://www.epa.gov/indoor-air-quality-iaq/use-and-care-home-humidifiers
²https://learnmetrics.com/does-ac-remove-humidity/
³Tested for filtration efficiency at 0.1 microns (EN1822, ISO29463)
⁴Based on Dyson's internal standards, tested by the China Household Electric Appliance Research Institute (CHEARI), testing the ability to kill bacteria (E. coli) in the water injection chamber yielded 99.9% of the test results. All of the above experiments were carried out under the conditions specified in the experiment, and there may be differences from the actual use.
⁵https://www.sleepfoundation.org/bedroom-environment/humidity-and-sleep
⁶https://www.webmd.com/lung/copd-humidity
⁷https://www.opinium.com/brits-spend-90-of-their-time-indoors/
⁸Tested for purification coverage in an 81m³ chamber. Tested for humidification coverage in a 41m³ chamber.