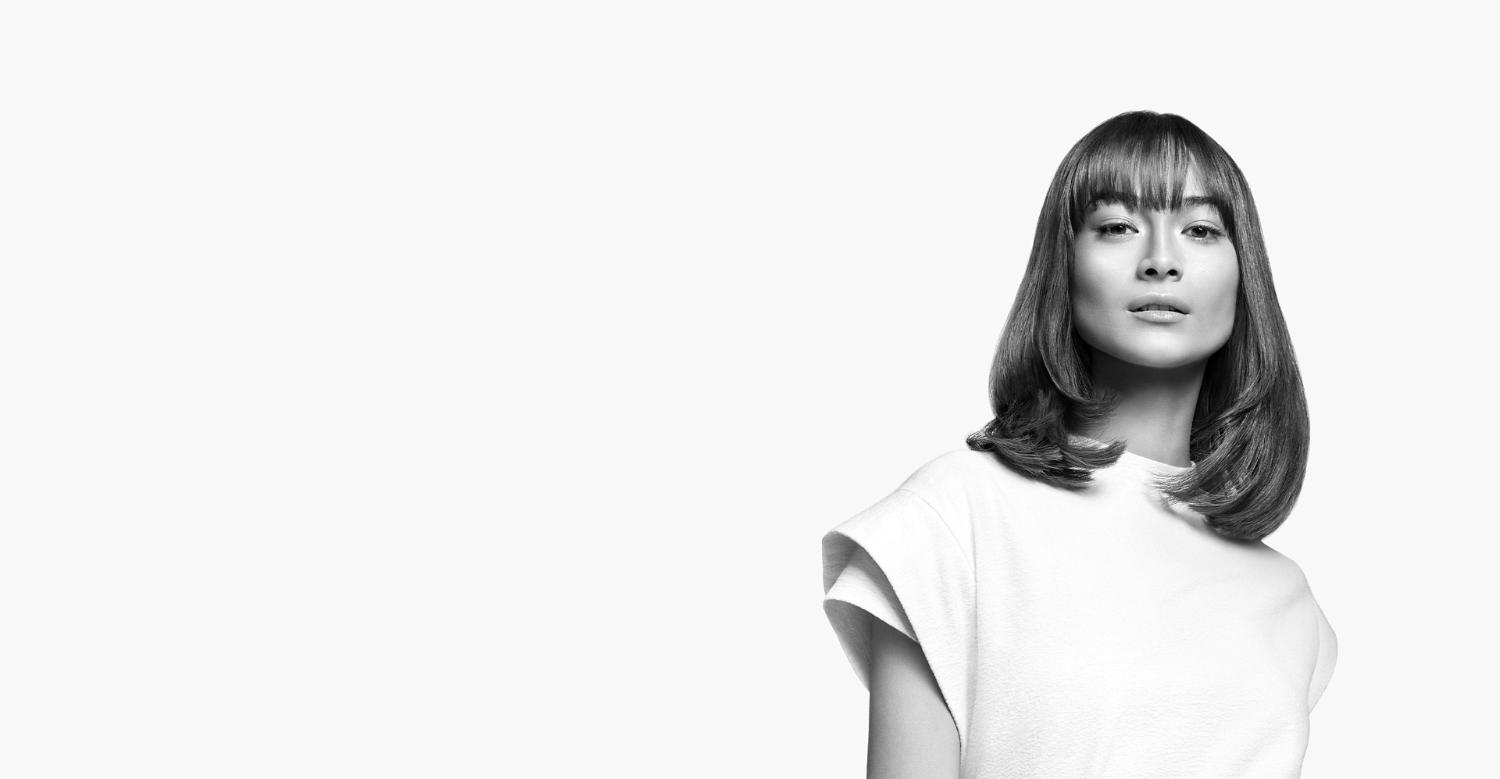 Five ways to keep your colour-treated hair healthy
Coloured hair damage can be traced back to what's happening at a molecular level. So how we protect it should start there too. At Dyson we've invested over £100m and employ hundreds of engineers, scientists and stylists to investigate the science behind hair. We've put artificially coloured hair under the microscope to determine how we can help keep it healthy, vibrant and shiny for longer.

Why coloured hair damages more easily
Permanent hair dye is formulated to penetrate the hair strand's natural outer barrier and deposit colour molecules deep inside the hair shaft.
But the process of getting the colour molecules there can be damaging.
The outer barrier of the hair is called the cuticle. Its transparent protein cells are tightly bound together and coated with a lipid layer that can help repel water, giving hair its natural shine and integrity.
Hair dye breaks down the lipid layer and swells the hair strand. This swelling lifts the cuticle and allows small colour molecules to pass through to the centre of the strand. A chemical reaction then occurs inside the hair strand, creating larger colour molecules that are trapped within the hair, resulting in a new hair colour.
Removal of the lipid layer and a damaged cuticle can reduce your hair's natural shine, make it feel rough and result in increased porosity. So other molecules, such as water, can move in and out of the hair strand more easily and make hair susceptible to further damage.
So when it comes to keeping coloured hair healthy and making hair colour last longer, protecting the hair structure and keeping the new colour locked inside is key.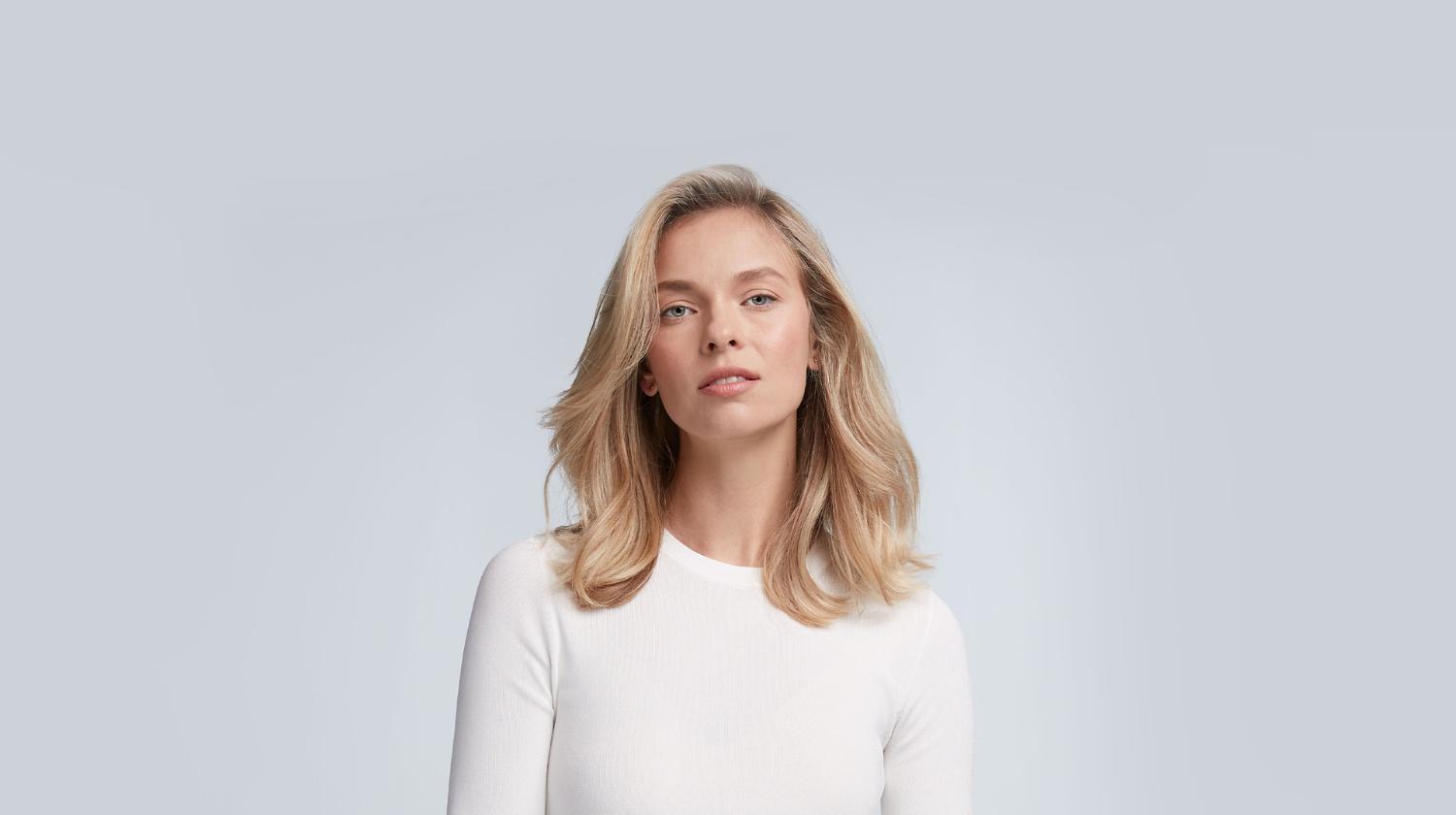 Five practical tips to keep coloured hair healthy
1. Limit exposure to extreme heat
High heat can change the proteins in the hair and cause irreversible damage to its structure. Damage to the strands can affect how quickly the new colour is washed out as water moves through.

Dyson hair care technology is engineered to reduce reliance on extreme heat. This helps keep your hair strands healthy and your colour intact.
2. Wash your hair less
The cuticle is particularly vulnerable to damage when wet because the hair strands swell and become fragile. The swelling causes the cuticle scales to lift and the strand becomes rough. A rough cuticle tangles more easily, leading to mechanical damage.
3. Condition your hair regularly
Conditioners and oils help limit water absorbtion into the cuticle by depositing a hydrophobic layer over the hair. A water repellent layer over the strand helps to smooth its surface, increase shine and prevent friction.
Condition the ends of your hair liberally every time you wash and opt for more intense conditioning treatments every week or so.
4. Keep hair out of the sun
UV radiation from sunlight has been shown to oxidise and destroy the colour molecules formed during the dying process. It also breaks down the hair's protein structure leading to visible hair damage such as bleaching, broken fibres and split ends.
Staying out of the sun can help keep your colour fresh and closer to its "first-dyed" state.
Wear a hat when out in the sun for long periods of time or use UV-protecting products.
5. Beware of swimming pool water
Copper algaecides are sometimes used in swimming pool water to clear algae. But the copper molecules can also penetrate deep into the strands and change the hair's colour.
Wet hair in a swimming pool can also swell hair strands, break some of the hydrogen bonds that hold the structure together, and make hair more vulnerable to damage.
Using leave-in conditioners or oils before swimming in a pool can help repel the water from the strands. Or wearing a swimming hat can prevent exposure altogether.
For personal advice from Dyson Stylists, visit a Dyson Demo Store and discover how our technology can help improve your hair's health, colour and shine.
Discover the Dyson hair care range
Protect against extreme heat damage. With more focus on control and less reliance on heat.
For voluminous blow-outs or smooth and straight styles, the key lies with the right hair dryer brush. Pair a paddle brush or round brush with your Dyson Supersonic hair dryer for carefree styling with no extreme heat.

Dyson's Global Styling Ambassadors share their tips and tricks on curling hair with a hair straightener. Try these curly and wavy styles at home with your Dyson Corrale hair straightener.
¹Jennifer Marsh, J. G. (2015). Healthy Heair. New York : Springer International Publishing Switzerland.
²Wickett, E. T. (2012). Practical Modern Hair Science. Allured Books.