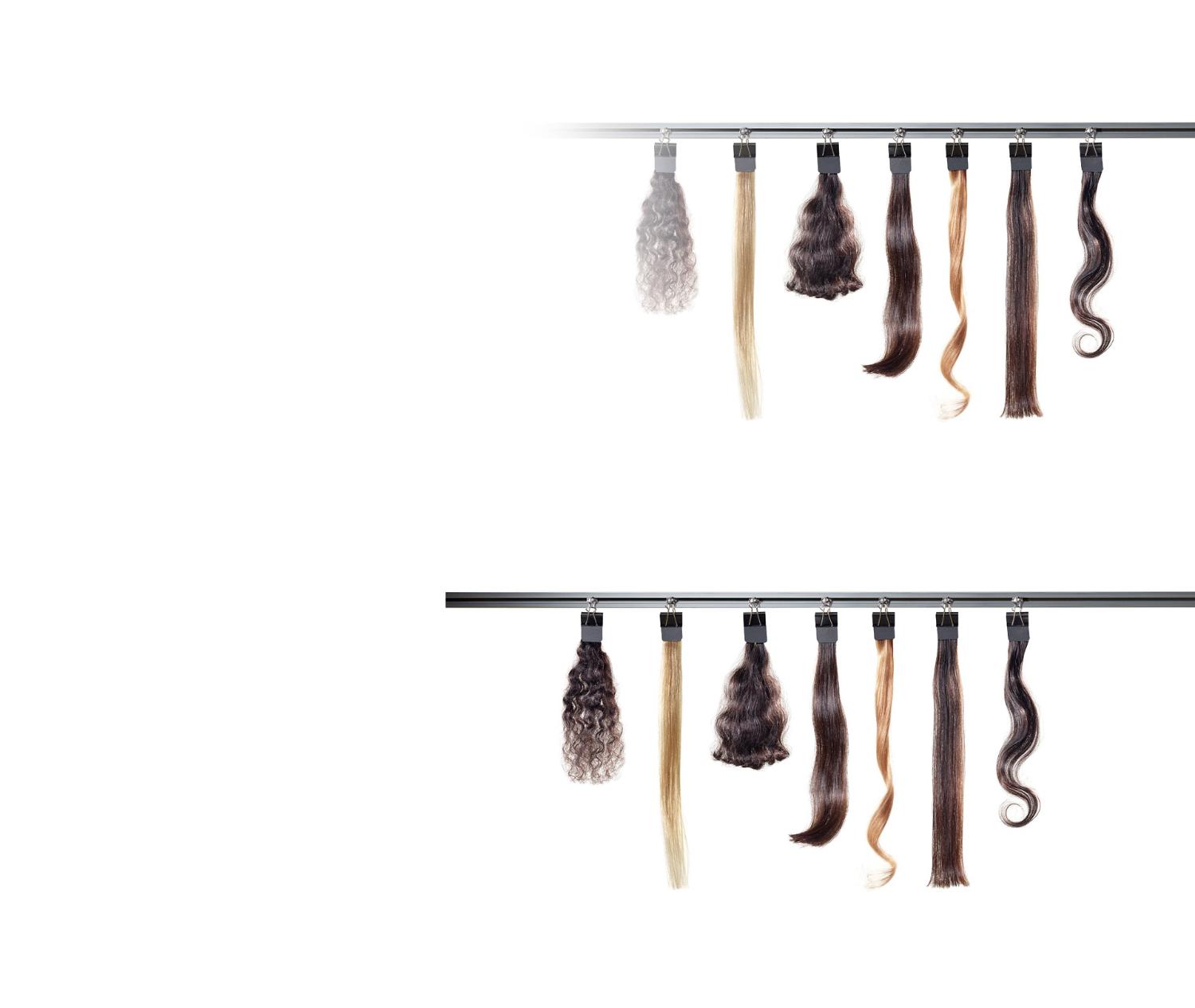 How to prevent and get rid of split ends
Split ends occur when your hair becomes damaged and the ends are dry, brittle, and frayed. They can be easily snapped, peeled, or broken when touched or when tools are applied.
Exposure to extreme heat, severe weather conditions and chemicals in hair care products can increase your chances of developing split ends and having unhealthy hair.
Hair strands can continue to grow for two to six years - collecting damage and weakening along the way. It's important to maintain a good hair care routine, even if your scalp isn't causing you any issues.  
What causes split ends?
The breakdown of the hair cuticle is an obvious sign of hair damage. With split ends and a frizzy or dull appearance, it's easy to recognise that your hair could do with some extra care. But what causes hair damage? 
Dyson scientists have tested thousands of straight, wavy, curly and coily hair strands so that our engineers can narrow down the top five culprits. 
1. Extreme heat

Heat is one of the most common and well-known ways of styling hair, but it's also one of the easiest and fastest ways to damage hair. Subjecting your hair to heat above 150°C regularly can severely affect the hair's cortex.¹ This is when breakage and split ends are likely to occur.

2. Chemical treatments and ingredients

Harsh chemical treatments or bleaching and colouring can damage hair quickly and leave it feeling rough and frizzy.² 
3. Mechanical damage
Towel drying and brushing from the root can overstretch your hair strand's natural elastin. A harsh brushing technique can also hurt the shiny outer layer of your hair, making it feel rough and look dull.³
4. The sun and UV rays
While spending time in the sunshine can be something we look forward to, overexposure can damage your hair.⁴ 
Bright sunlight and UV rays can erode the vibrancy of your hair colour by destroying its natural melanin pigments and even damaging the keratin in your hair. It can cause damage to the cuticle, making hair feel brittle and potentially resulting in further damage that can lead to split ends. 
5. Swimming (in chlorine and sea water)
As well as spending some time in the sun, swimming in a chlorinated pool or taking a dip in the sea can also cause hair damage.⁵ 
Chlorine and chemicals used to treat water cause frizz by damaging your hair's silky outer layer. Sea water can also leave your hair coated in salt, increasing the friction from the sodium in the water. 
Try using a hair sunscreen formula to prevent damage against UV rays and wash your hair after swimming to reduce deterioration and maintain healthy hair.  
Preventing split ends
When the cortex of the hair is severely damaged and the hair strand becomes brittle, cracks can start to form. If the strand is curved or impact-loading actions are placed on it, this can also cause damage. 
With continued harsh brushing, these cracks can propagate down the length of the hair strand until it finally splits.³ 
Hair professionals recommend that split ends should be cut off regularly.  
As well as frequent haircuts, introducing a good quality hair care routine with conditioner and gentle mask treatments will help to nourish your hair. 
By reducing exposure to extreme heat, you'll also prevent further damage, leaving hair feeling and looking healthier.¹ 
More control, less heat

After decades of research at Dyson's Hair Science Laboratories, our scientists have confirmed the two key factors when styling hair – temperature and control. The more you increase one, the less you need of the other. This means we can reduce the need for high temperatures while maintaining styling performance and helping to reduce the risk of split ends. 

The Dyson Supersonic hair dryer and Dyson Airwrap Multi-styler™ use intelligent heat control to help avoid hair damage from extreme heat. Air Multiplier™ technology created by the Dyson digital motor amplifies airflow, producing a high-pressure, high-velocity jet of air for controlled drying and styling. The Coanda effect also styles your hair without extended exposure to extreme heat. 
Revolutionising hair styling tools
To learn more about Dyson's hair care technology and bring engineering and science to life, visit the Dyson Demo Store Beauty Lab. 
Our professional stylists can share our latest inventions, teach you new hair styling techniques and answer any questions. After all, the best way to understand our technology is to experience it.  
Discover the Dyson hair care range
Protect against extreme heat damage. With more focus on control and less reliance on heat.
We spend plenty of time and money on our skin and hair, yet our scalp is often overlooked. Discover how to get a healthy scalp with our top tips.

Dyson's Global Styling Ambassadors share their tips and tricks on curling hair with a hair straightener. Try these curly and wavy styles at home with your Dyson Corrale hair straightener.
¹Jennifer Mary Marsh; John Gray; Antonella Tosti (18 August 2015), Healthy Hair, Springer, pp. 6-8,48-50. 
²Ed.Trefor Evans and R. Randall Wickett (2012), Practical Modern Hair Science, Allured Books, pp.148-152  
³Swift, J. A. (1999). The mechanics of fracture of human hair. International journal of cosmetic science, 21(4), 227-239 
⁴Practical Modern Hair Science Trefor Evans and R.Randall Wickett pgs 373-375 
⁵Nanko, H., Mutoh, Y., Atsumi, R., Kobayashi, Y., Ikeda, M., Yoshikawa, N., Fukuda, S., Kawa, Y., & Mizoguchi, M. (2000). Hair Discoloration of Japanese Elite Swimmers. The Journal of Dermatology, 27(10), 625-634