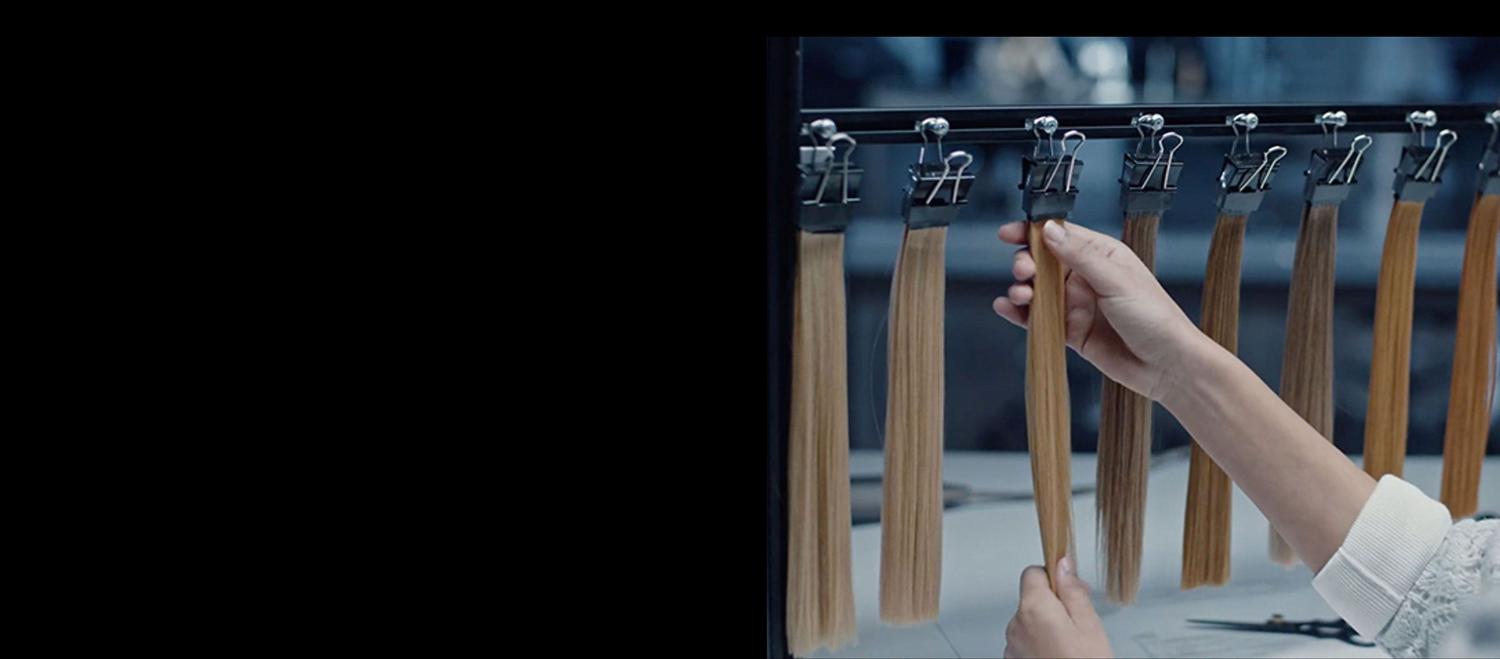 How to solve the 10 most common hair problems
Everyone has different hair, and with that comes varying issues. So Dyson hair care engineers, scientists and styling ambassadors have created a list of the top ten hair problems and how to solve them.
Hair issues
Although you grow an average of 11km of hair on your head every year¹, it cannot heal itself once damaged. So it's important to know what to look out for when caring for your hair type.²
For example, those with coarse, long hair may have different problems to those with short, fine hair. Not only this, but age, gender, hormonal changes, genetics and cultural heritage all play a part in our individual hair type. 
However, simple lifestyle changes, using the right technology and following scientific advice, can help reduce damage and maintain a healthy head of hair. 
1. Heat damage

When styling hair, a lot of people commonly reach for heat-based styling tools. However, extreme heat changes the shape of keratin within the strands of the hair. 

When using heat over 150°C, hair can become weaker and less elastic. At over 230°C, hair begins to burn or melt. The strong disulfide bonds deteriorate, and hair can quickly break.¹
Dyson research shows there are two key factors for styling: temperature and control. The more one is increased, the less you need of the other. However, to prevent damage, more focus should be given to control versus heat.
Dyson hair care technology protects against extreme heat and uses powerful airflow to style and control hair. 
2. Cuticle damage
Hair cuticles do not absorb water evenly, meaning they distort when wet. This swelling can make the hair's surface rough and increase strand friction.
Water on the surface of hair also causes strands to stick together, leading to increased tangling, plus cuticle damage when harshly combed, brushed, or styled.³ A tip to avoid knots is to brush from the bottom and slowly move higher with your strokes. 
Too much heat can also cause cuticle damage. Dyson technology uses intelligent heat control, meaning your set temperature is never exceeded.
3. Split ends

One of the most well-known hair problems is split ends. These occur when the cuticle layer is stripped away by continuous damage. Without this sleeve holding it together, the cortex can split.⁴

When the cortex is severely damaged, the hair strand becomes brittle. Cracks can then form if the strand is bent, or impact-loading actions are placed on it.

If you continue to brush frequently, these cracks can propagate down the length of the hair strand until it finally splits.⁵
4. How to prevent frizz and flyaways
Another common hair problem is frizz, which can manifest in four main ways⁶:
1. Uneven density
Visible and uneven gaps in the body of the hair.
2. Low fibre-to-fibre alignment 
Fibres aren't evenly aligned down the hair strand body. This is prevalent in curly hair where the fibres don't align with each other to form controlled curls.
3. Low edge definition
Fibres aren't aligned to the edges of the hairstyle structure.
4. Uneven surface area distribution 
Frizz can also be caused by a change in weather conditions or by physical interactions with the hair disrupting the style.
Damage to hair strands can cause a hairstyle to drop out quicker, increasing the rate at which hair frizzes.⁶
Using the Dyson Flyaway attachment after drying and styling means you can finish off your look by taming your hair into a smooth and sleek form without going to the salon.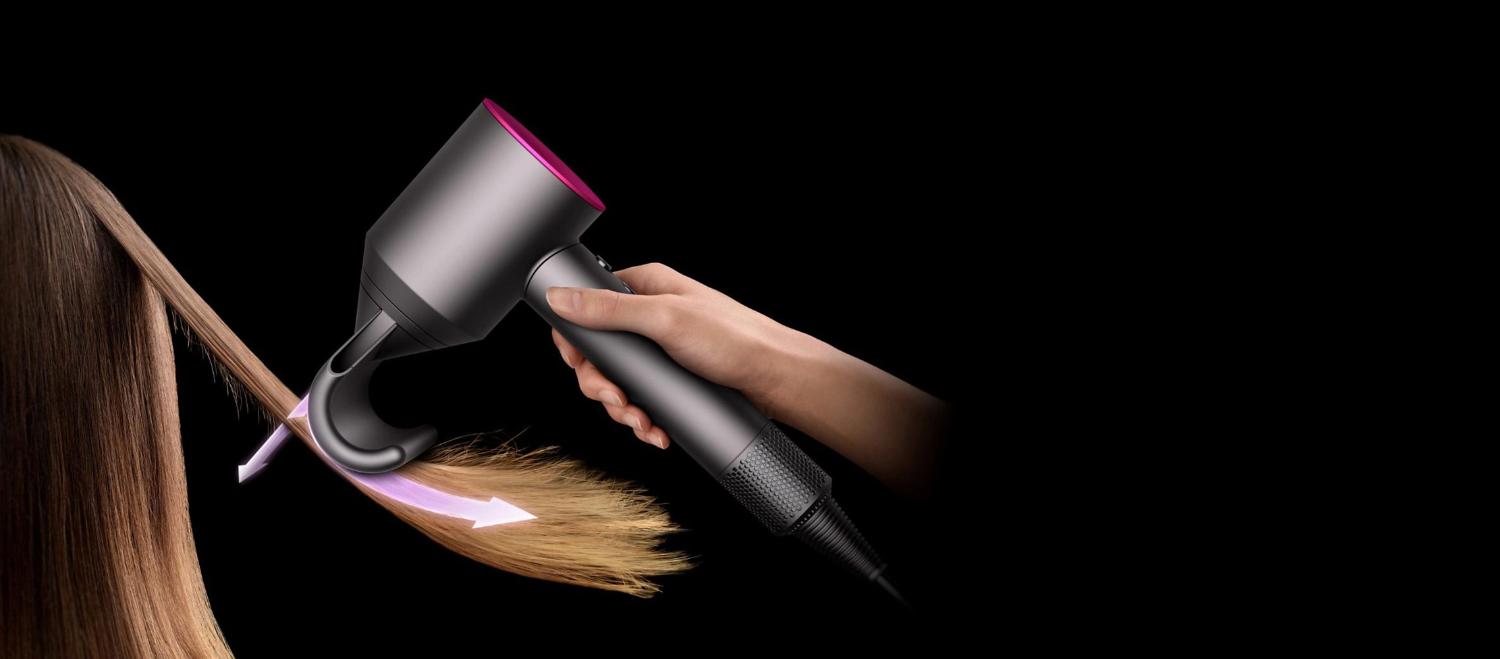 5. Smoking
Despite being a preventable cause of health problems, smoking tobacco is responsible for a lot of physical damage to the body. 
Smoking regularly can also affect hair, including its follicular growth cycle and fibre pigmentation, often leading to a loss of natural hair growth.⁷ Smoking damages DNA, which can lead to early greying or lightening of the hair at the roots.⁷
Unfortunately, the effects of smoking don't just stop at hair loss and premature greying – hair becomes brittle, too. A lack of nutrients makes hair dry and causes it to snap off from a lack of strength. Due to lack of blood flow and oxygen to the follicles, hair growth can slow or even stop. 
Stopping smoking will help to promote better hair health and restore a natural growth cycle. Blood flow can regenerate, and hair is likely to be thicker and more hydrated again.⁸
Get support when trying to quit smoking or reduce how much you smoke daily. Try designing a plan with the support of your GP and enjoy continuous health benefits.⁹
6. Feeling highly stressed
Feeling stressed occasionally is a normal emotion to experience. However, feeling highly stressed can trigger hair loss and push hair follicles into a 'resting' phase, stopping growth.¹⁰
To prevent stress affecting your health, it's important to practise the following if you can:
regular exercise.
enjoying regular walks outside.
spending time by yourself and with loved ones.
eating a more balanced diet.
practising daily mindfulness with journals or meditation. 
accessing support from professionals.
7. An imbalanced diet

The rate that hair grows and develops is often dictated by genetics, but other factors play a role by disrupting growth and causing hair issues.

Approximately 85% of hair is protein, while 11% is water, so maintaining a balanced diet and staying hydrated is vital.² Try including vitamins A, C, D and E, Zinc, B vitamin complex, iron, biotin and essential fatty acids to promote healthy hair growth.¹¹
If you want inspiration for your meal plans, try eggs, berries, spinach, fish, avocados, nuts, beans, shrimp and soya beans. Get creative and play around with recipes. There are endless health benefits to a colourfully balanced diet. 
8. Loss of shine
When hair leaves the scalp, the cuticle layer is at its smoothest and the cortex structure is fully intact, giving hair its shiniest appearance.¹² Overall, hair shine is determined by three main factors:
1. Strand smoothness
If the cuticle layer is in good condition, the hair strand will be smoother. Smoother strands reflect light more evenly.¹³
2. Strand alignment
Damaged hair and split ends can reduce shine. Unfortunately, split ends increase the diameter of the hair at the tips, so hair appears unaligned, affecting how smooth and shiny hair looks.¹⁴
3. Colour contrast
Dark hair will appear shinier than lighter-coloured hair due to the high contrast of reflected light.¹⁴
9. How to style for your hair type

Hair trends come and go, and some are harder to master than others. It's all about finding the right tools to create styles quickly and easily. 

Each Dyson tool is engineered to create and retain effortless style with less reliance on heat. 

Watch our hair styling guides and see how to get the most out of Dyson technology. Plus, show us your favourite styles on Instagram @dysonhair.
10. Creating styles that last
If you want a hairstyle that lasts, it's important to start by treating your hair with a high-quality shampoo.
Next, follow with other treatments and products which nourish your hair. Get to know your hair type and texture, plus which formulas are recommended.¹⁴
When your hair is wet, its hydrogen bonds are broken, making it easier to reshape. Towel-dry your hair before using a hair dryer. Try using the Coanda effect of the Airwrap™ styler – a  powerful way of using airflow and no extreme heat to style and dry hair. 
The Cold shot feature is a great way to set your hair firmly into place. It immediately deactivates the heating element for cooler air to set your style.
Avoiding humid environments can also help. Hair absorbs water from the air until it reaches equilibrium. Hair bonds therefore get disrupted, causing your style to drop out.¹⁵
Say goodbye to hair issues at the Dyson Demo Store
For tailored advice and to learn more about how to style your hair type, book an appointment with the Dyson Demo Store Beauty Lab.
Knowledge is key
With these top ten problems addressed, we hope you feel more confident about your hair. Heat, UV and chemical damage is irreversible, but understanding hair means you can help protect it.
Discover the Dyson hair care range
Protect against extreme heat damage. With more focus on control and less reliance on heat.
Coloured hair damage can be traced back to what's happening at a molecular level. So how we protect it should start there too. At Dyson we've invested over £100m and employ hundreds of engineers, scientists and stylists to investigate the science behind hair.

Dyson's Global Styling Ambassadors share their tips and tricks on curling hair with a hair straightener. Try these curly and wavy styles at home with your Dyson Corrale hair straightener.
¹Marsh,J., Gray,J. and Tosti, A. (2015) Healthy Hair. Springer, pp. 8.
²Robbins, CR. (2012) Chemical and Physical Behavior of Human Hair. 5th ed. Berlin, Heidelberg: Springer, pp.5-6.
³Bhushan, B (2010) Biophysics of Human Hair: Structural, Nanomechanical, and Nanotribological Studies. Springer Science & Business Media, pp.2.
⁴Robinson, V. N. E. (1976) A study of damaged hair, J Soc Cosmet Chem, 27, pp.155-161.
⁵Swift, J. A. (1999) The mechanics of fracture of human hair, International journal of cosmetic science, 21(4), pp.227-239.
⁶Marsh,J., Gray,J. and Tosti, A. (2015) Healthy Hair. Springer, pp. 40-42. 
⁷Babadjouni, A et al (2021) The Effects of Smoking on Hair Health: A Systematic Review.
⁸Dr Sameer Sanghvi, LloydsPharmacy.
⁹NHS (2022) Quit smoking. Available at: https://www.nhs.uk/better-health/quit-smoking/
¹⁰UPMC Health Beat (2018) Losing Hair From Stress? What You Should Know About Hair Loss and Chronic Stress. Available at: https://share.upmc.com/2018/12/losing-hair-from-stress/
¹¹Bhushan,B (2010) Biophysics of Human Hair: Structural, Nanomechanical, and Nanotribological Studies. Springer Science & Business Media, pp.3.
¹²Marsh,J., Gray,J. and Tosti, A. (2015) Healthy Hair. Springer, pp. 34-35, 40, 76-79.
¹³Robbins, CR. (2012) Chemical and Physical Behavior of Human Hair, 5th ed. Berlin, Heidelberg: Springer, pp. 677-685.
¹⁴Draelos, Z D (2021) Essentials of Hair care often Neglected: Hair Cleaning, International Journal of Trichology, 2 (1), pp.24-29.
¹⁵Evans, T. and Wickett, R R. (2012) Practical Modern Hair Science. Allured Books, pp.157-159.