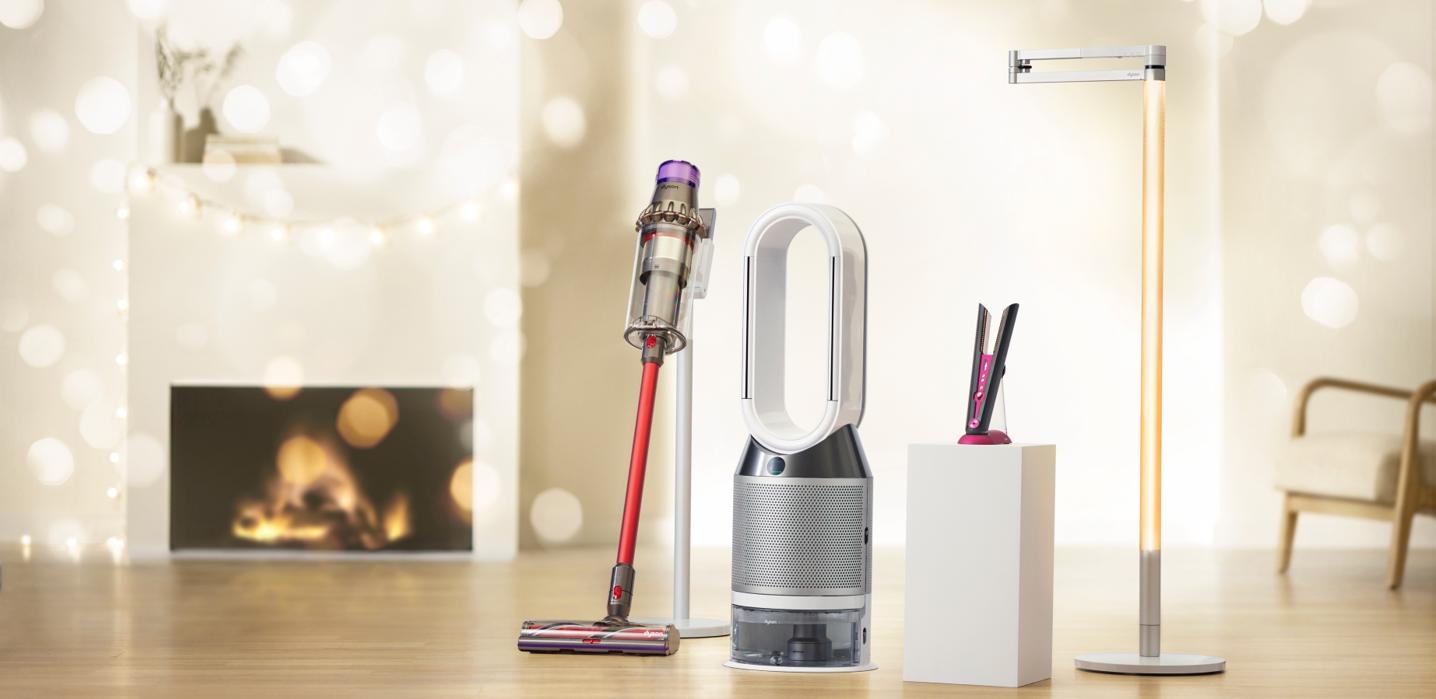 The Advent of a Healthy Home
Cleaning can be a major source of stress during the festive season, which is exacerbated by more of us spending time indoors and potential lockdowns. Dyson engineers Dennis Mathews, Research Scientist in Microbiology and Tom McVey, Pick-Up Engineer share their top tips on how best to maintain a healthy home this holiday season – stress-free.

Read on for Dyson engineers' top festive cleaning tip in more detail.
Tuesday - 1st

We spend more time than usual on our couches at Christmas, which can fill the upholstery with skin cells that dust mites feed on. Vacuum your couch and armchairs, which can hold large debris along with dust mites, skin flakes and other allergens such as pollen.

Wednesday - 2nd

Wash any sofa coverings, blankets and cushions to reduce the level of dust caught within them. Dust mites thrive in warm, humid conditions, so blankets and pillows that keep us warm and cosy can be fertile ground for mites and their faeces.

Thursday - 3rd

Dust behind radiators – a hidden place often missed during normal cleaning and used frequently as we make our homes warm and comfortable in the festive period. Significant dust collects behind the radiator and this can be distributed around the room by the air flow produced by the warm air from the radiator.

Friday - 4th

A lot of dust can gather in curtains and blinds. Make sure you vacuum them with a soft brush tool  or launder them if possible and practical. Before hanging festive decorations and ornaments, you can also use a soft brush tool to remove excess dust and allergens delicately.
Saturday - 5th

Vacuum under furniture to reduce the allergen levels in your home – wherever there is dust, there is the possibility of dust mites.

Sunday - 6th

Fairy lights create a warm, comforting glow but they might not give your eyes the light they need. As we age, our eyes change and let in less light. So, make sure that your environment is well-lit for the task you're doing, whether it's reading, writing, cleaning or a dinner party!

Monday - 7th

We spend a third of our time in bed, so with festive naps on the horizon, keeping our beds clean is important. Vacuum both sides of your mattress to remove dust mites and skin flakes.

Tuesday - 8th

Wash or replace duvets and pillows to reduce the amount of dust mites and skin flakes present in your bed. Wash bedding at 60-90 degrees to break down allergens.
Wednesday - 9th

Don't forget pet beds! Remove any coverings or pillows and wash at 60-90 degrees. Use a mini-motorised vacuum tool to remove pet hair and microscopic allergens from a dog bed you can't launder.

Thursday - 10th

Vacuum debris around your fireplace and use an air purifier with HEPA filtration to reduce the amount of particulate matter in your home given off by wood burning

Friday - 11th

Christmas trees thrive in relative humidity levels of around 40%. Try using a hygienic humidifier to help your tree last longer and drop spines less frequently.

Saturday - 12th

Dust Christmas lights and other light fittings. Dust can gather in lampshades and light fittings which can burn on hot bulbs producing VOCs and odour or be moved around the room by the production of warm air around the bulbs.
Sunday - 13th

Scented candles can create a cosy atmosphere, but the constant flicker may cause eye strain, and as they burn, they release VOCs. So, use warm-coloured artificial lighting to relax in the evening, signalling to your body that the night is drawing in.

Monday - 14th

Make sure your vacuum is up to the job for the remainder of your festive cleaning! Maintain your vacuum by washing the filter in warm water and leaving it to dry thoroughly for 24 hours. Empty the bin and clear the cleaner head of any excess debris.

Tuesday - 15th

Vacuum pine needles from under the tree. If using an artificial tree, use the soft brush tool on a vacuum cleaner to remove excess dust, without disturbing ornaments.

Wednesday - 16th

Remove dust from walls by dusting with a damp cloth, cleaning wipes or using a vacuum with advanced filtration, particularly around your Christmas tree where mould spores might be more prevalent. Dust on certain wall types can contribute towards the growth of mould.
Thursday - 17th

Clean the oven at least a week in advance of cooking your Christmas dinner as oven cleaning products often release harmful VOCs. Use an air purifier with HEPA filtration to minimise airborne compounds in your home faster.

Friday - 18th

Ahead of the most popular weekend of Christmas parties, vacuum carpets, hard floors, rugs and other high-traffic areas – the more people you have in your home, the more diverse the microbial landscape becomes and the more skin flakes are deposited in your home, creating a plentiful food source for dust mites.

Saturday - 19th

Clear space by recycling old magazines and newspapers that gather dust. Use the soft bush tool on a vacuum to gently clean books and ornaments on shelves.

Sunday - 20th

Take a break and relax ahead of the festivities.
Monday - 21st

Remove dust from kitchen cupboard tops, using either a vacuum with an advanced filtration system or by dusting with a clean damp cloth or cleaning wipes.

Tuesday - 22nd

Clear kitchen counters and cupboards to deep clean. Vacuum to remove dust and debris, then wash with warm water and detergent. Follow up by drying all surfaces.

Wednesday - 23rd

Clear space for leftovers or pre-prepared meals in your fridge and freezer. Clean all surfaces with warm water and detergent or cleaning product. Vacuum under the fridge and freezer, without forgetting the cooler element on the back as this will improve performance and avoid burning dust.

Thursday - 24th

Put your feet up and enjoy Christmas!

If you're cooking ahead of the big day, remember that cooking, particularly frying or searing, can release unwanted gases and particulate matter. An air purifier with fully sealed filtration will remove not only these gases, but also any cooking odours.
From daily cleaning to dealing with entrenched dirt and stains, Dyson engineers James McCrea and Dr Calum Robertson share their top tips on how to keep your carpet clean.

We spend roughly a third of our lives in our beds, but studies show that hardly any of us regularly prioritise our mattresses as part of our cleaning regimens. Dyson engineers share top tips on how to keep your mattress clean – and tackle the microscopic life lurking beneath the sheets.