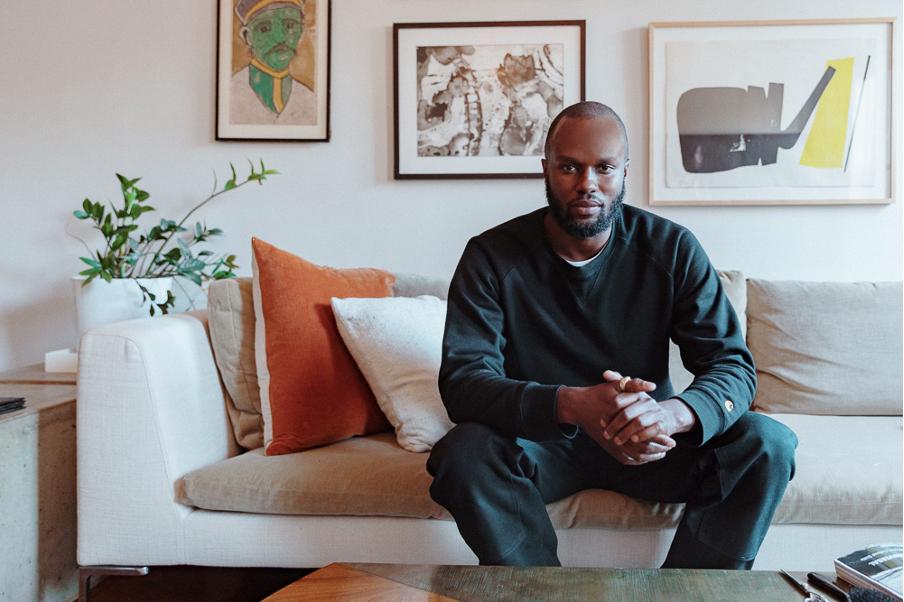 In The Chair with Jawara
Dyson Global Styling Ambassador, Jawara Wauchope shares how the Dyson CorraleTM straightener has changed the face of fashion weeks, offering styling agility in uncertain times.
As an advocate for Dyson technology, Jawara is no stranger to challenging convention. This season's backstage environments were nothing short of unconventional with stylists overcoming new challenges in the face of COVID-19. Seasoned session stylist and backstage veteran, Jawara talks of his journey to the SS21 shows and the flexibility and freedom Dyson's latest technology has brought to professional stylists.

 

This season is to be unlike any other! What do you predict we'll be seeing on the runway? 

I've been working with Dyson backstage at Fashion Weeks globally for three years now, but this season will be game changing. Stylists and designers are creative people. We approach a challenge with the very same problem-solving mindset that is intrinsic to Dyson. Not only will Dyson's latest professional technology – the Dyson CorraleTM straightener – make its fashion week debut, but lockdown limitations have meant the format of fashion weeks has been redefined. I foresee incredible mask designs and I'm excited to see how hair can form a part of this. 

 

What are your favourite Dyson tools to use backstage? 

The Dyson CorraleTM straightener is a newcomer that's making an impression! This season is the first-time stylists have had the tool in hand backstage and are raving about its high performance, versatility and cord-free capabilities. Cord free straighteners have existed for some time now, yet never before have stylists had the corded performance within a cordless tool. Unlike conventional straighteners, the Dyson CorraleTM straightener has copper flexing plates, which adapt to shape and gather the hair section, styling more evenly and delivering better results – faster. This increased efficiency not only reduces frizz and flyaways – a real asset on sleeker smooth styles – but also means I can achieve the same results at lower temperatures, without the need for several passes, whilst limiting the hairs exposure to extreme heat and preventing damage. It's unlike any tool I've ever used.

 
Why are Dyson tools different to use compared with others? 

Often this is something we sacrifice when cutting the cord. The technology is so far ahead, and the tools engineered with hair health front of mind. The Dyson Hair Science labs are like stepping into the future – it's mind blowing to see what Dyson are working on in the field of hair research to understand all hair types. I have had the privilege of working with Dyson's engineers to share my experience in the industry, which helps inform the development of Dyson's professional technology. As a stylist our tools are an extension of ourselves, making it important to work with technology that responds to the challenges and demands in professional environments. As a stylist it makes you appreciate the technology that's in each machine. 

 

What do you think of the Dyson CorraleTM straightener, especially when on curly and coily hair types?

Personally, I think natural hair is beautiful and everyone should be able to wear whatever style makes them happy. Dyson has created a straightener that offers more delicate hair types greater control to straighten and style without fear of extreme heat damage.

 

Why is the Dyson CorraleTM straightener great backstage at Fashion Week? 

The cordless feature is incredible when models are in line-up. It allows me to perform quick touch ups and final refinements, anywhere at any time, without the need to be near a power source – and faster! At that moment, everything is a race. You have only five seconds with each model and knowing that the Dyson CorraleTM straightener is able to give me the style I need in a matter of seconds offers the freedom to concentrate on my craft.  
What has lockdown life taught you?

The first thing I realised was that I hadn't been dedicating enough time to caring for myself. It prompted me to do a lot of self-care, investing in a Dyson purifier to clean the air around me, taking up yoga and making time for meditation. I wanted to feel safe during such an uncertain time. It has also been an extremely important time for me to re-connect with my family. Family means the world to me. 

 

Let's talk about hair trends coming out of COVID-19, what do you think we'll start seeing?

I've seen so many people attempt to learn new ways to style their hair. Hair has played an important role in self-care and improving the way people feel in challenging times. I think we'll see people trying lots of different things when it comes to their hair – different colours, different cuts and styles. Due to what we've gone through, I think people will want to live each day to the full. I love seeing people get more creative.