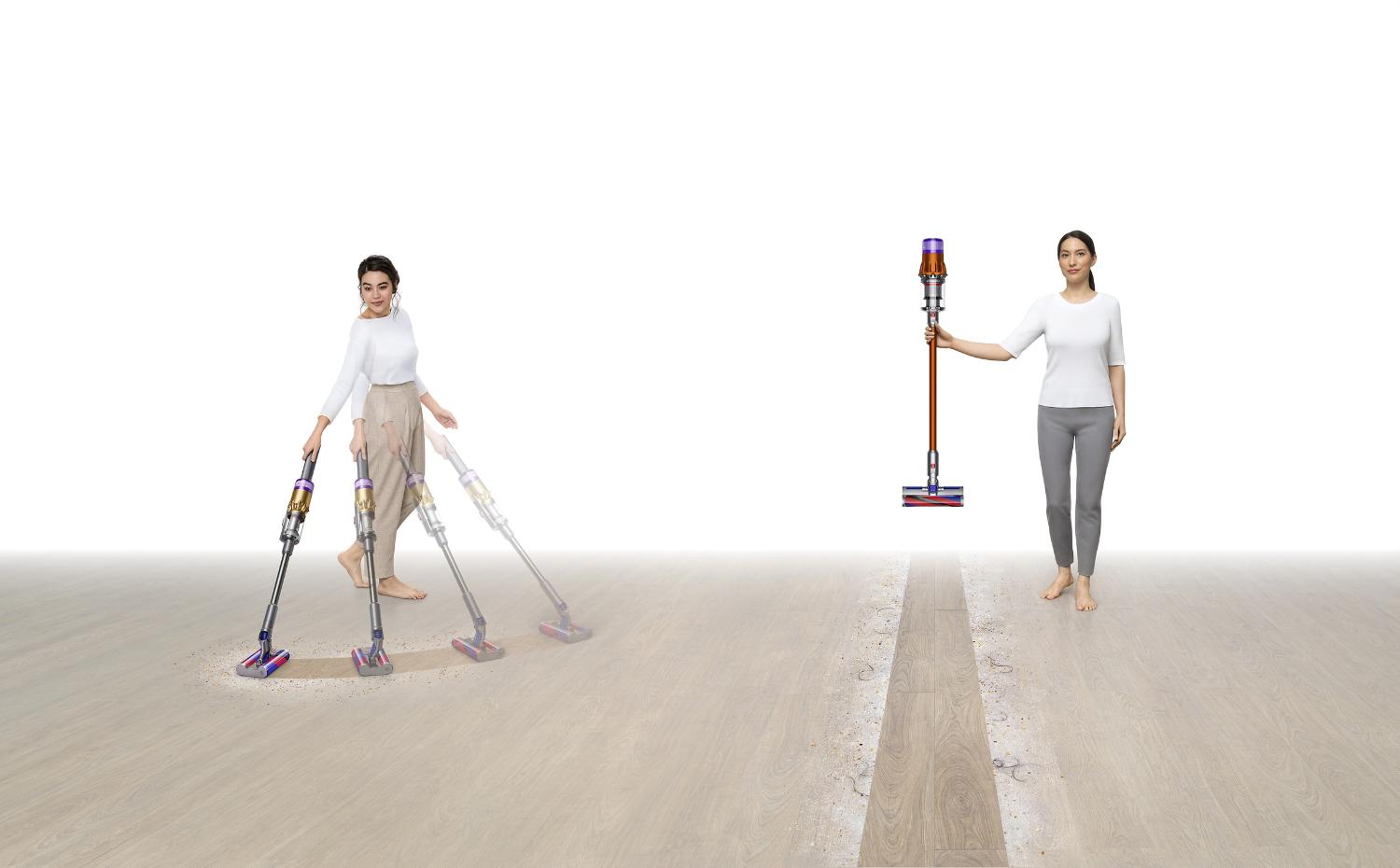 New ways to clean: Dyson launches two new technologies in China, Japan and South Korea
Taking on traditional, inflexible and heavy vacuums, Dyson has unveiled two new solutions to ease cleaning frustrations. Introducing the Dyson Omni-glide™ and Dyson Digital Slim™ cord-free vacuums.
30 July 2020
Launched when people are spending increasing amounts of time at home and cleaning routines have become more frequent, these smaller, lighter vacuums are engineered for busy families and city dwellers who are short on space but looking for a healthier home environment. 

 

The Dyson Omni-glide™

The Dyson Omni-glide™ is the first-ever Dyson vacuum cleaner engineered for daily cleaning in city homes. Presenting a new way to clean hard floors, it manoeuvres into the difficult nooks, gaps and corners traditional cleaners struggle with. 

 

Its omnidirectional Fluffy™ cleaner headi has been engineered to glide in all directions – forwards, backwards and even sideways. Rearranged into a new in-line format, the machine can lie flat and clean in tight spaces – such as under the sofa or side cabinet, where dust gathers normally undisturbed. 

 

In detail

The Dyson Omni-glide™ includes the first omnidirectional Fluffy™ cleaner head. It floats on four 360° stabilising castors that allow it to move in all directions and into tight spaces. Equipped with four tools, it's possible to clean up high, down low and anywhere in between. These tools include a light pipe crevice tool with LED lights to show you where you're cleaning, even in dark spaces, a mini motorised tool to tackle hair and ground-in dirt, a worktop tool and a combination tool.
Easy, smoother bin emptying: the straight, slim bin has an ejection mechanism with a rotary catch, to drive out dust in one smooth action. 
Power button: It has a power button instead of the classic trigger, meaning users can swap hands while navigating obstacles, making cleaning that bit easier.
Easy maintenance: To remove dust build-up, you can wash the bin, filter, brush bar, and any tools without electronic components.
Removable, fade-free, energy-dense battery:  enables up to 20 minutes run time*.  Four lithium ion battery cells which use a Dyson battery management system to optimise power, measuring performance ten times per second to ensure suction never fades. Sitting in the handle to aid manoeuvrability, the batteries slide out at the press of a button if they need replacing or a spare set to be fitted.
Wall dock: enables users to lean the machine into the recharging dock, ready for your next clean.

 

 

The Dyson Digital Slim™

The Dyson Digital Slim™ is a lightweight and powerful vacuum capable of capturing fine dust. Weighing only 1.9kg, it's 20 per cent smaller and 30 per cent lighter than the V11 but features the same cord-free cleaning technology. While maintaining suction, the vacuum features whole machine filtration, enabling the removal of 99.97 per cent of microscopic particles as small as 0.3 microns, and expelling clean air.

 

In detail

The same Dyson V11 technology but 20 per cent smaller and 30 per cent lighter than the original. 

40 per cent lighter and 20 per cent lower profile soft roller cleaner head with similar pick up performance as the Dyson V11, but with improved edge cleaning.

New one-piece body main body is made possible by reducing seals, screws and the thickness of walls.

New wand is 15 per cent shorter and 6.3 mm thinner.

Powerful suction power is generated by a Dyson Hyperdymium™ motor that spins up to 120,000 rpm.

The whole machine filtration enables the removal of 99.97 per cent of microscopic particles as small as 0.3 microns and expels clean air.

 

Both the Dyson Omni-glide™ and the Dyson Digital Slim™ can capture the fine dust and allergens you cannot see** in your home and are light, easy to use, and powerful enough to whip out regularly for a more frequent clean. The Dyson Digital Slim™ is currently available in China, Japan and South Korea. Launched in Korea in July, the Dyson Omni-glide™ cord-free vacuum cleaner will be available in all markets in 2021. 

 

* Applies in Eco mode when using a non-motorised tool.

**Dyson Digital Slim is capable of capturing particles that cannot be distinguished by the human eye. Suction tested to IEC 62885-2 CL5.8 and CL5.9 at the inlet, loaded to bin full, in Boost mode, internally at Dyson and at independent third party SGS-IBR UK laboratories in 2020.