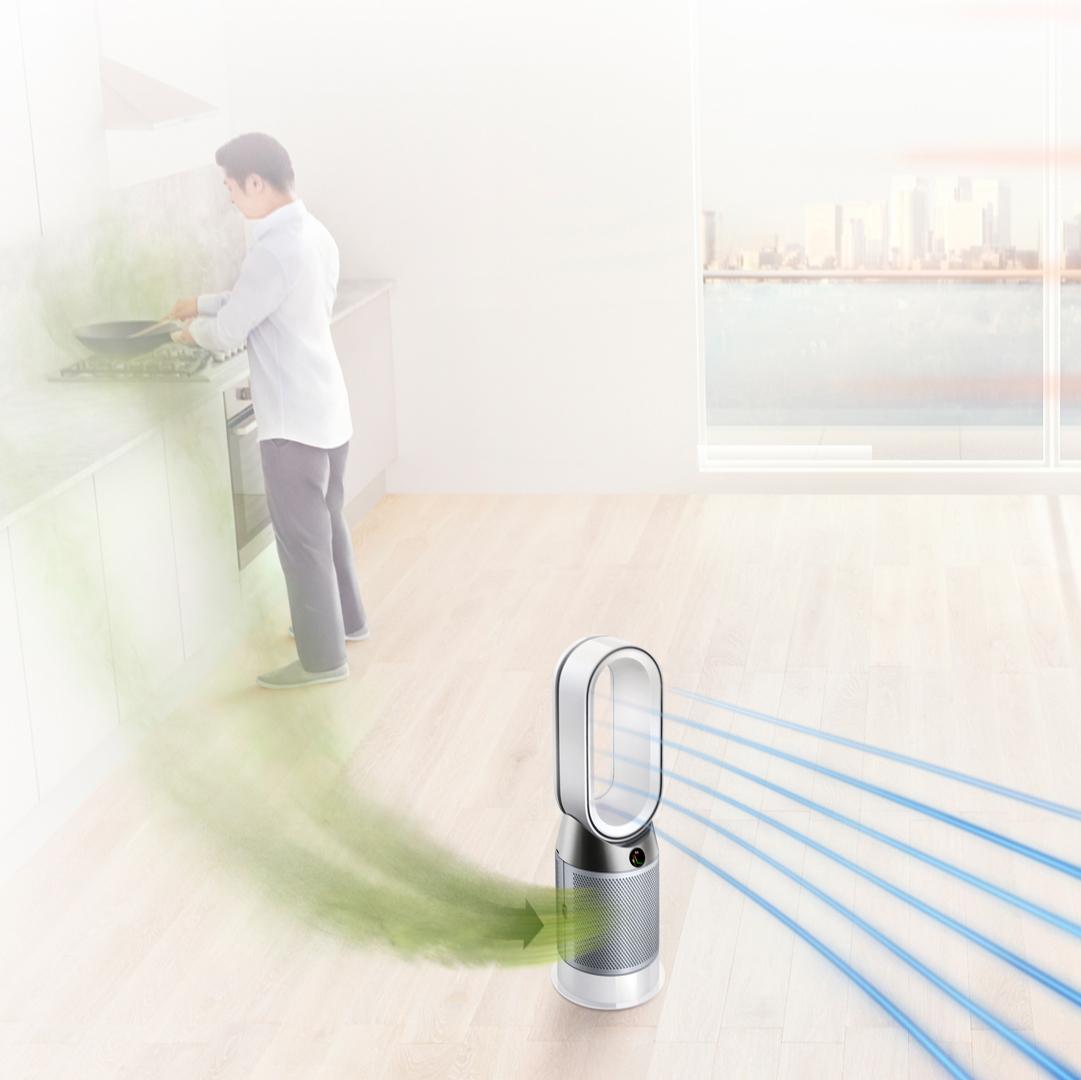 Living in lockdown: how to improve the air quality in your home
From deep cleaning and painting the walls to cooking in the kitchen, lockdown restrictions have resulted in a surge of indoor activity. Despite the domestic benefit, the effect on the air we breathe in our homes is less favourable.
16 June 2020
While many cities report improvements in the quality of the air since lockdown, the data collected by registered Dyson air purifiers in 11 cities over four continents, suggests levels of Volatile Organic Compounds (VOCs) and Nitrogen Dioxide (NO2) have risen in people's homes.  

Understanding the different sources of indoor VOC pollution and the impact on us is central to our research and development. Here are some of the common household pollutants we experience as we go about our daily lockdown routines and suggestions of how they can be reduced.

 

 

Cooking

Burning fuels such as wood, gas or oil can release VOCs, as well as tiny particulates called PM2.5, which are emitted during combustion. Despite the pleasant smells coming from the kitchen, it's possible that, as a result, the air contains some of these unwanted pollutants.

Opening the window while you cook or using mechanical ventilation like a purifying fan will filter out the pollutants, helping reduce your exposure to them. Moreover, try to ensure that kitchen appliances such as ovens or stoves are fully vented and are installed, used and maintained correctly.

 

 

Cleaning

It is a cruel juxtaposition that when we clean our homes, we can simultaneously be dirtying the air that we breathe. VOCs from fragrances used in cleaning products evaporate into the air at room temperature, forming vapours we can breathe in.

To minimise exposure, look for cleaning products labelled as allergy-friendly, which may contain lower levels of VOCs. Avoiding sprays and using solid or liquid cleaning agents can also help to reduce the airborne pollution from these products. vacuuming your home will help to remove house dust, which is a mixture of dirt, house dust mites, pet dander, pollen and other particulates that may be polluting your indoor air.

 

 

 

 

Painting & home improvements

With our homes now acting as offices, lockdown has presented the perfect incentive to brighten up the walls and give the rooms a makeover. But that smell of fresh paint or new furniture can be a sign of VOCs like Benzene and Formaldehyde, which can linger in the air.

To help lower your exposure, look for paints that are low in VOCs, which are often the quick-drying, water-based or low-odour options. Keeping windows open while you are painting or using a purifier will also help the pollutants clear more quickly and may reduce your overall exposure.

 

 

Self-Care

Self-care sessions can offer some much-needed respite from the monotony of life in lockdown but products that make our homes smell better can often have a negative impact on air quality. Scented candles release VOCs into the atmosphere, with the burning of wax emitting some of the same chemicals found in diesel fuel emissions. Personal care products such as hair spray, lotions and perfume may also be offenders, as they can emit pollutant gases into the air of your home.

To help minimise exposure, choose unscented personal care products and avoid aerosol sprays. Consider reducing your use of scented candles, and try to open the windows when using these products. This will allow fresh air to circulate and reduce the chance of the pollutants lingering in your home and becoming trapped inside.