Pay in 3 interest-free instalments | Free next-day delivery
Buy direct from the people who made it
"The Dyson V12 Detect Slim™ achieves United States Ergonomics certification."
---
More ergonomic. 12% less effort.8

Ergonomically designed to require 15% less effort to clean carpets.9
''Having used it for a week, I am beginning to think it could be the best Dyson cordless vacuum to date, or at least the best for me.''
---
The Dyson V12 Detect Slim's lightweight design and wide selection of tools allows you to remove dirt everywhere and anywhere!
---
Good Housekeeping Institute: Tried, Tested, Trusted  

Dyson's most powerful, lightweight cordless vacuum
Up to 60 minutes of fade-free suction power.¹

Dyson's hair de-tangling technology
Motorbarᵀᴹ cleaner head powerfully sucks up dirt and dust, automatically de-tangling hair as you clean.
Hair screw tool picks up long hair and pet hair from pet beds, car seats and stairs. Fast.

The Dyson V12 Detect Slim Absolute vacuum also comes with these exclusive accessories
New Scratch-free dusting brush

Cleans delicate surfaces. Then cleans itself. Self-cleaning – a rotating cuff keeps the soft bristles clear of dust. Twist to hygienically remove dust and debris from bristles. Clean after clean.

New Awkward gap tool

Twists 22° to reach the unreachable - the optimum angle to reach further and clean more in the hardest-to-reach, narrow areas.
Extension hose

Combines with any Dyson tool to reach further with a flexible wire helix that's engineered from tough wire sandwiched between two layers of durable plastic.
Dyson reveals 2x more invisible dust on hard floors⁶

New Fluffy Opticᵀᴹ cleaner head illuminates the microscopic dust and dirt you can't normally see on hard floors - so you don't miss anything.

Measures microscopic dust particles

A piezo sensor continuously sizes and counts dust particles – automatically increasing suction power when needed.³

 

Scientific proof of a deep clean³

The LCD screen shows what's been sucked up, displaying real-time scientific proof of a deep clean.³
43 hair removal vanes

Polycarbonate vanes lift tangled strands from the brush bar, sending them straight to the bin.

Dyson Hyperdymiumᵀᴹ motor

Powerful, lightweight digital motor spins at up to 125,000rpm to suck up microscopic dust and large debris.

Energy-dense battery

Each Click-in battery provides up to 60 minutes of fade-free power to clean here, there and everywhere around your home.¹
Root Cyclone™ technology

11 root cyclones generate centrifugal forces of up to 100,000g to capture dust and debris from the airflow, so there's no loss of suction.²

Multi-stage filtration

Dyson's fully-sealed filtration traps 99.99% of microscopic particles and allergens as small as 0.3 microns – and expels cleaner air.⁴

Carbon fibre filaments

Black anti-static carbon fibre filaments to extract fine dust from hard floors.

Deep cleaning on rugs and carpets

The Motorbarᵀᴹ cleaner head drives stiff nylon bristles deep into rugs and carpets to remove ground-in dirt.
The power to clean anywhere

Lightweight, versatile Dyson cordless technology weighing just 2.2kg - for easier cleaning on all floor types, mattresses, sofas and stairs. Effortlessly reaches up high, down low and everywhere in between.

Hair screw tool. Picks up long hair and pet hair. Fast.

Anti-tangle conical brush bar spirals hair off and into the bin. Motor-driven cleaning for small spaces.

Up to 60 minutes of fade-free suction

Powerful suction for whole-home cleaning.

Illuminated cleaner head

25cm-wide cleaner head engineered with soft nylon and anti-static carbon fibre filaments to remove dust from hard floors and narrower gaps. With a low profile to reach further under furniture.

Single-button power control

No need to hold the trigger. You can swap hands while navigating obstacles, making cleaning easier.

Motorbarᵀᴹ cleaner head deep cleans all floors

Nylon bristles drive dirt from carpet. Black anti-static carbon fibre filaments extract dust from hard floors.
Wall dock

The Dyson V12 Detectᵀᴹ Slim vacuum drops into the wall-mounted charging dock, ready for your next clean.

No-touch bin emptying

Hygienic ejection mechanism drives dust and debris deep into your bin, in one action.

LCD screen

Reports performance in real time, including second-by-second run time display – maintenance alerts, power modes and battery life. 
Easy to maintain

The filter and Fluffy™ brush bar can be washed, and the bin and tools wiped clean, to remove dust build-up and help optimise your Dyson vacuum's performance.⁷

Click-in battery

Remove and replace at the press of a button for even longer cleans – and to charge on or off the machine.

Three power modes

Auto mode intelligently adapts, with the optimum balance of power and run time. Eco mode provides longer run time for bigger cleans, while Boost mode is engineered for short, intensive cleaning.
Specifications
Cleaner head

Motorbar™ cleaner head

Charge time

4 hrs

Run time

Up to 60 min

Filtration

Advanced Filtration

Bin volume

0.35 L

Suction Power (Boost Mode)

150 AW

Weight

2.2 kg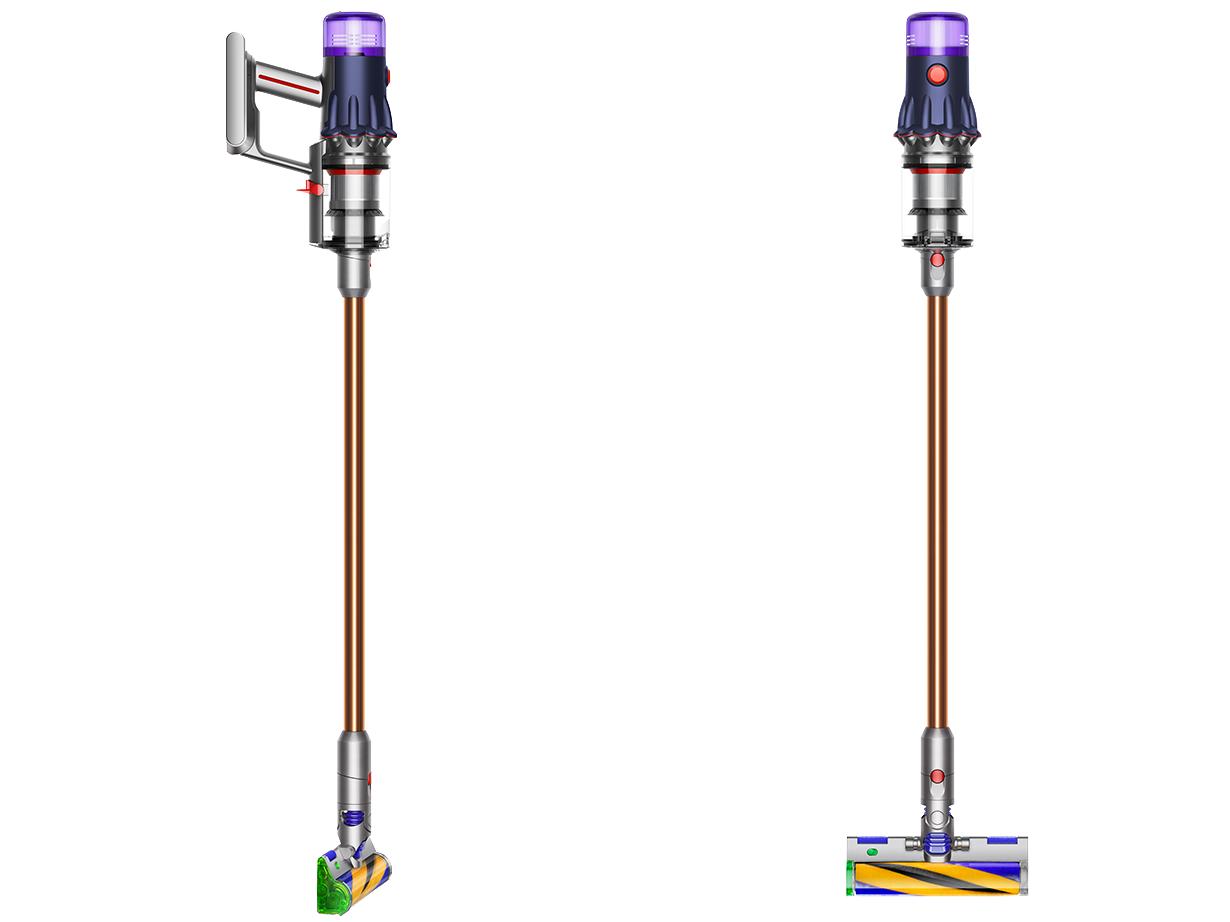 Height

1,255 mm

Length

252 mm

Width

250 mm
We'll recommend the right vacuum for you
From whole-home cleans to grab-and-go quick cleans, our quick tool helps you choose the right one for you.
1

Applies in eco mode on hard floor. Actual run time will vary based on power mode, floor type and/or attachments used.

2

Suction tested to EN IEC62885-4  CL5.8 and Cl5.9, loaded to bin full, in Boost mode against cord-free stick market.

3

Best accuracy achieved in Auto mode. Auto ramp feature in Auto mode only. Testing based on average in home usage according to Dyson internal test data. Microscopic dust is defined as particles less than 100 microns.

4

Filtration tested against ASTM F3150, tested in Boost mode by independent third-party, SGS-IBR Laboratories US in 2020.

5

Additional battery and charger, available to buy separately on the Dyson website.

6

Compared to the original Dyson Laser Slim Fluffy™ cleaner head. Effectiveness influenced by ambient light conditions, debris type and surface.

7

Refer to instructions in the operations manual available on the Dyson website

8

Averaged across five cleaning tasks using the Dyson V12™ versus the Dyson V11™. US Ergonomics Laboratory testing March 2022. The Dyson V12™ has United States Ergonomics Certification.

9

Carpet cleaning task using the Dyson V12™ versus the Dyson V11™. US Ergonomics Laboratory testing March 2022. The Dyson V12™has United States Ergonomics Certification.
Buy direct from the people who made it