The most awarded cordless vacuum¹
Powerful. Intelligent. Versatile. For whole-home deep cleaning. With up to 60 minutes run time⁵
Fluffy Opticᵀᴹ cleaner head reveals twice the amount of invisible dust on hard floors²
De-tangling Digital Motorbarᵀᴹ cleaner head automatically de-tangles hair as you clean and adapts power across different floor types³
A piezo sensor automatically increasing suction power when higher dust volumes are identified⁴
Buy direct from the people who made it
Piezo sensor
Counts dust particles passing through the inlet 15,000 times a second, increasing suction power when more particles are identified.³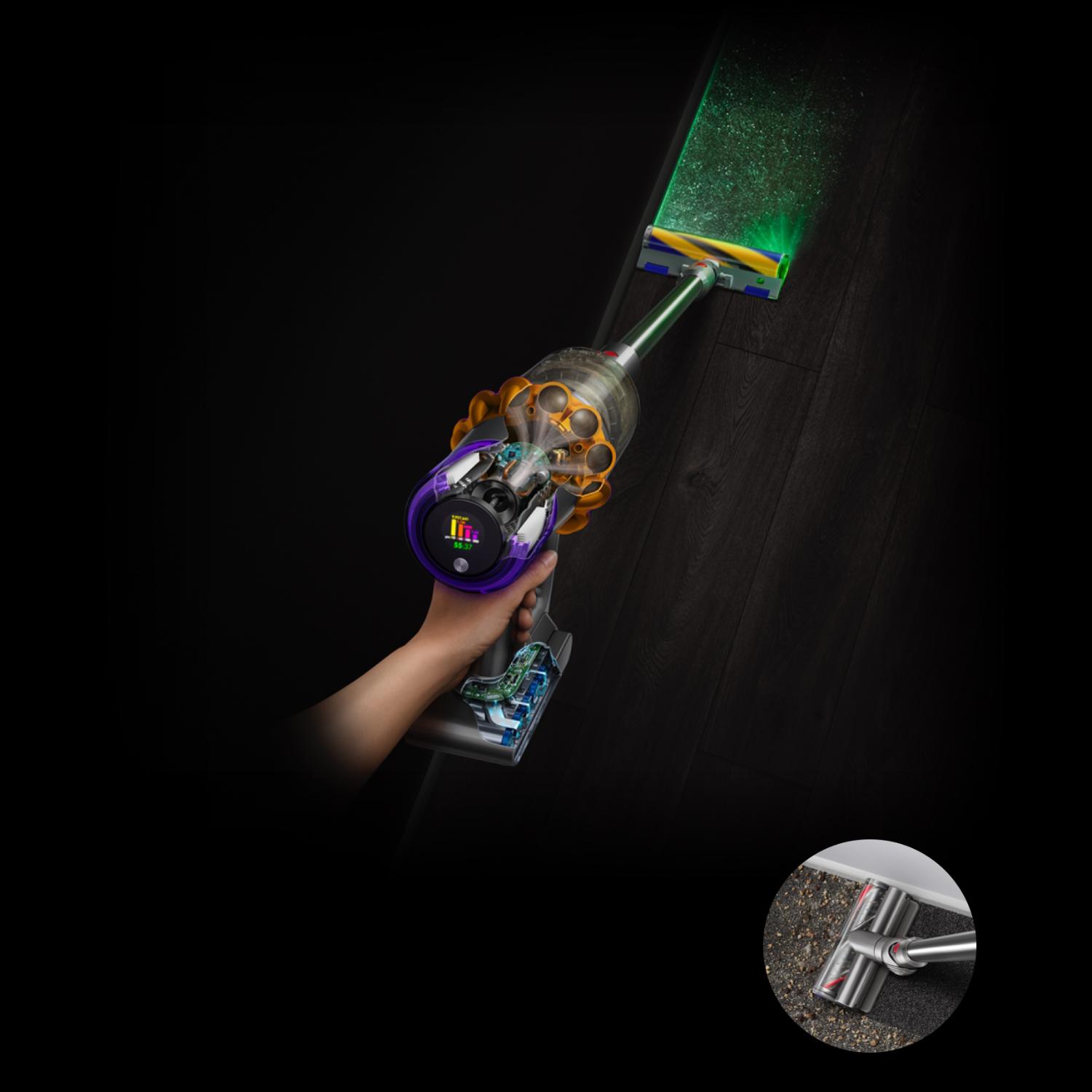 Measures microscopic dust particles. Showing you scientific proof of a deep clean⁴
Detects, counts and reacts to picked-up dust for scientific proof of a deep clean. Intelligently increases suction power when higher dust volumes are identified⁴. Fluffy Opticᵀᴹ cleaner head illuminates invisible dust on hard floors²
Detects

Fluffy Opticᵀᴹ cleaner head reveals 2x more invisible dust on hard floors - so you don't miss anything.²

Counts

Piezo sensor continuously sizes, counts and measures picked up particles.⁴

Reacts

Suction power automatically increases when higher dust volumes are identified.⁴

Proves

LCD screen displays picked up particles showing scientific proof of a deep clean.⁴
Scientific proof of a deep clean
Our latest technology calculates and categorises sucked-up particles – showing you what's being removed as you clean.³

Particles the size of allergens and pollen
Pollen is commonly carried into homes on skin, hair, clothes, footwear and pets. Once inside, pollen grains and antigens accumulate in house dust, reaching a peak concentration long after pollination season.
With their microscopic size and jagged shape, pet allergens can easily stick to upholstered furniture, bedding and fabrics – and often stay in the home for months as house dust, even after the pet is gone.

Particles the size of microscopic dust and skin flakes
Moulds measure up to 100µm and can be found around kitchens, windows, and other damp areas. Their spores can irritate the nose and throat, causing shortness of breath.


Particles the size of dust mites and fine sand
House dust mites are one of the major indoor triggers for allergies and asthma. Each mite produces about 20 droppings a day, which continue to cause symptoms even after the mite has died.


Particles the size of sugar and fleas
These larger, visible particles are trapped in the bin as soon as they enter the primary cyclone and metal mesh filter – clearing the airflow, so there's no loss of suction.¹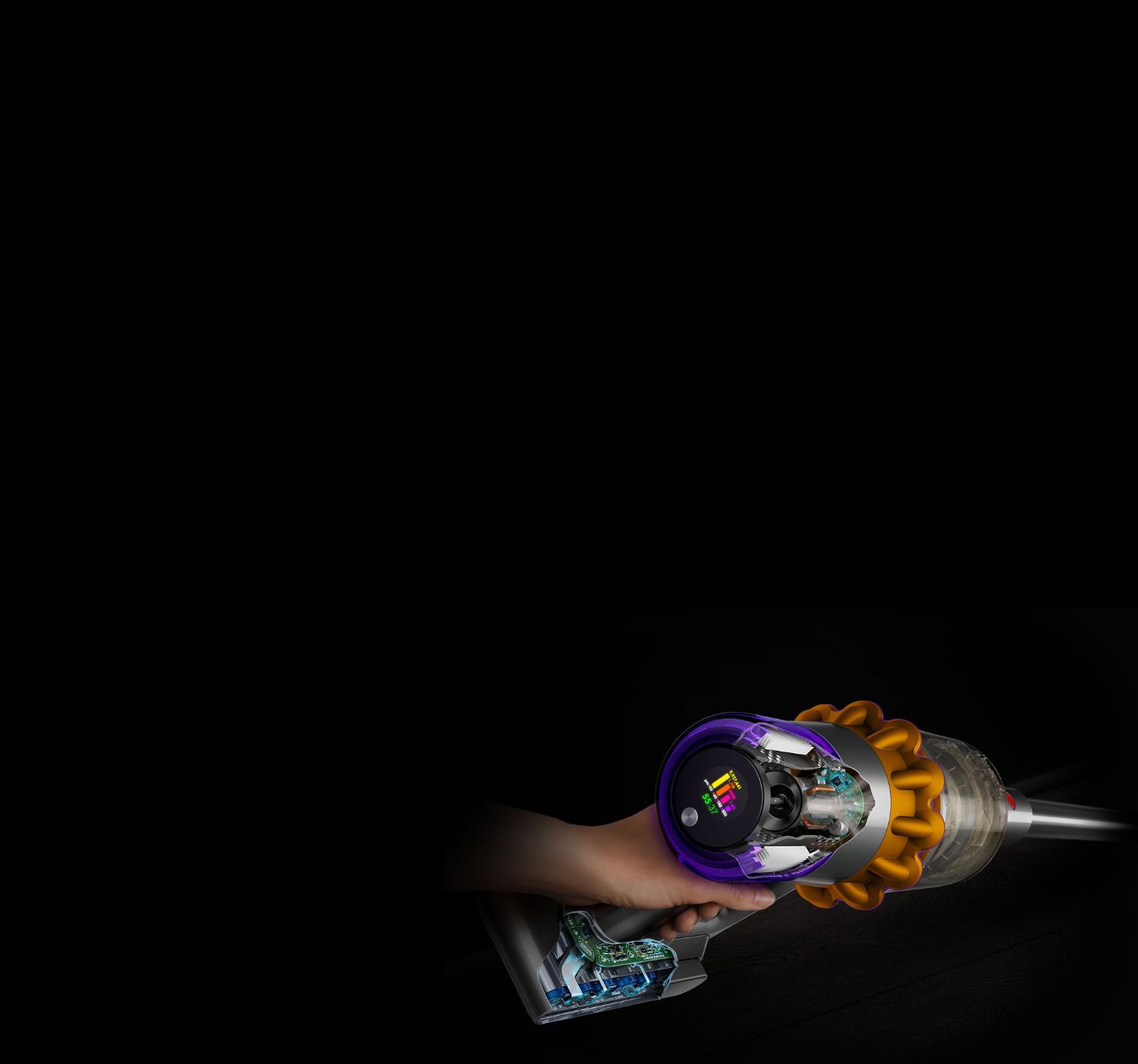 Dyson's powerful, intelligent cordless vacuum
The Dyson Hyperdymiumᵀᴹ motor spins at up to 125,000rpm generating 240 air watts of powerful fade-free suction⁶
Advanced seven-cell battery delivers up to 60 minutes of fade-free power to deep clean your whole home⁵
Two cleaner heads to deep clean anywhere
Fluffy Optic™ cleaner head illuminates the microscopic dust and dirt you can't normally see on hard floors – revealing 2x more invisible dust. Brighter illumination reaches 300mm – so you don't miss anything²
De-tangling Digital Motorbar™ cleaner head sucks up dirt, dust and hair from all floor types – intelligently adapting suction power from carpets to hard floors³
Anti-tangle comb

Hair de-tangling comb automatically clears hair from the brush bar.

Automatically deep cleans carpets and hard floors

In Auto mode, Dyson DLS™ technology monitors brush bar resistance 360 times a second, intelligently adapting power across different floor types.

Anti-static carbon fiber filaments

Carbon fiber brush bar filaments remove dust particles from hard floors.

7,815 stiff nylon bristles

Stiff nylon bristles drive deep to remove ground-in dirt from rugs and carpets.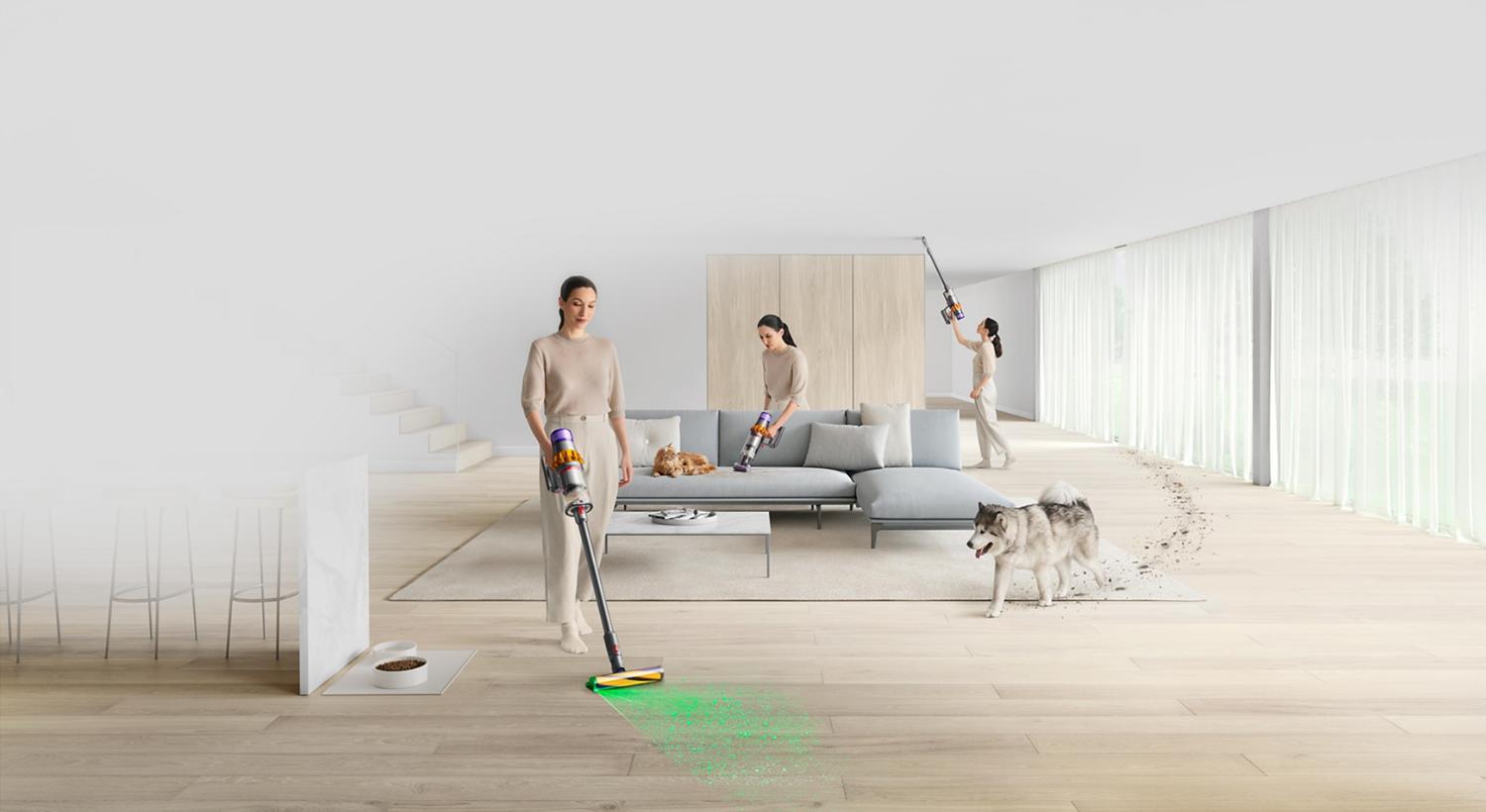 Whole-home cleaning versatility
The versatility of Dyson cordless technology, tools and accessories makes deep cleaning your whole home from floor to ceiling easier.
We'll recommend the right vacuum for you
From whole-home cleans to grab-and-go quick cleans, our quick tool helps you choose the right one for you.
Buy direct from the people who made it
1. Based on cordless market as of July 2022 – July 2023.
2. Compared to the original Dyson Laser Slim Fluffy™ cleaner head. Effectiveness influenced by ambient light conditions, debris type and surface.
3. Dynamic Load Sensing technology only applies in Auto mode with the Digital Motorbar™ cleaner head attached.
4. Best accuracy achieved in Auto mode. Auto ramp feature in Auto mode only. Testing based on average in home usage according to Dyson internal test data.
5. Applies in Eco mode on hard floor. Actual run time will vary based on power mode, floor type and/or attachments used.
6. Suction tested to EN IEC62885-4 CL5.8 and CL5.9, tested at the flexible inlet, loaded to bin full, in Boost mode against the cord-free stick market. (Sales data from Apr 2020 to Mar 2021).
7 .Filtration tested against EN60312-1 CL 5.11 in Boost mode.