Dyson Zone: Sensing City Pollution
As the world's urban population continues to grow, the World Health Organisation (WHO) estimates that 99% of people globally breathe air that exceeds WHO guideline pollutant limits. Where NO2 pollution in cities decreased during the Covid-19 pandemic, levels have quickly returned to normal, or exceeded pre-pandemic levels across many global cities. In the UK, dirty air affects 97% of homes and up to 36,000 British people die each year from human-made air pollution.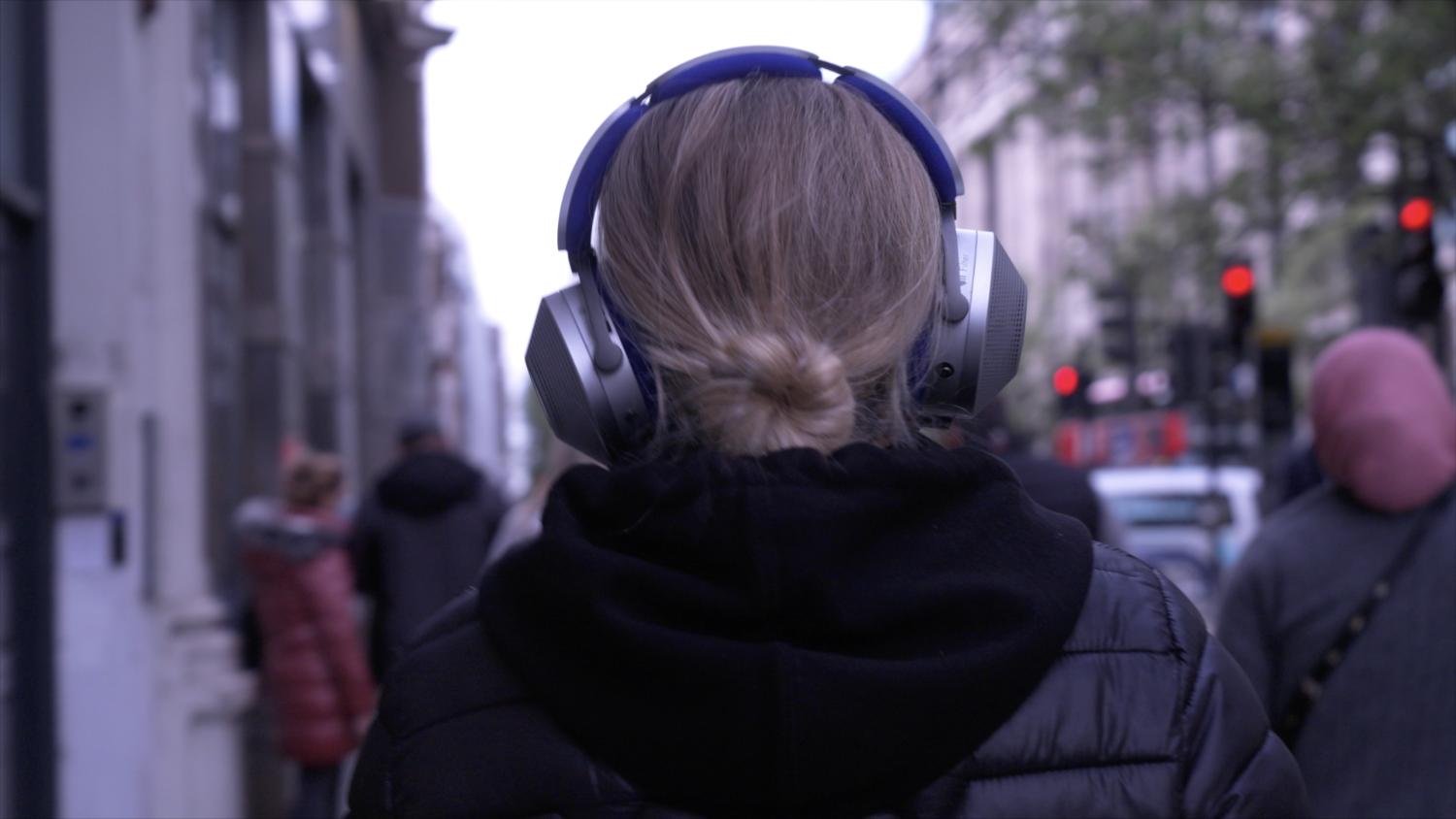 Understanding the problem
Understanding the problem is central to engineering a solution. Dyson has long invested in filtration technologies and for over 10 years, our engineers have researched air quality - both within and outside the home. They have brought this understanding directly to our owners – the Dyson app connects all Dyson purification devices, showing the air quality within the home, and the NO2 levels around the user in the case of the Dyson Zone air-purifying headphones, helping owners to notice trends and patterns, and make better air quality decisions.
Over the last two years, Dyson has taken air quality education to the streets – literally. By re-working existing sensing technology used in our air purifiers, we engineered an air quality backpack that acts as a portable air sensing device. Equipped with on-board sensors, a battery pack and GPS, the portable technology aims to provide an insight into personal air pollution exposure and how to avoid it. Since 2020, participants in more than 14 cities have used Dyson's air quality backpack to collect data, generating snapshots of their personal pollutant exposure. Some of these participants were part of Dyson's global lockdown study, comparing personal air pollution exposure during, and after local Covid-19 lockdowns.
The air quality backpack was initially developed by our engineers for the Breathe London study in conjunction with King's College London and the Greater London Authority in early 2019. The study involved 258 children in five schools across London and sought to understand exposure to fine particulate matter (PM2.5) and nitrogen dioxide (NO2) on the school run. As a result, 31% of children taking part changed the way they commute to and from school to reduce their exposure to air pollution. It demonstrated to us the importance of air quality education, and how this empowers individuals to make meaningful change.
Engineered for cities
The Dyson Zone air-purifying headphones are built off this vital understanding of the problem it aims to solve, and through the Dyson App, provide real-time air and noise pollution data directly to the wearer's phone. The chemistry of indoor air differs dramatically from that of outdoor; we had to ensure our filtration technologies effectively capture potentially harmful gases like NO2 and SO2 that pollute our cities, whilst capturing volatile organic compounds (VOCs) that we trap indoors due to modern building and insulation methods. And particulate matter is ubiquitous - from tyre dust, industry, indoor dust and combustion. The Dyson Zone harnesses a decade of understanding and expertise to deliver pure air, pure audio, anywhere.