Researching the Impact of Air Purifiers on Sleep Quality
Results from a pilot study by the University of Reading, commissioned by Dyson, find air purifiers can improve overall sleep time, promoting better wellbeing – part of Dyson's broader commitment to understanding air quality in homes and the impact of Dyson technology
The Study
Recent research by researchers from the University of Reading and the University of Sussex, commissioned by Dyson, has found that using an air purifier can have a positive impact on sleep outcomes. The research was a small-scale proof of principle study, indicative of Dyson's desire to further understand the science behind purification and the benefits and impacts it can have on an individual. The study compared sleep performance when using a Dyson purifier with working HEPA filter, compared to using a Dyson purifier with a placebo filter. Participants experienced both the Dyson and placebo machines. The results showed that using the air purifier was associated with benefits for sleep outcomes, including an increase in total sleep time by an average of 12 minutes per night[1].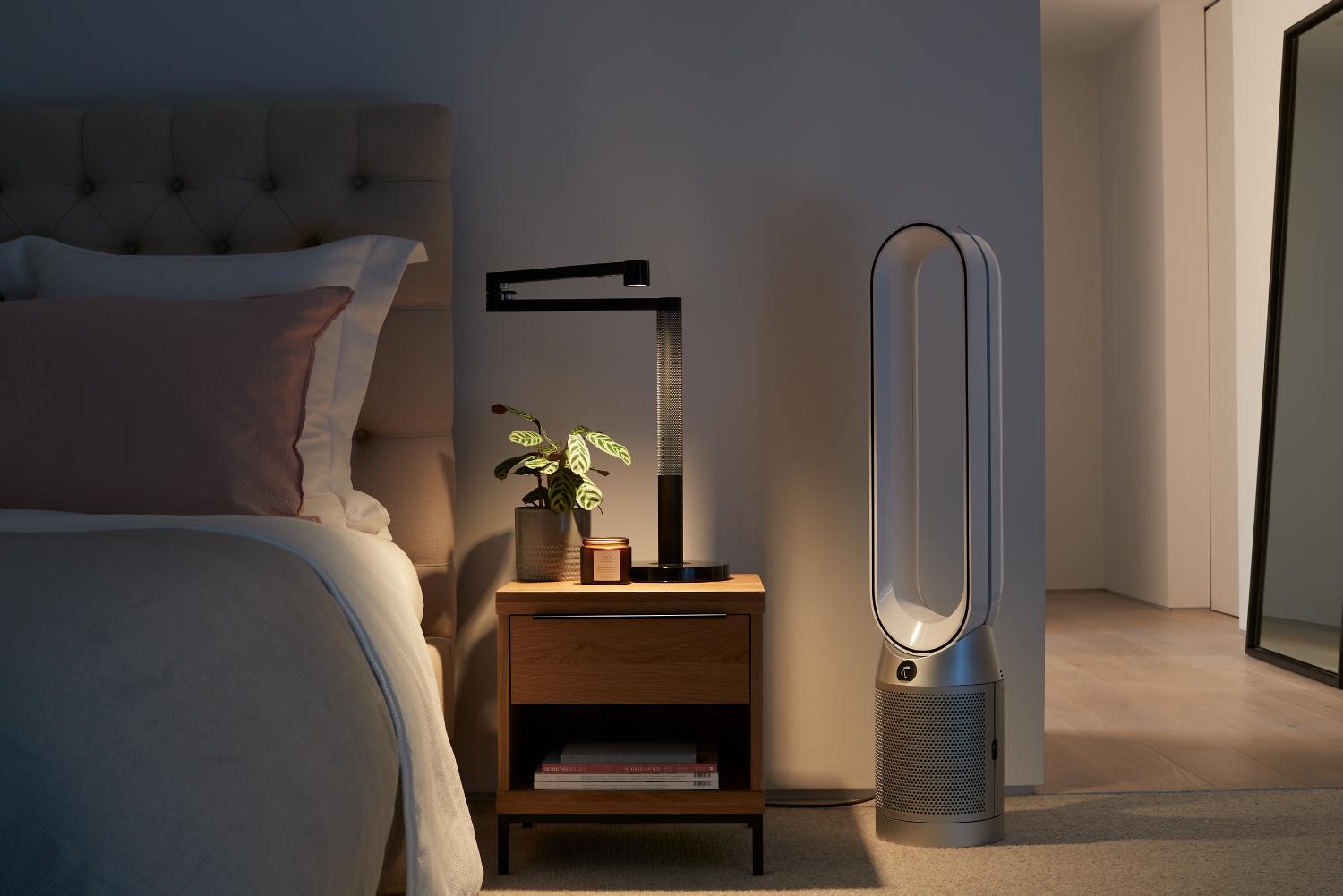 Air Quality & Sleep
A secondary conclusion of the sleep research reaffirmed Dyson purifiers' effectiveness at removing pollutants, in this case from the bedroom – in addition to Dyson's own internal and external testing as part of product development. A particular focus for this research was understanding the reduction in fine and coarse particulate matter (PM2.5 and PM10).
There are a number of sources of particle pollution in the bedroom specifically including mattresses, bedding fibres and even cuddly toys. Similarly to sofas and other soft furnishings, sitting down, moving, plumping or otherwise arranging these items can release settled dust into the air, increasing pollutant levels.
Poor indoor air quality has been linked to a range of impacts on wellbeing. By using an air purifier, individuals can help to remove airborne pollutants from the air and create a cleaner environment at home.
Science at Dyson
Dyson is committed to solving problems that others ignore. In order to engineer pioneering solutions to real-world problems, Dyson's team of 6,000 engineers and scientists undertake extensive research to understand the problem, test engineering prototypes and evaluate overall product efficacy in different scenarios. Dyson also works closely with a network of external experts in areas from allergies to respiratory health to epidemiology, to support science and technology development and future research direction.
Understanding the air we breathe both indoors and on-the-go has been a focus for Dyson engineers and air quality scientists for the last 14 years. Supporting projects like Breathe London Wearables and through our 1.4 million connected purifiers, we have developed extensive knowledge of the challenges we face in our indoor environments, as well as studying personal pollution exposure outdoors.
Ensuring our machines perform properly in the real world is a central part of keeping our promise to our Owners that Dyson machines solve problems. In developing purifiers, we went beyond industry standard testing, which typically tests in a small chamber, with the purifier in the middle of the room, and additional fans to help circulate clean air throughout the room. Instead, we developed the Point Loading Auto Response (POLAR) test, which tests in a large room with the purifier in the corner. The machine must recognise and automatically react to a pollution event in the opposite corner, clean the room thoroughly and switch itself off once the room is cleaned.
Beyond our product performance testing, Dyson scientists are committed to further exploring our machine benefits among different audiences and against different triggers. Since entering the purification space in 2014, we continue to build our understanding of the link between purification and sleep quality, specific allergen and pollen capture as well as undertake product-led research into the relationship between clean air and asthma management. 
[1] National Institute for Health and Care Excellence., (2017). Guideline scope: Indoor air quality at home. National Institute for Health and Care Excellence.