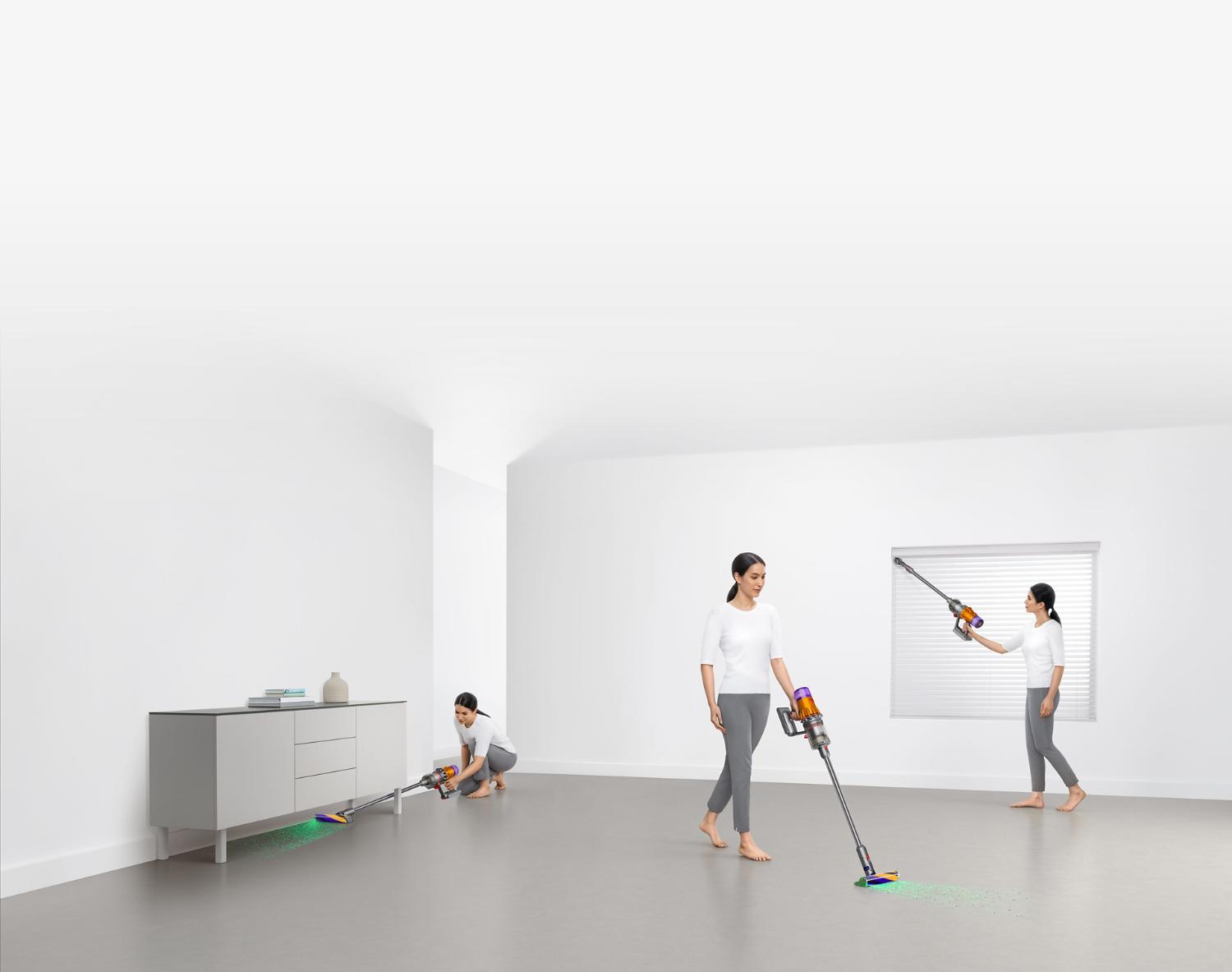 Discover the latest lightweight vacuum cleaners
"The Dyson V12 Detect Slim™ achieves United States Ergonomics certification."
---
More ergonomic. 12% less effort.9

Ergonomically designed to require 15% less effort to clean carpets.10
''Having used it for a week, I am beginning to think it could be the best Dyson cordless vacuum to date, or at least the best for me.''
---
The Dyson V12 Detect Slim's lightweight design and wide selection of tools allows you to remove dirt everywhere and anywhere!
---
Good Housekeeping Institute: Tried, Tested, Trusted  
"It can move in any direction and this allows you to vacuum hard floors in a completely different way to the back-and-forth motion we're all so accustomed to."
---
Tech Advisor - Appliance of the Year 2021
"A very small, lightweight and flexible vacuum, the Dyson Omni-glide is a top cleaner for hard floors, and a great handheld vacuum for smaller spills."
---
Trusted Reviews Recommended – Highly Recommended Award 2021
Finely-engineered

A custom lens spreads a beam into a fan shape, exactly 1.5° down and 7.3mm from the ground, to illuminate fine dust but not the surface it sits on.

Green angled beam

The human eye's evolutionary sensitivity to green light means we see it brighter than other colours, enhancing contrast and making hidden dust clearly visible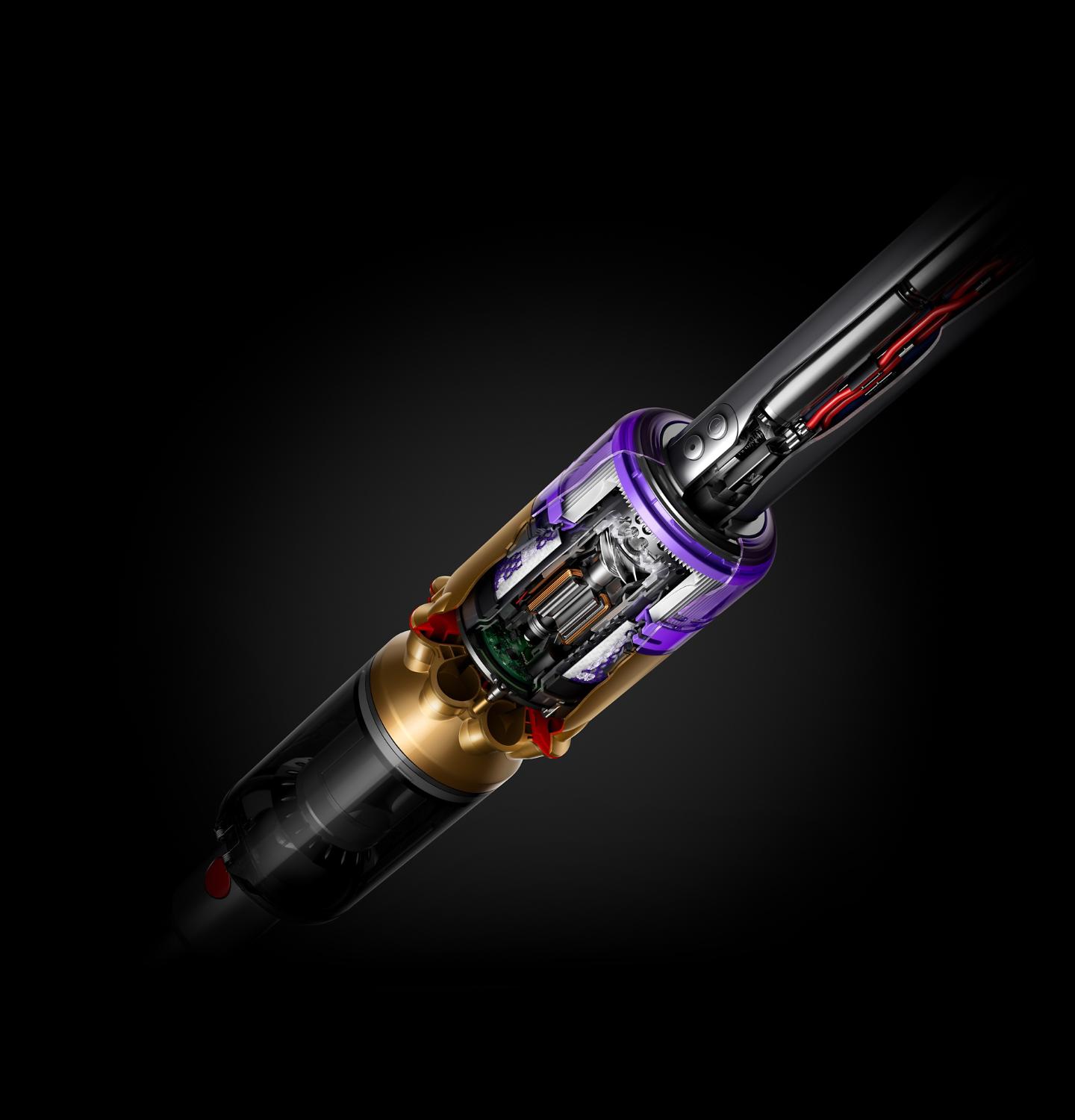 Engineered with powerful Dyson technology
Dyson's core vacuum technologies, combined to create a powerful, compact and highly-manoeuvrable cordless vacuum.
Dyson Hyperdymium™ motor

Small and light. Spins at up to 105,000rpm to create powerful suction on hard floors.

Compact, powerful cyclones

Eight cyclones generate forces of 98,000g to remove microscopic dust from the airflow.

Push-button operation

With power and mode selection buttons instead of a trigger, you can swap hands easily while cleaning around obstacles.
No touch bin emptying.

Quick bin emptying. Our quick release mechanism makes emptying the bin simple and hygienic.

Stores and charges

The Dyson Omni-glide™ vacuum drops into the wall-mounted charging dock, ready for your next clean.
Easy to maintain

The filter and Fluffy™ brush bar can be washed, and the bin and tools wiped clean, to remove dust build-up and help optimise your Dyson vacuum's performance.⁷

Click-in battery

Remove and replace at the press of a button for even longer cleans – and to charge on or off the machine.⁸
Explore vacuum cleaners by cleaning needs
The most powerful Dyson vacuums. With tools engineered to deep clean dirt, debris, and pet hair from every corner of your home.

Our engineers test dust and debris found in real homes, and design technology that captures allergens and removes pet hair. 

Our slimmest, most maneuverable vacuum. Engineered to glide effortlessly on hard floors, around obstacles, and into tight spaces.
Dyson lightweight vacuums frequently asked questions
1

Compared to all cordless vacuum cleaners with soft roller cleaner heads and 360° castor wheels, according to GFK sales tracking data in each market.

2

Suction tested to EN IEC62885-4 CL5.8 and CL5.9, tested at the flexible inlet, loaded to bin full, in Boost mode against the cord-free stick market. (Sales data from Apr 2020 to Mar 2021).

3

Best accuracy achieved in Auto mode. Auto ramp feature in Auto mode only. Testing based on average in home usage according to Dyson internal test data. Microscopic dust is defined as particles less than 100 microns.

4

Filtration tested against ASTM F3150, tested in Boost mode by independent third-party, SGS-IBR Laboratories US in 2020.

5

Additional battery and charger, available to buy separately on the Dyson website.

6

Applies in eco mode on hard floor. Actual run time will vary based on power mode, floor type and/or attachments used.

7

Refer to instructions in the operations manual available on the Dyson website

8

Suction tested to EN IEC62885-4  CL5.8 and Cl5.9, loaded to bin full, in Boost mode against cord-free stick market.