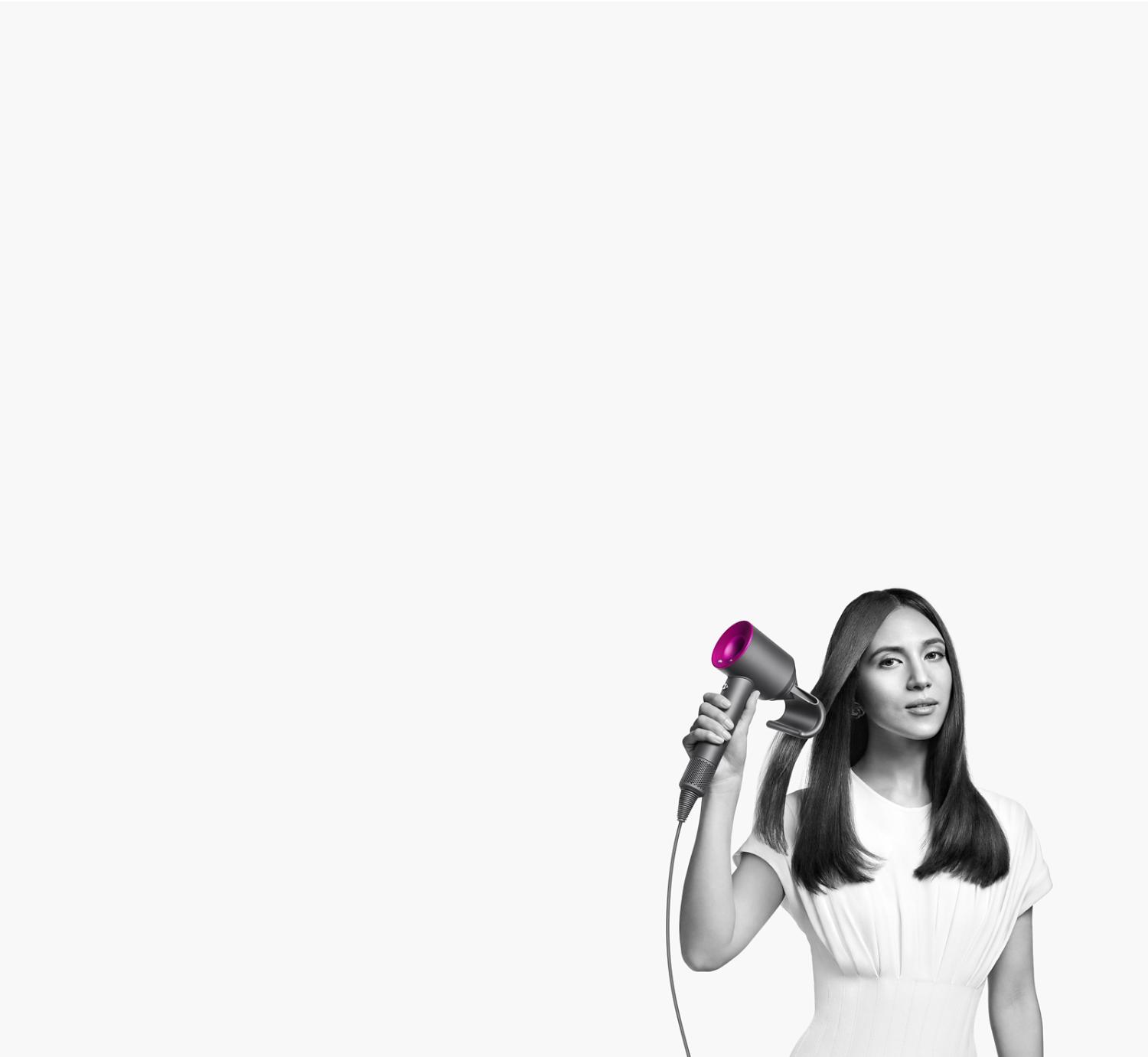 How to pick the right hair dryer brush
Whether you're after smooth, straight locks or voluminous curls, the secret to styling while drying hair lies with the right hair dryer brush.
Blow drying with a specialised hair dryer brush is a great way of achieving a natural, low maintenance style with minimal heat damage. Dyson offers two Dyson-engineered brushes to suit every hair type and style – ready to be paired with the Dyson Supersonic™ hair dryer for a salon-worthy look at home.
Paddle brush for a smooth and straight style
The benefits of using a paddle brush

While a paddle brush can be used on both wet and dry hair, it's most effective on wet hair before styling thanks to its detangling abilities. The flat and wide shape combined with the air-filled cushion and plastic bristles, provide optimum control and coverage with every stroke. For this reason, the paddle brush can do wonders for those with an abundance of long, thick hair.
Blow-drying with a paddle brush
1. Before styling, use the paddle brush to divide hair into two equal parts and brush downwards from root to tip to flatten and lengthen. This motion with help remove any knots or tangles as a result of towel-drying hair beforehand.
2. Prepare the Dyson Supersonic™ by attaching the Smoothing nozzle to create a smoother airflow when drying and set the heat setting to low.
3. Hold the hair dryer above your head and follow the paddle brush downwards as it slowly glides through your hair strands. Continuously repeat this technique on each section of your hair until completely dry.
4. For best results, use the Dyson Corrale™ straightener on the tips of your dry hair to tame any unwanted flicks. 5. As a final touch up, use the flyaway attachment which hides flyaways in one single pass for a smooth and shiny finish.
Choosing a paddle brush
Typically, your choice of hairbrush should be based on the length and texture of your hair. However, in the instance of the paddle brush where the objective is to achieve a straight hair style, most variations will deliver a similar result. The Dyson-designed Paddle brush is ideal for all hair types and hair lengths, making it an appropriate choice for all. Crafted with comfort in mind, the Dyson-designed Paddle brush offers air-cushion suspension and rounded bristles, and a weighted handle for balance. It's also heat resistant up to 150˚C.
Round brush for volume and shape
The benefits of using a round brush

What makes the round brush so special is its versatility – transforming lifeless locks into loose waves. This is achieved when the barrel of the brush fills with hot air from the hairdryer and is distributed through the small, ventilated holes as you style. Depending on how you use it, a round brush can add shape at the tip, a bend in the middle, volume at the root, or give a lift to the fringe.
Blow-drying with a round brush
1. Pre-dry hair using the medium speed and medium heat setting on the Dyson Supersonic™ hair dryer, and the Gentle air attachment. Drying your hair in advance will save on styling time.
2. When almost dry, section off your hair using a paddle brush or a comb and attach the Smoothing nozzle attachment to the Supersonic™ for ultimate precision during the styling process.
3. Starting with the fringe, wrap hair around the round brush from underneath and position the hair dryer above, aiming downwards – holding until completely dry. This will result in a rounded fringe when the brush is released.
4. To create low-maintenance curls, wrap a section of your hair around the brush in an upwards direction and direct the smoothing nozzle at the wound hair, holding for a few seconds to let the heat set the style. Repeat this step again but this time, wrap the hair around the brush in the opposite direction. Gently unravel the hair from the round brush each time and watch the curls unfold.
5. For best results, apply some hairspray or styling serum to your newly created waves to keep them intact all day long.
Choosing a round brush
Round brushes will differ in diameter, density, and material, with each of these features contributing to the end result. The Dyson Vented Barrel brush comes in two sizes; 35mm barrel for short to medium-length hair and fringes, and the 45mm barrel for longer hair. Like all Dyson-designed brushes, it's equipped with a weighted handle for balance and round-tip bristles for scalp comfort. As the name suggests, the Dyson Vented Barrel brush was engineered with a vented barrel to prevent hair from overheating.
Discover the Detangling comb
In addition to the Dyson-designed Paddle brush and Vented barrel brush, the Dyson-designed Detangling comb has two main purposes – detangle and lengthen before drying, and shape and refine after styling. Wet hair is prone to breakage, so the detangling comb is engineered with wide, polished teeth to glide easily through wet and dry hair – with minimal friction.

For the full Dyson hair care range, including hair tools, attachments, and accessories, or to explore our styling tutorials, visit dyson.co.uk.
Dyson's Global Styling Ambassadors share their tips and tricks on curling hair with a hair straightener. Try these curly and wavy styles at home with your Dyson Corrale hair straightener.

Dyson engineers and ambassadors share their styling secrets and hair hacks for the festive season.