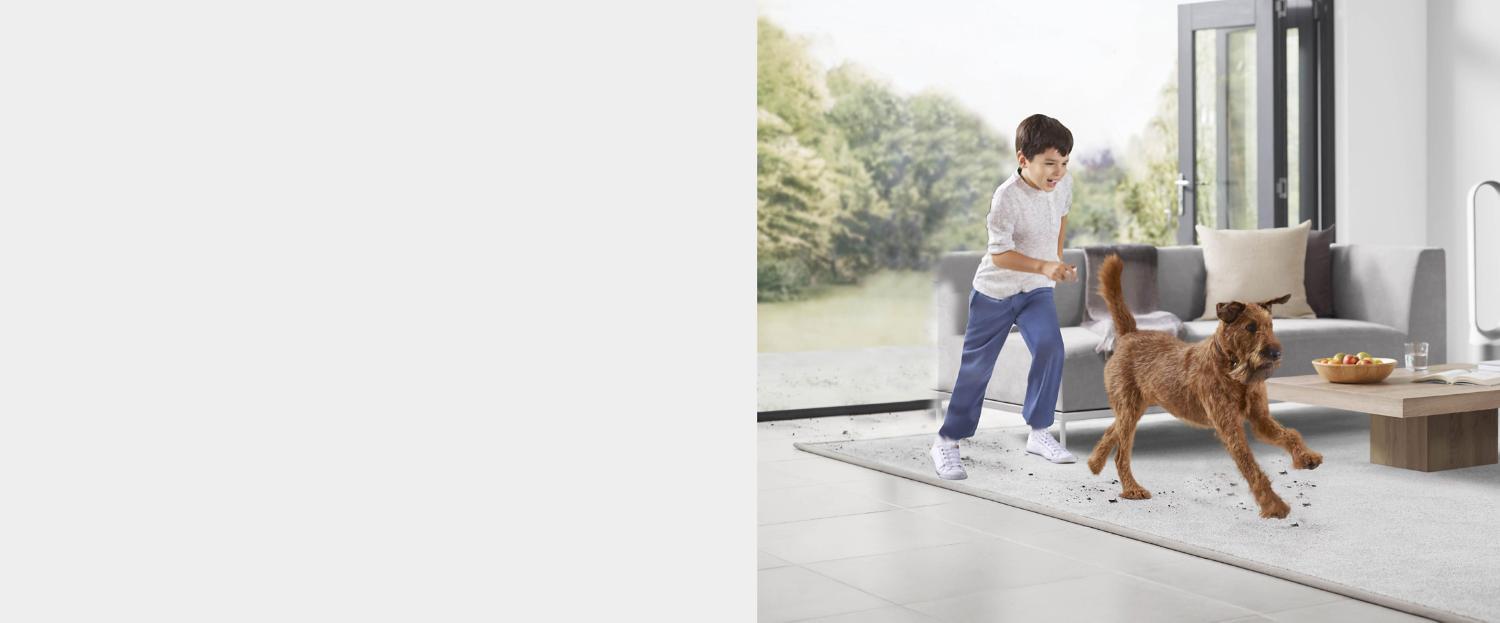 Pet dander allergy: Symptoms, causes and prevention
Pet ownership is booming globally. The Dyson 2022 Global Dust study found that 57% of global households own a pet – and this number is growing.
If you're a pet owner you'll know that keeping your home clean can sometimes be quite a challenge.  Our furry friends can bring plenty of joy, but also a few microscopic surprises into the home, including pet dander, pollen, and viruses. What's more, you may find that cuddling your pet leaves you sneezing, coughing or rubbing your eyes.  
If that's the case, you may have a pet dander allergy – and you're not alone. It's estimated that pet dander allergies affect up to 20% of people around the world.¹ Plus, cat and dog allergy is common in people who also have allergic asthma or hay fever.² 
But all is not lost. Our smart tips from Dyson Experts can help you keep pet hair, other dirt, and pet dander at bay. 
What is pet dander?

Pet dander can be an invisible indoor air pollutant for those with pets. It's defined as microscopic flecks of skin, shed by warm-blooded animals. When pets groom themselves, they can deposit protein particles from their saliva onto their hair and skin. These microscopic skin cells dry and flake off on a regular basis to form pet dander.  
Cat and dog dander can become airborne, eventually settling onto surfaces. But any disturbance can send it back into the air again. Dander carried on your pet's fur can be disturbed when they shake.  

Some pet dander particles can be as small as bacteria, meaning they have the potential to be breathed in. Flecks of dander remain in the atmosphere for hours and easily stick to furniture, bedding, fabrics and items carried in and out of the home. To make matters worse, dust mites also feed on pet dander. They multiply and produce more allergens that can get into the air, causing further issues for allergy sufferers.​​​​​​​ 
Pet dander allergy symptoms
If you have a pet dander allergy, it's caused by the protein part of the dander. Pet dander symptoms may feel like a sudden onset cold whenever you visit a home with animals, or spend time with dogs or cats. 
Symptoms include:  
-sneezing and nasal congestion 
-difficulty breathing and asthmatic reactions 
-itching and watery eyes 
-chest tightness 
-eczema 
-hives.³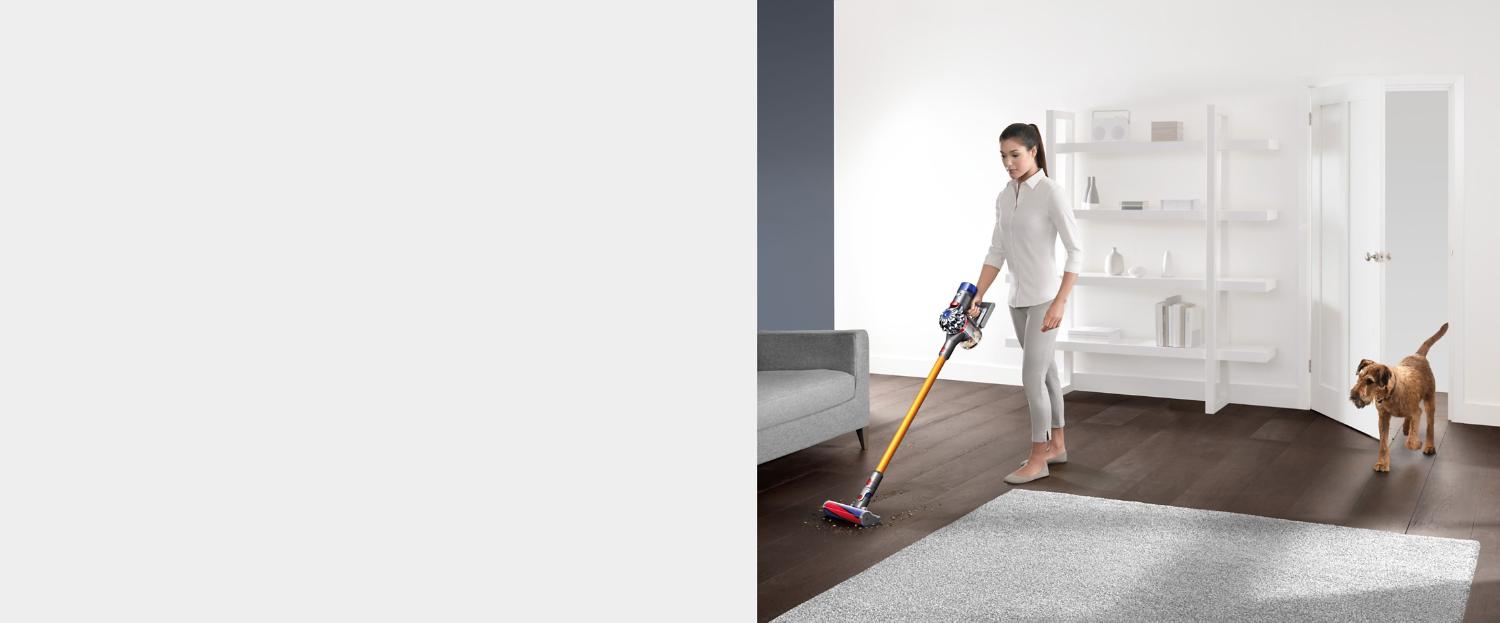 Five tips for dealing with pet allergies 
1. Reduce dander, dust and allergens with regular vacuuming
Our in-house microbiology team goes to extraordinary lengths to understand the impact of pets on household dust. We make sure Dyson machines have the advanced technologies needed to effectively remove dust and pet dander from homes, and keep it trapped in the machine.  
We studied a variety of animals – from dogs to donkeys – to understand hair size, texture and structure across animal species and breeds, as well as the invisible allergens and bacteria pet hair can introduce to the home. 
Keeping your house completely hair-free is impossible, but vacuuming your carpets, hard floors, soft furnishings and mattress can go a long way to reducing it.  
2. Remove pet hair, with de-tangling technology 
A good vacuum cleaner for pets doesn't let hair accumulate. We all know how frustrating it can be when hair tangles in the brush bar. Fortunately, the Dyson V12 Detect Slim™ and the Dyson V15 Detect™ vacuums solve this problem with the latest de-tangling technology.  
Both cordless vacuum cleaners have been specially developed for households with pets. Their Dyson Motorbar™ cleaner head technology uses 57 polycarbonate hair removal vanes to automatically clear the brush bar of hair as you clean. It prevents hair wrapping around the bristles, with no compromise on pick up performance.  
Thanks to new technology, our vacuum cleaners are able to detect and vacuum up even the tiniest dust particles and hair. A sophisticated filtration system captures 99.99% of particles as small as 0.3 microns.⁴ The Dyson V15 Detect™ goes a step further and its upgraded HEPA post-motor filter traps even more microscopic particles as small as 0.1 microns.⁵  
Approximately 75% of cat dander particles are 5-10 microns in size, and 25% are 2.5 microns or smaller. So it's important to find a vacuum cleaner that will reveal, capture and trap the dirt and hair left by pets.  
3. Don't just clean what's visible
Often, we only clean the areas in our home where we can see the build up of dust, hair and dirt. It's a point proven in the Dyson 2022 Global Dust Study, which revealed that we're becoming reactive cleaners, with 44% of people only motivated to clean when their home is dusty or there's visible dust and dirt on the floor.
"It is a cause for concern if people only clean when they spot visible dust on the floor, as many dust particles are microscopic in size," says Monika Stuczen, Research Scientist in Microbiology at Dyson. "In fact, by the time people spot visible dust in the home, it is highly likely that there are dust mites in your home." 
The illumination technology in our Fluffy Optic™ cleaner head reveals invisible dust and hard-to-spot pet hair in the home. So you won't miss anything while cleaning hard floors.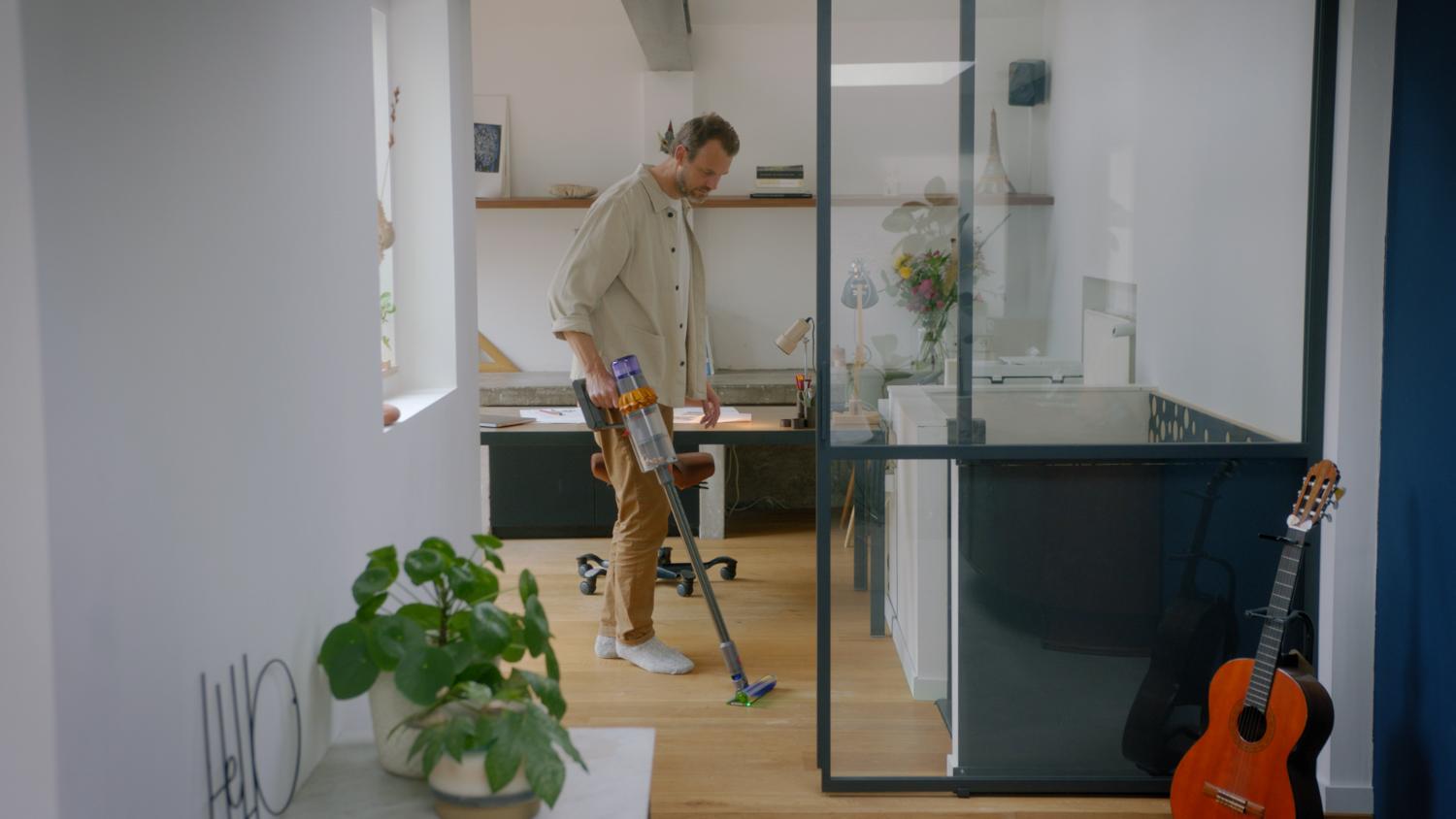 4. Clean hard-to-reach or overlooked spaces
As a pet owner, you know better than anyone that hair and dirt can sometimes be found in the most impossible places.  
The Dyson Global Dust Study showed that while the majority of people vacuumed their floors regularly, other spaces were commonly overlooked. The study found that 71% of pet owners don't vacuum their mattress, despite one in  every two pet owners sharing their bed with their pets. So when cleaning, remember to vacuum armchairs, sofas, and anywhere else your pet spends time. 
Dyson vacuum cleaners are designed to clean more than just your floors and carpets. With the right attachments, they can be used to reach everywhere, from your mattress to your bookshelves – helping to maintain a cleaner, more hygienic environment around your whole home. Our anti-tangle Hair screw tool, for example, removes hair from the most stubborn surfaces, such as pet beds, car seats and stairs. The motorised conical brush bar spirals long hair and pet hair into the bin.   
5.  Groom your four-legged friend
By regularly giving your dog or cat a good brushing, you ensure that loose hair does not spread throughout your home. There are different brushes available, but did you know that you can also do this with a vacuum cleaner?  
We developed the Pet groom tool – a special vacuum cleaner attachment suitable for dogs and cats. Compatible with our cordless range, it lets you brush your pet quickly and comfortably. With 364 bristles angled at 35°, it flexes as you brush, reaching through your pet's coat to immediately collect loose hairs, pet dander and microscopic skin flakes, then sucking them up into your vacuum's bin.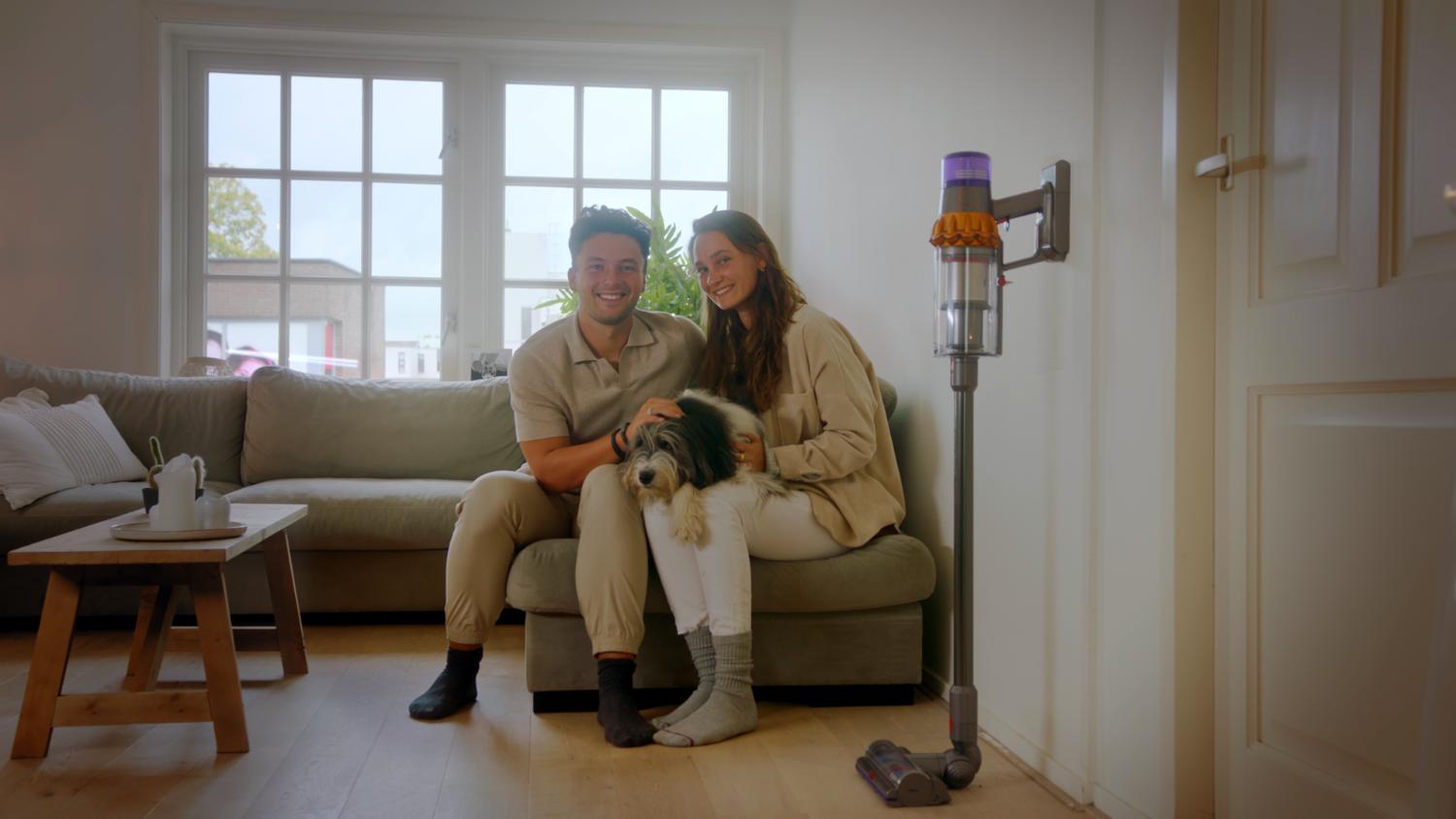 We'd love to see how you use our new anti-tangle technology and pet care kits. Why not tag us @dyson and share your own pet videos using #petsofdyson.
Experiencing allergic reactions to pets can be difficult to manage. If you're struggling to be around specific animals, you're not alone – in just the US, three out of ten people with allergies have reactions to cats and dogs.¹

A home office deep clean is important for productivity, creativity and a clearer mind. Keep things in order with our cleaning checklist.
1 Chan, S and Leung, D (2018), Dog and Cat Allergies: Current State of Diagnostic Approaches and Challenges, 10 (2), 97-105. Available at: https://www.ncbi.nlm.nih.gov/pmc/articles/PMC5809771/ 
2 https://www.allergyuk.org/resources/pet-allergy-factsheet/ 
3 https://www.lung.org/clean-air/at-home/indoor-air-pollutants/pet-dander 
4 Filtration tested against ASTM F1977 in Boost mode. 
5 Filtration tested against ASTM F3150 in Boost mode.