Dyson Celebrates the Summer of Pink
Embracing the current pink trend, Dyson welcomes back the vibrant fuchsia/nickel colourway as part of its hair care range. This captivating lineup features the iconic Dyson SupersonicTM hair dryer, the versatile Dyson AirwrapTM Multi-styler, and the innovative Dyson CorraleTM Straightener.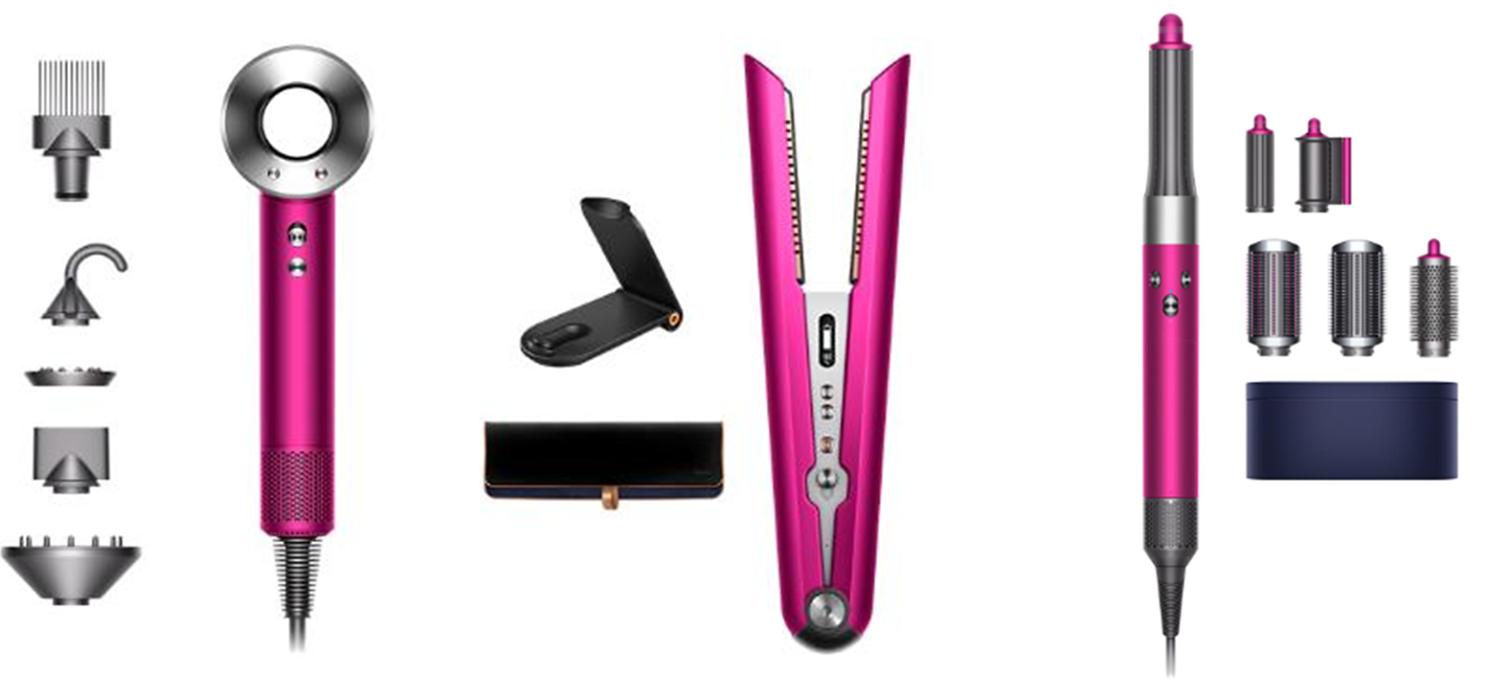 LONDON, UK. 4 JULY 2023. Dyson reveals the return of its highly anticipated iconic hair care range in the vibrant fuchsia/nickel colourway. As the summer season takes centre stage, defined by the summer hot pink trend that has taken the world by storm, Dyson's hair care beauty tools are ready to make a bold and stylish statement. Combining cutting-edge technology and a deep understanding of hair care needs, Dyson's hair care range offers the opportunity to make a hair statement and achieve iconic Barbie-inspired hair looks with no extreme heat.
Dyson SupersonicTM hair dryer

 

The Dyson Supersonic hair dryer, with its powerful airflow and intelligent heat control, is your key to achieving flawless, sleek styles reminiscent of Barbie-inspired signature straight locks. Get ready to turn heads with silky smooth hair that exudes elegance and sophistication.

 

The Dyson SupersonicTM hair dryer is powerful and fast, engineered for different hair types. The tool uses a fast but focused airflow, is engineered for balance in the hand, is quieter than others and intelligently controls the temperature to help protect hair from extreme heat damage. Unlike many traditional hair dryers, the Dyson SupersonicTM hair dryer measures air temperature over 40 times a second to regulate temperature output. This prevents extreme heat damage to help protect hair's shine.

 

It includes five magnetic styling attachments for easy fitting and 360° rotation, engineered for all hair types. 

 

Gentle air attachment

Engineered to be kinder to fine hair and sensitive scalps, the Gentle air attachment diffuses the air, creating a gentle, cooler airflow - while still drying hair fast.

 

Wide-tooth comb

Engineered for curly and textured hair, the Wide- tooth comb attachment has robust teeth to help lengthen hair as it dries or creates volume and shape.

 
Styling concentrator

The wider, thinner design of the re-engineered Styling concentrator creates a high-velocity blade of air that's perfect for styling. And because the air is focused, you can style one section at a time – without disturbing the rest.
Diffuser
Re-engineered to disperse air more evenly around your curls, the Diffuser simulates natural drying, helping to reduce frizz and define curls and waves. Longer prongs allow you to style more hair with greater control – and reach deeper into the hair.
Dyson SupersonicTM hair dryer in fuchsia/nickel is priced at £329.99, available at Dyson.co.uk, Dyson Demo Stores, and selected retailers.
Dyson CorraleTM straightener

 

Innovative and boundary-pushing, the Dyson Corrale Straightener is the perfect tool for achieving the iconic Barbie-inspired doll's perfectly aligned, glossy hair.

 

Its unique flexing plates and pioneering micro hinged plate technology ensure even heat distribution and optimum tension, resulting in impeccable, salon-quality straight styles that defy convention.

 

Suitable for all hair types, the Dyson Corrale™ straightener features three precise temperatures, using a platinum sensor that measures temperature 100 times a second. This technology communicates with a microprocessor, which controls the heating system to deliver precise, accurate heat.

 

Combined with Dyson's 4-cell lithium-ion battery technology, the Corrale™ straightener also delivers cord-free performance, making it the perfect tool for mothers who want to care for their hair by reducing heat damage without compromising on style.

 
The only hair straightener in the market with flexing plates, this unique styling tool features pioneering micro-hinged plate technology, which flexes to shape and gather hair, applying even heat and tension to all the hair strands in every pass and keeping them perfectly aligned, reducing the reliance on heat.  
The Dyson CorraleTM straightener in fuchsia/nickel is priced at £399.99 comes with a Dyson Corrale Travel Dok and a heat-resistant travel pouch, is available at Dyson.co.uk, Dyson Demo Stores, and selected retailers.
Dyson AirwrapTM multi-styler

 

For those seeking to embrace voluminous curls or playful waves, the versatile Dyson Airwrap Multi-styler is your ultimate styling companion. With its re-engineered barrels and brushes, you can effortlessly create cascading curls, luscious waves, and intricate updos that reflect your style.

 

Styling hair should not be synonymous with damaging hair. Like the Dyson SupersonicTM hair dryer, the Dyson AirwrapTM Multi-styler has intelligent heat control, allowing you to achieve your desired style at a lower temperature to prevent hair from extreme heat damage.

 

At the heart of the Dyson AirwrapTM Multi-styler comes a radical idea: harness Dyson's digital motor to create a phenomenon known as the Coanda effect. The Coanda effect occurs when a high-speed jet of air flows across a surface and, due to pressure differences, the airflow attaches itself to the surface.

 

Relentlessly dissatisfied, Dyson engineers challenged their own design to miniaturise and multiply the Coanda effect, pioneering a fully customisable styling tool to deliver a range of styles for different hair types without extreme heat. 

 

Next-generation styling barrels featuring a cool rotating tip make achieving curls and waves faster and easier[1] – with no heat damage to help maintain hair strength[2]. Blending the results formerly achieved with two barrels into one attachment, now users can style the full head, creating clockwise and anti-clockwise curls and waves, without the need to switch attachment mid-style.

 
Re-engineered brush attachments deliver precision shaping with enhanced Coanda performance alongside an all-new dual-purpose Coanda smoothing dryer. Combining two attachments in one, the Coanda smoothing dryer hides flyaways[3] in a single pass, with no extreme heat and transforms into a powerful dryer with the flick of a switch.

A Wide-tooth comb attachment, engineered for curly and oily hair, helps to add shape, volume, and length as it dries. Dyson's comb teeth are designed with soft curved tips to glide through the hair, with no sharp edges to catch, pull or cause damage.
The Dyson Airwrap Multi-styler has new barrels to curl and wave in both directions, brushes to control and shape, and the multi-functional Coanda smoothing dryer to dry, smooth and hide flyaways.
The Dyson AirwrapTM multi-styler in fuchsia/nickel is priced at £479.99 comes with a Dyson Airwrap storage case and is available at Dyson.co.uk, Dyson Demo Stores, and selected retailers.
We spend plenty of time and money on our skin and hair, yet our scalp is often overlooked. Discover how to get a healthy scalp with our top tips.

Dyson's Global Styling Ambassadors share their tips and tricks on curling hair with a hair straightener. Try these curly and wavy styles at home with your Dyson Corrale hair straightener.