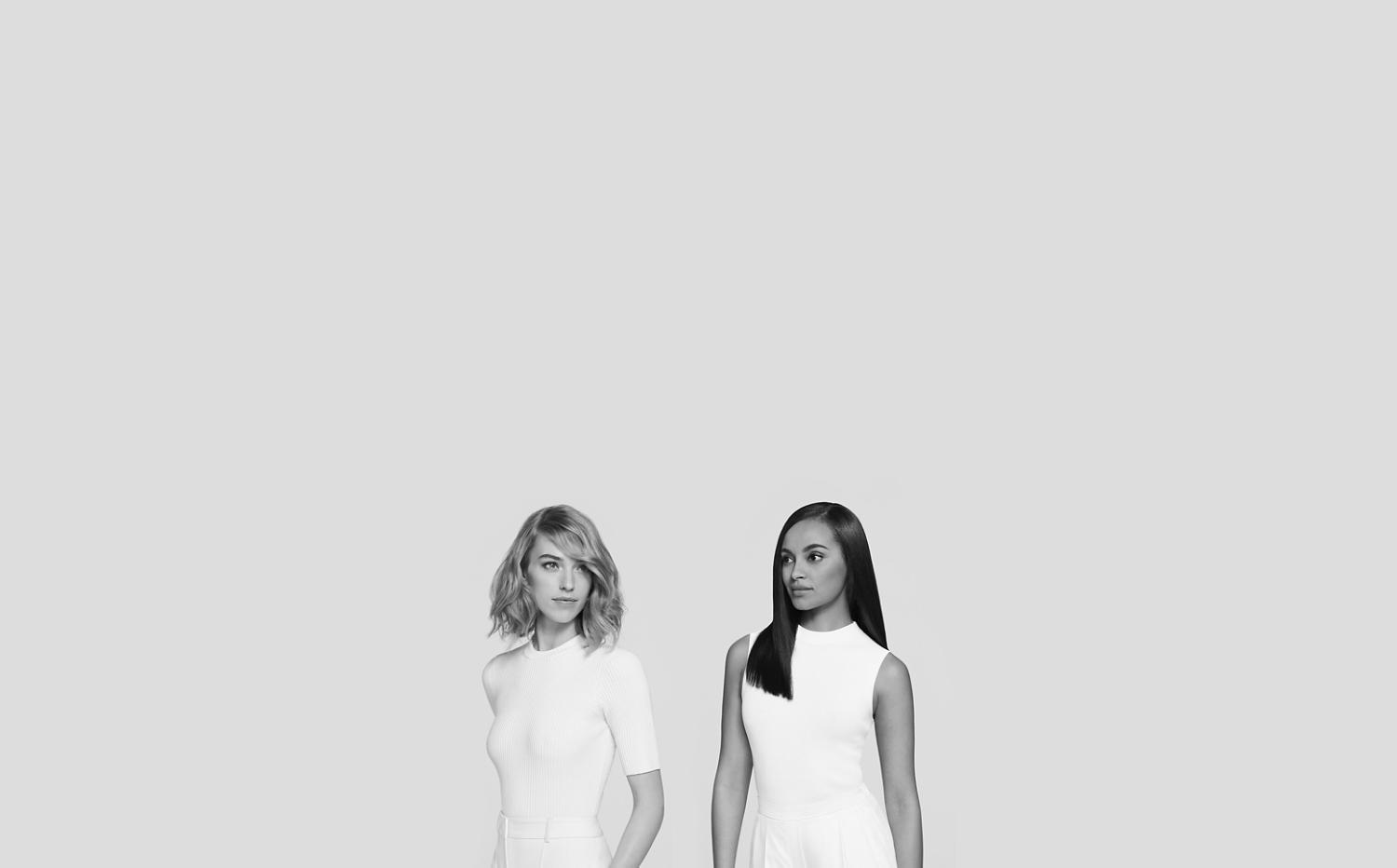 10 easy hairstyles
Simplify getting ready for a day out with these tips for quick and easy hairstyles for all hair types and lengths. From summer styles like beach waves and space buns, to frantic throw-togethers like Dutch braids and top knots. Leave the house in style with these five-step tutorials covering 10 looks for every occasion.
Hair styles for every occasion and hair length
Before you begin, gather your styling tools and accessories along with your favourite styling products. Where hair ties and bobby pins are needed, aim to use a colour that blends well with your hair. For best results, and to keep hair looking healthy and shiny, opt for styling technology that has less reliance on heat.
1. Low bun
Occasion: A day at work
Ideal hair length: Medium and long hair
Step 1: Begin by brushing dry hair to remove any knots and tangles. If you have curly or coily hair, skip this step to avoid turning your curls to frizz.

Step 2: Pull all hair strands together to make a low hanging ponytail and secure with a hair tie at the nape. Leave the shorter layers around your face out of the ponytail for styling later.

Step 3: Wrap the ponytail in a circular motion around the base where the hair tie holds until you run out of hair. Use one hand to wrap and the other to hold the bun tight. Tip: braid the ponytail or twist your hair around itself to make wrapping easier.

Step 4: Tuck the end of the pony under the bun and through the hair tie. Use bobby pins to secure the bun at the base before applying hairspray for extra hold.

Step 5: Use a hair straightener to curl or straighten the loose strands that were left out of the ponytail. If you have a fringe, use a round brush and a hair dryer with a smoothing nozzle attachment to create a smooth, rounded fringe.
2. Beach waves
Occasion: Holiday mode
Ideal hair length: Med-long hair
 
For this style, we recommend using the Dyson Airwrap™ hair styler which harnesses the Coanda effect to create a spinning vortex of air around the styling barrel – creating voluminous curls and waves without extreme heat.
Step 1: Begin by drying wet hair until damp using the Firm or Soft smoothing brush attachment. Then, section off hair. Tip: when creating waves or curls, always start with the bottom section of your hair.

Step 2: Next, secure the 40mm barrel attachment and manually wrap a section of hair around it in the direction of the arrows marked on the barrel.

Step 3: Turn the Airwrap on and once the hair feels dry, use the cold shot to fix the style before releasing.

Step 4: Repeat throughout the hair, switching the barrels to change the direction of the curl as you style each section.

Step 5: Run your fingers through the curls at the end to help enhance the soft, beach wave effect.
3. Half up top knot
Occasion: When you're running late
Ideal hair length: Short, medium and long hair
Step 1: Section the top of your hair, ensuring you're taking an equal portion of hair from each side so the end result is centred.

Step 2: Hold the sectioned hair in place and apply some texturizing spray. Move your fingers through the hair to give it a boost.

Step 3: Take the section of hair in one and twist it into a bun using one hand to do the twisting and the other to hold the forming bun in place. Tip: for longer hair, tie your hair in a ponytail first and then wrap it into a bun.

Step 4: Mould the bun to your liking using bobby bins to secure the style. For a messier style, adjust the bun size and pin loose hair strands around the base of the hair tie.

Step 5: Finish up by lightly teasing the sides and back of your hair with a comb to create volume before using hair spray to set the style.
4. Straight and textured
Occasion: Everyday chic
Ideal hair length: Very short hair
Step 1: Add some root spray to your roots before thoroughly drying hair using a smoothing nozzle attachment. Massage and shake hair with your fingers to create a messy texture as you blow dry.

Step 2: Section hair off and working with the bottom, front layer first, hold hair in between fingers to create an 's bend' at the root.

Step 3: Position your hair straightener horizontally and using a tapping motion, slowly make your way down the bent strand.

Step 4: Repeat this technique for all strands of hair, alternating the direction of the 's bend' to add texture. Tip: style the majority of your hair in forward direction to achieve a layered look

Step 5: Warm some styling wax in your hands before lightly massaging it into your freshly styled locks. Aim to work the wax in circular motions to create natural movement.
5. Smooth and sleek
Occasion: Date night
Ideal hair length: Short, medium and long hair
For this style, we recommend using the Dyson Corrale™ hair straightener which has been engineered with a precise heating system to deliver the exact temperature you select.
Step 1: Start by adding your favourite styling product to freshly washed hair, before blow-drying using a wide tooth comb attachment to lengthen.

Step 2: When dry, section hair and set your hair straightener temperature according to your hair type. For curly and coily hair, opt for 220°C – the highest temperature of the Dyson Corrale™ straightener.

Step 3: Position the straightener close to the roots at an angle and place each section in the centre of the flexing copper plates so they can shape to gather hair.

Step 4: Glide the straightener through your hair with slow, even passes, experimenting with section size as you go. Tip: For thick, coarse or curly hair, try taking smaller sections. For finer hair, try larger sections.

Step 5: After tending to your hairline and fringe at a lower temperature, massage a small amount of your favourite styling product through your hair once again for added shine.
6. Messy bun
Occasion: Running errands
Ideal hair length: Med-long hair
Step 1: Flip your head forward and shake out hair using your fingers as a comb to loosen any knots. Texture is the key to a successful messy bun, so you don't want to brush your hair properly.

Step 2: Gather all the hair together from the bottom up and tie it in a high ponytail. If you have some shorter layers at the front, leave these hanging loose around your face.

Step 3: Lightly pull at some strands in the front section of your now-tied hair and lightly tease the ponytail hair with your fingers. Both of these techniques will add volume.

Step 4: Take another hair tie and wrap it around the pony tail, but this time, rather than pulling the ends through, make a loose bun leaving a good length of the ends out. Tip: gently pull at the bun and the loose ends to create that carefree and messy look.

Step 5: Take the ends, split them in half, and drape them around the base of the bun using bobby pins to secure them. Apply some hair spray to keep your bun intact throughout the day.
7. Dutch braids
Occasion: A bad hair day
Ideal hair length: Short, medium and long hair
Step 1: Begin with damp or dry hair. Detangle hair using a comb before creating an even centre part from the top of the head down to the nape.

Step 2: Tie one side of your parted hair in a low ponytail so it's out of the way. On the other side, starting at the top of your head at the hairline, gather the first section of hair and split it into three smaller, equal parts. Tip: if you have finer hair, apply some styling mousse beforehand to help hold the strands together.

Step 3: Place the front piece of hair underneath the middle section of hair. Then, with the new middle section, take the back section of hair and place it underneath the middle section.

Step 4: Repeat this pattern, continuing to weave the strands underneath the middle section and adding more hair to each section as you braid downwards. This can be quite tricky so to keep the braid tight, use your fingers to weave the outer hair in.

Step 5: When you reach the nape, continue creating a regular plait and secure with a hair tie about 5cm from the end. Repeat the process with the hair on the other side.
8. Voluminous blowout
Occasion: Weekend plans
Ideal hair length: Medium hair


For this style, we recommend the Dyson Supersonic™ hair dryer which comes with five attachments to help style your hair your way.
Step 1: Apply volumising mousse to clean, towel dried hair. Blow-dry hair until 70% dry using a Smoothing nozzle attachment, elevating sections where you want more volume.

Step 2: Section off hair and switch to a Styling concentrator attachment. Set the Dyson Supersonic™ to medium air and medium heat.

Step 3: Grab a Vented barrel brush to create volume and shape as you continue to blow-dry and style. Lift each section of hair at the root and use the cold shot button to lock in style.

Step 4: Repeat this technique for all sections and when tending to the crown, elevate directly above head for maximum volume.

Step 5: Finish up by applying your favourite finishing spray and fluffing hair with your fingers.
9. Space buns
Occasion: Summer festival
Ideal hair length: Med-long hair
Step 1: Start with thoroughly brushed hair made easy with a Paddle brush. If your hair is on the greasier side, apply some dry shampoo to the roots as this will add some lift and volume.

Step 2: Part hair completely down the middle ensuring you have an even amount of hair on each side. Tip: use a mirror to help when parting the back of your hair.

Step 3: Tie one side in a low ponytail so it's out of the way. On the other side, use your Paddle brush to pull all of the hair together tightly and into a high bun, leaving some strands hanging loose at the front for extra flair.

Step 4: Shape the bun to your desire by pulling at strands of hair in the bun and using bobby pins to pin the hair around the base of the hair tie.

Step 5: Repeat with the hair on other side and then finish up by applying a generous amount of hair spray or glitter spray to secure the buns.
10. Slicked back pony
Occasion: When you haven't washed your hair
Ideal hair length: Long hair
Step 1: Remove any tangles and bumps from dampened hair. Be careful not to brush the lower half of your hair that will end up in the ponytail as this will give a frizzy result.

Step 2: Take the comb and create a middle or side parting, before applying a generous of amount of styling gel to the top of the hair on either side.

Step 3: Use a dressing brush to smooth out the gel creating a sleek look. You'll need to do this for the hair on the top of your head and the hair beneath the ponytail.

Step 4: Flatten out any bumps before tightly pulling all the hair together in a low ponytail at the back. Tip: apply more styling gel or hair spray to capture flyaways and baby hairs.

Step 5: Apply hairspray to the hair on your head and run a small amount of serum through the pony tail. Then, take a strand of hair from the ponytail, tightly wrap it around the hair tie and secure with a bobby pin.
Discover Dyson hair care technology

Less reliance on heat, to help protect against heat damage.
Dyson's Global Styling Ambassadors share their tips and tricks on curling hair with a hair straightener. Try these curly and wavy styles at home with your Dyson Corrale hair straightener.

This Autumn, the #DysonStylingTour followed our favourite influencers around town with the Dyson Corrale™ straightener. The Dyson Styling Tour focuses on the different locations you can take your Dyson Corrale™ straightener to, enjoying superior styles while on the go.