Daily air diet: Dyson air sensing technology reveals the impact of Delhi smog on indoor pollution
Dyson air pollution data recorded by Delhi-NCR based mother showed average personal exposure to PM2.5 indoors to be over four times worse during annual pollution season.
From cooking at home to yoga in the park and a picnic with her daughter, Dyson's prototype air quality backpack tracks air pollution exposure throughout the daily routine of Delhi-based mother Karuna Chauhan.  

 

Chauhan is one of a group of volunteers and journalists globally who are working with Dyson to raise awareness about air pollution in cities across the world. This latest project is part of a sustained effort by Dyson to educate individuals about air quality and empower people to take control of their pollution exposure.

 

Karuna wore the backpack in October (Phase 1) and then again in November (Phase 2), repeating the same activities and routine in each phase to allow for a comparison of the two time periods. In November, air quality deterioration was visible with a thick smog descending on the city.
"The reality of air pollution hits home every year with the onset of winters, which bring a thick smog cover, making it a hazard for everyone. The importance of the air that my family and I are breathing in everyday convinced me to be a part of the Dyson backpack project. Understanding the air quality outdoors and inside my home is the first and the most important step in taking precautionary measures."
                                            - Karuna Chauhan
In 2019, Dyson conducted a study on indoor air quality in Delhi homes using Dyson technology. The filters from Dyson purifiers in 12 homes after three to five months of usage were tested and analysed. The study revealed the presence of ultra-fine particulates inside all of the homes tested and high levels of indoor pollutants, which can include formaldehyde, bacteria, pollen, mould spores, dust mites, pet hair and dead skin cells.

 

Dyson Air Quality Backpack

Re-working existing sensing technology used in Dyson air purifiers, Dyson's air quality backpack is a portable air sensing device which collects air pollution data on the move. With on-board sensors, a battery pack and GPS, Dyson hopes to use this sophisticated technology to offer insight into personal exposure to air pollution and how to avoid it.

 

Dyson engineers analysed the findings by pairing the air sensor and GPS data from the backpack with Karuna's diary entries, where she documented her activities and observations in the period wearing the air quality backpack. This allowed them to understand what may have caused the pollution and how Karuna might be able to lower her exposure in the future.
"Our engineers have developed intelligent sensors using knowledge derived from years of experience and research in air cleaning technology. Using our unique algorithm to process detailed reports of air pollution exposure, this innovative technology allows us to monitor air quality indoors, outdoors and on the move. What's more, it all fits within a backpack."
- Alex Knox, Vice President of Environmental Care at Dyson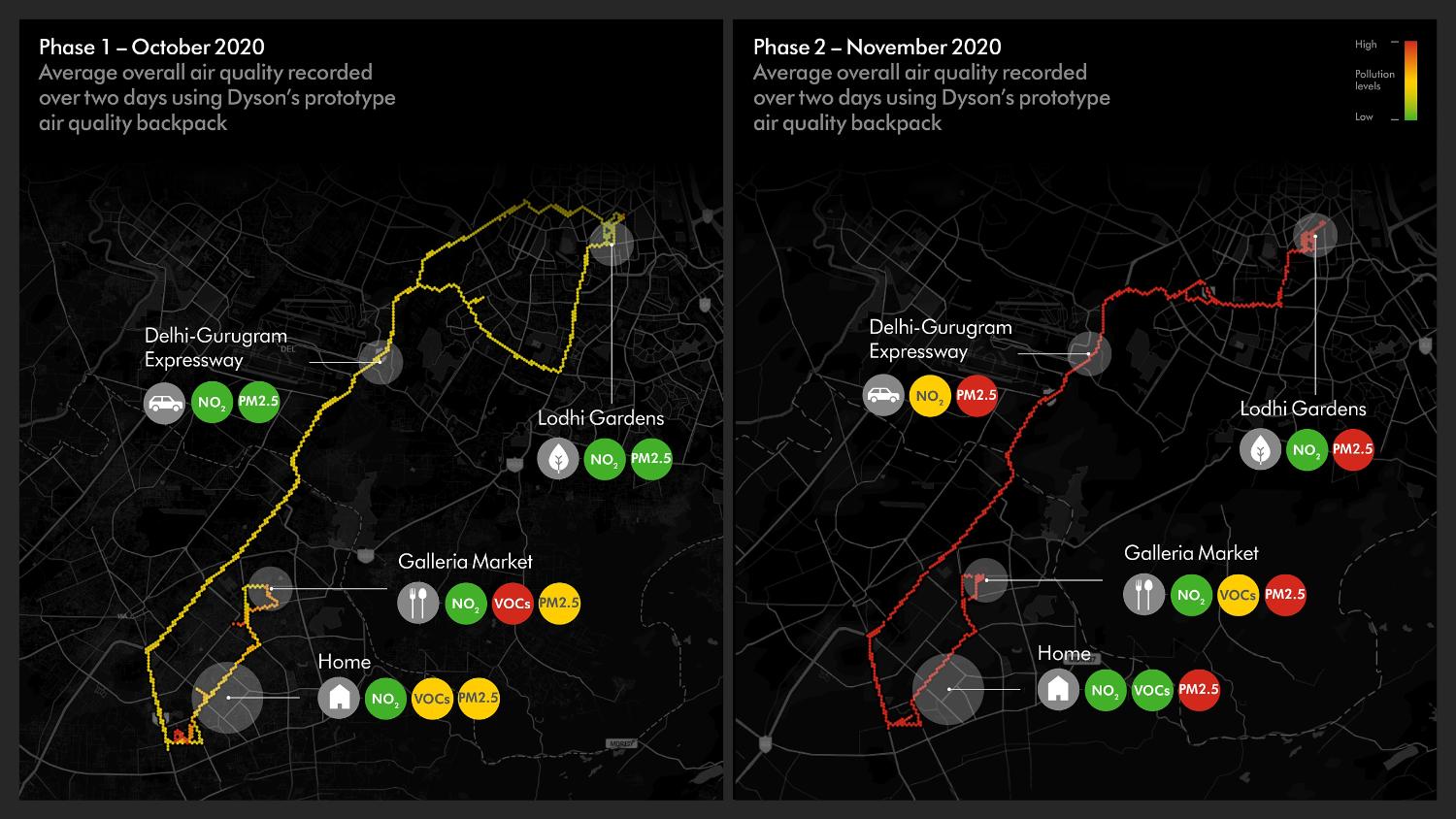 Chauhan's Results

PM2.5 levels remained high indoors and outdoors

The Phase 2 pollution data collected in November indicated a significant increase in PM2.5 levels, with average levels rising by 459%*. These levels remained high both indoors and outdoors, irrespective of the activity taking place. Delhi frequently experiences higher pollution levels in winter, caused by several factors including weather, wind direction and local seasonal activity like farm fires.

*Compared to data collected by the air quality backpack in Phase 1 in October.

 

 
Chauhan's Phase 1 data highlights how air quality can be impacted by daily activities. Actions like frying food in the kitchen increase PM2.5 levels by five times, while visiting an outdoor market caused NO2 levels to rise to 2,500ppb, which registers as very poor on the Dyson AQI scale. The combustion process while cooking releases particulates into the air, likely contributing to this increase. Chauhan's exposure to PM2.5 and NO2 pollution peaked while she was driving on the Expressway. This is unsurprising as these are pollutants commonly associated with vehicle emissions as well as brake and tyre wear.
Impact of city pollution on green spaces
Pollution levels remained high when Chauhan visited a city park to do yoga, highlighting that green spaces within cities can still be impacted by city pollution due to their proximity to pollution sources like vehicles and construction. In Phase 2, outdoor PM2.5 exposure averaged at 220ug/m³ which is extremely poor on the Dyson AQI scale, while monitoring stations across Delhi registered an average of 330ug/m³ which corresponds to severe on the same scale.
However, in Phase 1, when Chauhan went out of the city to visit Lodhi Garden, her personal exposure to pollution reduced to the good range of 25ug/m³, indicating that choices and behaviour can have a positive impact on reducing overall exposure when there is not a city-wide pollution event.
VOCs pollution observed indoors
Within the home, Chauhan's usage of aerosol products like deodorant and perfume caused exposure to VOCs. VOCs is a collective term for thousands of different chemicals, often associated with common household items like aerosols and cleaning sprays. Opting for non-aerosolised alternatives or ensuring good ventilation when the outside air is clean are ways to help reduce exposure to these pollutants.
When Chauhan opened the balcony window after cooking to ventilate the indoor space, PM2.5 levels remained fair at 40ug/m³. This is likely because of the presence of PM2.5 pollution outdoors which meant that the indoor air was not being replaced with a cleaner alternative. Although there are sources of pollution both inside the home and outdoors, where outdoor air quality is bad, opening windows to ventilate a space can negatively impact indoor pollution levels. At 21:00 each evening Chauhan switched on her Dyson air purifier, causing a gradual improvement in air quality.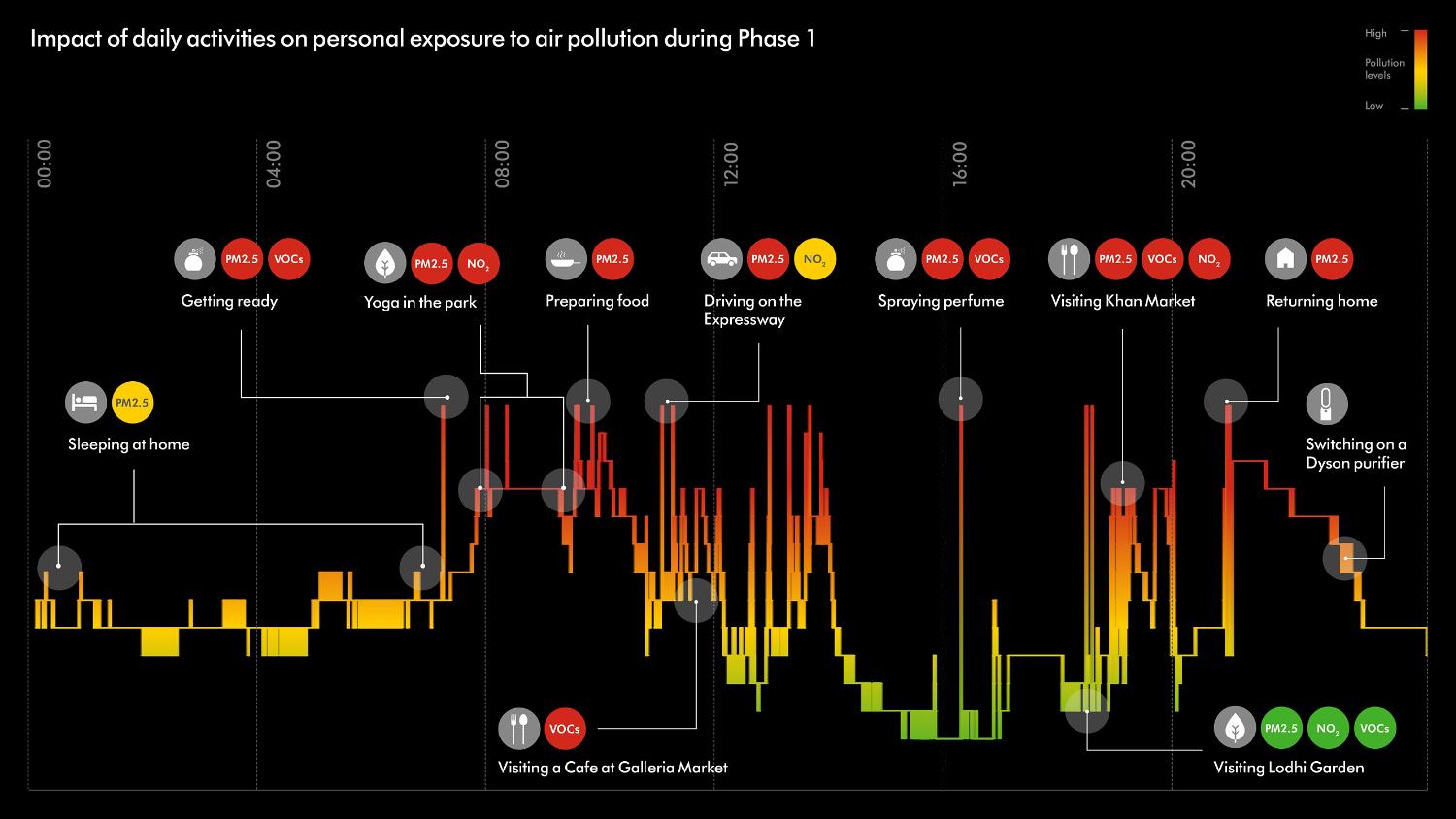 "We are all aware that air pollution exists. While I did expect the outdoor air quality to be better in October than in November, the insights on the indoor air quality that really surprised me. A lot of everyday things like cooking and applying colognes can cause a spike. Through certain behavioural habits, like a morning walk or doing yoga outdoors, we might be causing ourselves more harm than good. While some things are out of our control, particularly if the spike in air pollution has been caused by a citywide trigger, there are things which we can control by changing our behaviour habits, and making informed decisions to reduce our exposure to air pollution"
- Karuna Chauhan
The air quality backpack was initially developed by Dyson engineers for the Breathe London study with Kings College London and the Greater London Authority. The study involved 258 children in five schools in London, and sought to understand exposure to two pollutants, fine particulate matter (PM2.5) and nitrogen dioxide (NO2), on the school run. As a result of the study, 31 per cent of the children said they would change the way they commute to and from school to reduce their exposure to air pollution.