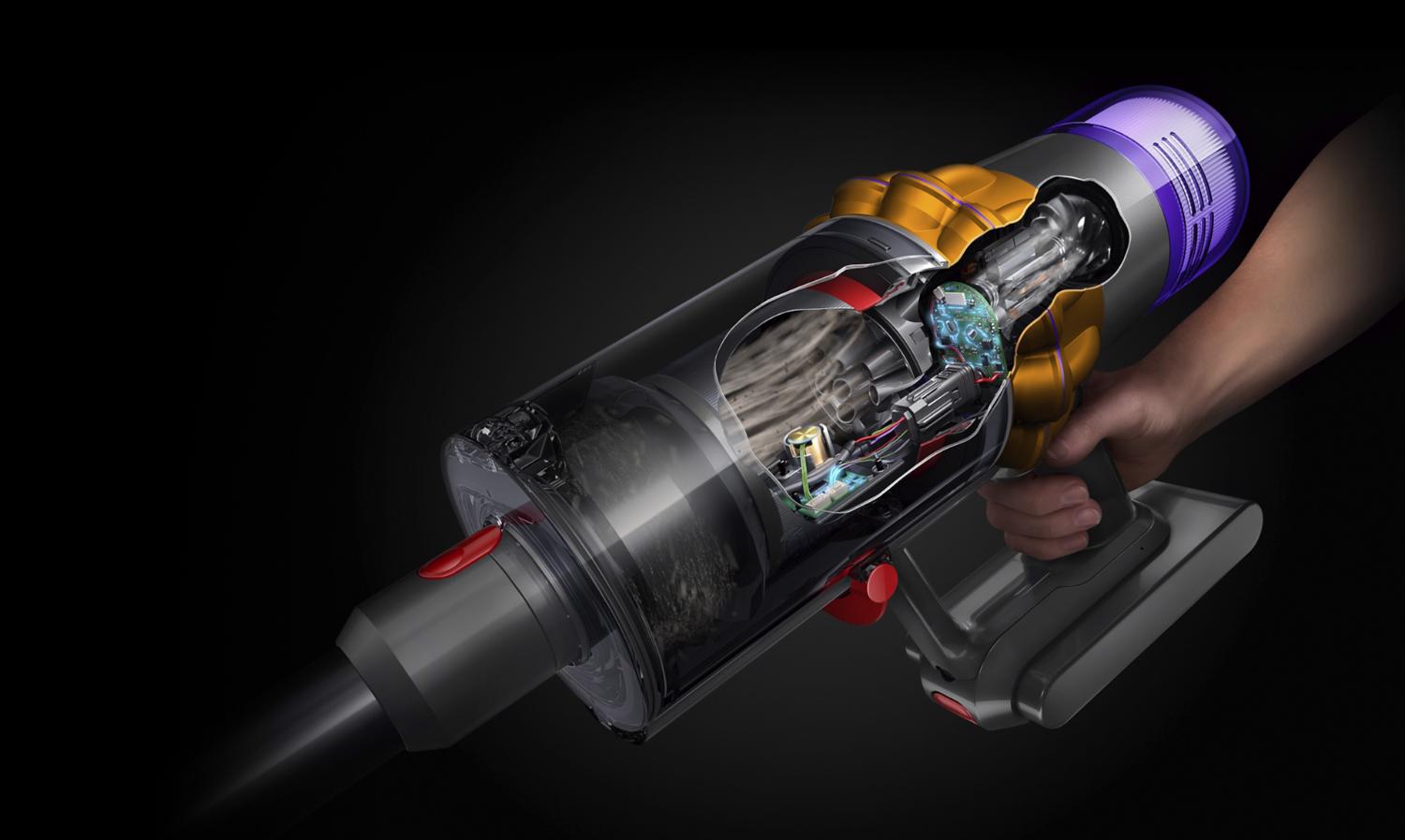 Inside the tech:
A deep dive into Dyson V15 Detectᵀᴹ cordless vacuum
On average, we spend up to 90% of our time indoors[1] and due to current circumstances with COVID-19 many of us are spending even more time at home.

 

"We are all cleaning more frequently, trying to remove the additional house dust but desperate for peace of mind that our homes are truly clean. explains James Dyson, Chief Engineer and Founder. "But how do you know when your floor is really clean? Is it when the bin on your vacuum is full, or when you can no longer see visible dust? A lot of the dust in your home is actually invisible to the naked eye – making it even more difficult to determine when your home is clean and dust free. We have been on a quest to improve everyday lives, and create cleaner, healthier homes. Making the invisible, visible is an important step as we know that the invisible can have a huge impact on our wellbeing. We wanted to ensure you could see more of what your machine was picking up to fully capture the fine dust that's invisible to the naked eye."

 

So, how does all this tech work?
Laser dust detection

Our engineers integrated a precisely angled green diode positioned at a 1.5 degree angle, 7.3mm off the ground into the Slim Fluffy cleaner head, which generates a contrast between the dust and the floor surface, revealing the dust you cannot always see. Dyson has developed a custom lens which spreads laser light into a fan shape, exactly 1.5° down and 7.3mm from the ground, to reveal fine dust. The human eye is most sensitive to green light, which enhances contrast and makes hidden dust clearly visible.

 

Dyson V15 Detect laser explained: how Dyson engineers made the invisible, visible.
A Dyson Engineer developed this when he noticed that airborne particles in his home glistened in the sun. He began to research how he could take this notion and apply it to the fine dust we cannot see in our home. Along with a team of experts, he experimented with laser lights in a Dyson laboratory to test how this could be achieved, and a new solution was born.

 

The laser pointer represents a single ray of light from the laser diode. The distribution of the light is altered as it travels through the lens. As it exits the lens, it's diverted outward to create the wide 90° field of view required to light up the floor in front of the cleaner head.  Now imagine millions of these rays at all angles, combining to produce the continuous blade of light seen in tour final product.

 

Our lens design went through over 500 iterations. We had to obsess over this lens design to ensure the thin profile of light skimmed across a large enough surface to help you clean efficiently. Gram for gram this lens is the most expensive component Dyson has ever developed. The final result means that hidden dust on the floor surface that is otherwise invisible to the naked eye can be seen and removed, helping you maintain a more hygienic home.
Acoustic dust sensing

When James Dyson first started making cyclone technology in the 1980s he  invested in a particle sensing piece of equipment (known as the Grimm) that connected to a computer and counted how many particles at each size would pass through the vacuum cleaner so we could experiment and improve efficiency. James had heard about a much more advanced particle counting machine from Minnesota, USA, but sadly it was too expensive for him to buy. It cost tens of thousands of pounds but would have provided a greater level of accuracy than Grimm.  Since then, technology has advanced in this area.

 

Today, we use an advanced particle counting machine that is in our Malmesbury campus, which uses a parallel beam laser diffraction set-up that enables our engineers to understand and analyse fine dust. We wanted to bring this technology to our newest machines and sought to miniaturise this technology. The result is a tiny piezo sensor that has been included in the new Dyson V15 Detect and in the hands of our owners.
We have designed the Dyson V15 Detect to detect microscopic dust that us humans cannot see. Different sized particles enter the machine and hit our inlet duct. The piezo sensor listens to these vibrations and electrical signals are sent to the integrated processor. The dust and debris is then captured in the five-stage separation system.

 

The dust detect algorithm intelligently categorises and counts the particles into the bin, 15,000 times per second. The screen shows the particle count, which is an accumulation of the dust picked up during a clean, and the bars on the LCD screen represents size examples of debris that could be found in your home:

Greater than 10 microns – allergens and pollen
Greater than 60 microns – microscopic dust and skin flakes
Greater than 180 microns – dust mites and fine sand
Greater than 500 microns – fleas and sugar

 

In Auto mode, when the piezo sensor detects high concentrations of dust, reactive suction power is triggered to automatically increase power. When dust levels normalise, suction power is reduced to its previous level.

 

When you're vacuuming, you'll spot that the bars move up rapidly. This is because the machine is counting the different sized particles in real-time. This is often in the millions and explains why it can shoot up significantly. When your floor is clean, the count will remain but will plateau and stop rising.

 

The piezo sensor provides reassurance that you have deep cleaned by displaying real-time scientific information by counting and measuring microscopic dust particles with a piezo sensor. This will change the way you clean in three ways:

It gives you more cleaning time, by preserving battery life.
It does the thinking for you by intelligently changing power mode for you.
You can see what types of dirt and debris have been removed from your surfaces, from allergens, to dust mites, to sugar. This gives you confidence that you have deep cleaned.
Anti-tangle technology

Dyson Engineers also looked to solve the problem of removing hair on the brush bar, with the new Dyson hair screw tool. Tangled hair is often a challenge for many vacuums, despite claims to the contrary, so we have developed a new anti-tangle conical brush bar, which spirals hair off and into the bin. It picks up long hair and pet hair, fast. It has its own motor, which means it can easily drive out dirt trapped deep in upholstery, stairs, mattresses and other dirty spots in your home.

 

So, why a conical brush bar? we experimented with a conical brush bar and looked back to Ancient Egypt for inspiration. The technology was inspired by Archimedean screw used for transferring water from a low-lying body of water into irrigation ditches in Ancient Egypt. By taking this principle, the hair would begin to wrap at the thicker end of the brush bar, and quickly migrate towards the thinner end of the conical brush bar, and quickly away into the bin without remaining tangled.  
We introduced an offset airway, which proved successful at evacuating a ringlet of hair threaded off the brush bar. Whilst we knew hair would not tangle, we needed to ensure it would work well on all surfaces and debris.

 

But Dyson Engineers did not stop there and developed new anti-tangle High Torque cleaner head. This is Dyson's powerful V15 Detect High Torque cleaner head that prevents tangling. The cleaner head now has 56 polycarbonate teeth which looks like a comb, which prevents tangling around the bristles when you are cleaning, and automatically clears hair from the brush bar, so you don't have to. To ensure the hair shreds properly and stands the test of time, polycarbonate teeth have been used which also has applications in riot-shields, bullet proof glass and space helmets.
Press contacts & materials