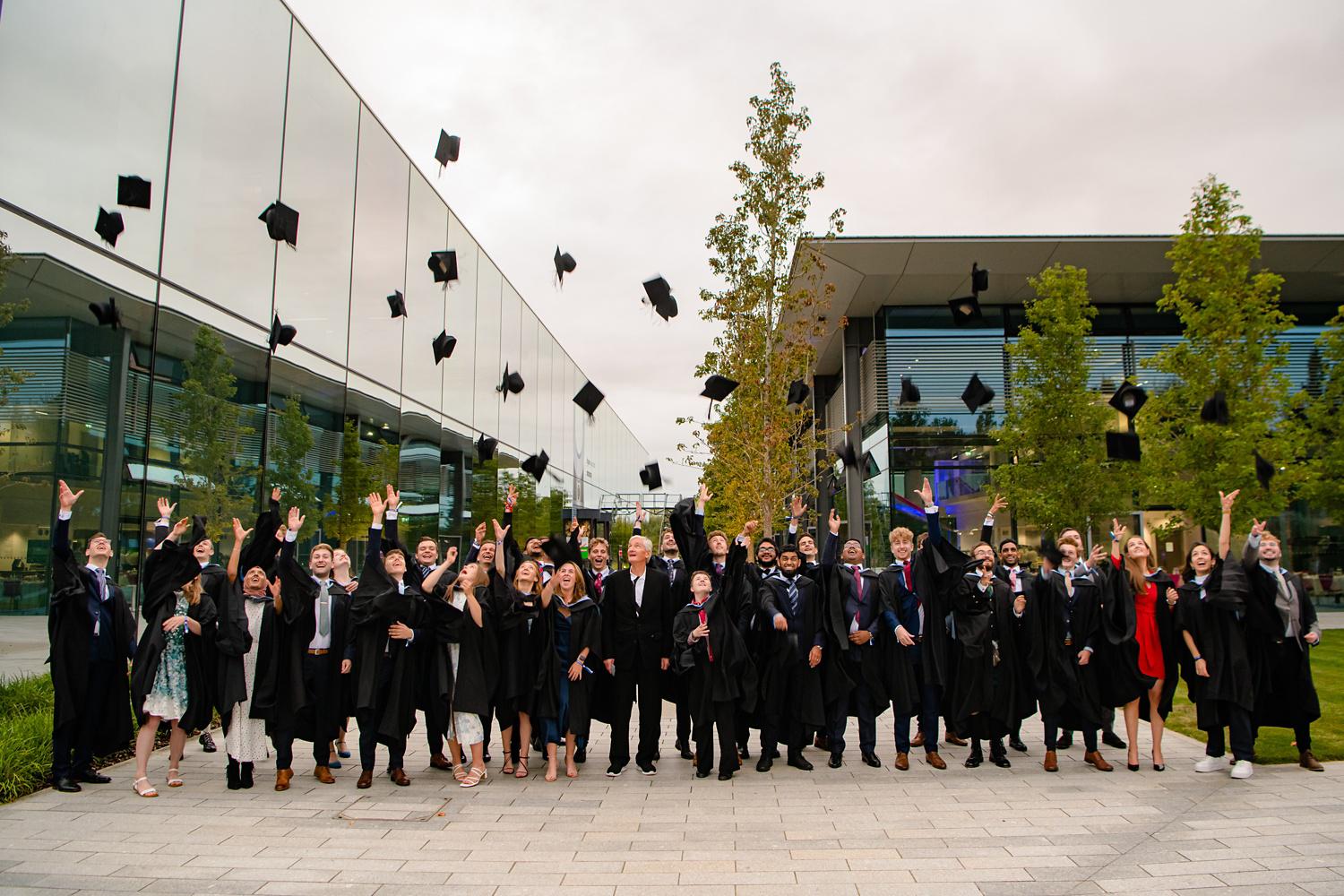 James Dyson speaking at first ever Dyson Institute graduation: "Be bold, be radical.  The world needs radicals".
Four years after The Dyson Institute of Engineering and Technology was established, this weekend it celebrated the graduation of its first cohort of undergraduates.
The first-year group of 33 students graduated on Saturday in a ceremony on Dyson's Campus in Hullavington Airfield. They all achieved a BEng Degree Apprenticeship in Engineering, awarded by the University of Warwick, and have all chosen to accept full time roles at Dyson.
The Dyson Institute's Undergraduate Engineers pay zero tuition fees and earn a full salary. As well as their degree studies, they work on real-life projects alongside world experts in Dyson's global engineering, research and technology teams. From day one they contribute to new technologies to improve lives all around the world. It is more than a job, and more than a degree.

 

Over their four years at Dyson the Undergraduate Engineers have collectively worked in 42 different teams, being supported by 88 Line Managers gaining practical engineering experience while working on 17 different released Dyson machines.
"Our first cohort of undergraduates were pioneering and brave to put their trust in Dyson for their degree, but by any standards their finals results are extraordinary. I am so thrilled that they are all choosing to stay at Dyson following their studies, to be part of the team developing the technologies and products that will be our future. At my ripe old age, I should be able to pass on some advice. But I'm stumped. The world is moving so fast, tomorrow is so different from today. Experience is not necessarily the help it used to be, problems need to be approached differently and this gives YOU an unprecedented advantage. Be bold, be radical. The world needs radicals."
 - Sir James Dyson, Founder and Chief Engineer at Dyson.
The students were joined by their families and James Dyson along with Jake Dyson and members of the Dyson Institute Council including Jo Johnson, former Minister for Universities, and Mary Curnock Cook OBE. It was in a meeting with Jo Johnson in 2016 that James Dyson decided to establish the Dyson Institute. In a speech to the students James Dyson paid tribute to the graduating students, calling them all pioneers for embarking on such and different route of higher education and thanked them and their families for putting their trust in the fledging project that is now well on its way to becoming an university.
Expansion

In October 2020, The Dyson Institute became the first higher education provider to be awarded the right to award its own degrees under the New Degree Awarding Powers route established by the Higher Education and Research Act 2017. This means that those students who have enrolled at The Dyson Institute in 2021 will be awarded a Dyson Institute degree. 

 

The 2021 cohort comprises of 39 Undergraduate Engineers, 41% of which identify as female compared to the average of 21% of females of UK engineering undergraduate courses. This takes Dyson's investment into The Dyson Institute to date £40 million.
"WMG's unerring vision has always been to support innovation through academic-industrial partnership. The Dyson Institute is the perfect example of the magic that can happen when you design educational experiences together around how students wish to learn. Working in partnership, WMG and Dyson created a new model for engineering education, bringing together the best of industrial innovation, high quality academic education, and talented students on an outstanding campus."

 - Professor Robin Clark, Dean, WMG, University of Warwick.
The Graduates.

 

Niamh Turney

I wasn't always sure I wanted to be an engineer. But I knew I was creative, and I liked problem solving. And my mum, always used to ask me 'Why do you think it was done like that?" or 'How do you think that works?" to lots of different things, so she always got me thinking about how things are made and work. My grandfather was an engineer and so he would ask her those questions too. This has stuck with me and I find myself still asking those questions today.

 

My mum ended up sending me an article about The Dyson Institute, and after reading about it really appealed to me. To be able to work at Dyson while also getting a degree in engineering worked with not only my interests but also my practical working style. Those first days, I was excited, and ready for the next challenge. Even though we were the first students, I was sure that it was going to be a good experience. I remember saying to my mum, "It's Dyson, their products are the best, they're going to do the same with The Dyson Institute " I had a lot of trust, and having the University of Warwick involved too, I knew it was going to work.

 

I've loved being able to develop the course, and The Dyson Institute, it's been a great experience getting to start initiatives like Speaker Series, where I wanted to help expose students to other areas of the business, and hear about the work that goes on at Dyson. I found that people are so willing to give their time, and share their knowledge, from senior Dyson People to hearing about new areas of engineering. Being able to learn from so many interesting people is so rewarding. I also was on the team that organised our first ever formal, where we could celebrate the year together, I also helped to develop Undergraduate Experience Committee (UEC) to include things like wellbeing and diversity representatives. But I've also been able to contribute to life at Dyson, helping to create and develop the 'Respect at Work' training which is run globally at Dyson. 

 

I worked in the haircare Fluid Dynamics team due to my passion for all thing haircare and really loved it. I got to work on the Dyson Airwrap™ before it was released to the public. Knowing how great it was felt like I had the best secret Christmas present to give to the world. I was just so excited for my friends and everyone to use it. It's such a good feeling to see it in shops, and know that I worked on it, that I contributed to it. 

Sir James Dyson congratulates the first cohort of Dyson Institute graduates.

 
The Dyson Institute Board were in attendance at the ceremony.

 

Ben Breakell

I always liked maths and physics, I was practical and I liked technology, but I never knew that design or product engineering was a viable career option. When we bought our first Dyson vacuum cleaner I was really excited about the technology, and in the box was a leaflet for the Dyson School of Design Engineering at Imperial College London. This really interested me and so I looked it up online. And while Googling it, I found The Dyson Institute. My sister encouraged me to apply, because she thought it was a great opportunity to get paid while studying for a degree apprenticeship.

 

At one of the rounds of admissions, Matt Wilson (Director, The Dyson Institute) spoke to us, and he held up an old Nokia phone and old laptop. He said, "A recruitment consultant asked me what attracted me to Dyson if I wasn't getting given a new phone or a laptop, but I said that working on real, exciting products and getting to contribute directly to the business was all I needed." Hearing that from Matt, I realised that that was what I valued too, and it helped me to pick The Dyson Institute.

 

For the first two years we rotated through different Global engineering teams and when it came time to pick a team for the third and fourth year, I hadn't found one that worked for me. One evening I went to Basketball club after work, and got speaking with one of my friends there, he suggested I join his team in New Concepts, and after a coffee and a meeting with the team I realised it was a great place to work, and was going to be a great fit for me. It made me really see that it's the people who make Dyson what it is, a culture of 'if you can help someone, help them.' And that moment solidified that to me. Now having been in that team for two years, I feel like I've not only learnt how to be a good design engineer, they also taught me how to learn, how to be adaptable, how to pick things up in a workplace environment. I'm really excited to find a new team where I can take all of the skills, practices and experience I have into a full-time role at Dyson.

 

I am really excited to be graduating, it feels like such a big deal, with us being the first ever students to make it through the course. I get the sense that all of the teams are behind us, and proud of us. The 33 of us have gotten to know each other well, and so it's going to be a fun future together. 

 

I would tell new students to keep learning, the moment you think you know everything, is the moment you stop learning. Always keep that curiosity and hunger for learning alive, be committed to continuously developing, not only in your degree, but also at work, and the skills outside of that. You're never going to be the best at everything, but you can be focused on growth.
James Olrog

I think I always knew that I wanted to go into a STEM subject, I used to visit interactive museums and I really enjoyed those learning environments. When watching TV, I loved science and technology shows with lots of engineering and fun gadgets. I loved how those shows made it feel like anything was possible. And then I got into coding at 12 or 13, making websites and simple games, so I was surrounded by technology, and wanted to be creative with technology.

 

I applied to a bunch of great universities, then one day my Dad saw in the newspaper that Dyson were starting The Dyson Institute, and encouraged me to apply as another option. When it came to results day, I knew I'd go to The Dyson Institute, despite my confirmed offers at other Universities. By studying a Degree Apprenticeship, I would be able to link what I learn in lectures to a real life setting at Dyson. It was such a great opportunity to get a broad, yet detailed understanding of engineering.

 

Thinking back to my first days, I joined excited, ready to jump into everything. I loved everyone that I was meeting, seeing the Dyson campus. After the initial excitement and getting used to the day-to-day reality, it was strange and in some ways isolating being in a small group of students and not a typical, big University community. But The Dyson Institute team were supportive and helped reassure me. I appreciated that I could speak to a member of staff about those sorts of things. I remember Bob Tricklebank (Head of Engineering Programme) telling me that the two most stressful things in his life were moving to a new house and starting a new job, and that I was doing both of those at the same time! That has always stuck with me and helped me to not feel alone in my experience.

 

I got the chance to work in all areas of Dyson, and I loved every rotation. But, because I had a background in coding, I felt really at home there, and I liked how quickly you can implement meaningful changes. I really love how engineering gets to impact end users in a positive way and, initially, I wanted to return to a previous rotation in the New Software Team. However, the team said that it wouldn't necessarily be the best place for me and recommended I go into a delivery team. I think it was an important conversation to have, to be challenged on what is best for me as a young software engineer. I ended up focusing on testing, making the product robust, the perhaps 'stricter' side of software; building up a foundation of knowledge and experience that I can later apply to other areas. I've loved it and going forward I would like to be able to find a balance between the two sides of software development.

 

I feel thankful and appreciative to be graduating, the past four years have been very special, the number of experiences I've had have been unreal. Not only have I worked at a global technology company for four years, but I've also been on ski trips, going to other countries, while still having job security and a world class education. I'm just so grateful to be able to have had this opportunity, and am really looking forward to what's next, becoming a full-time engineer and proving myself in an independent way.

Sir James Dyson speaking at the graduation ceremony, held at Dyson's Hullavington campus.
The graduates celebrated with family and friends during the ceremony.

David Callow

Like a lot of people at The Dyson Institute I'd always been interested in engineering, liked maths and physics and always liked taking apart toys. A typical 'engineering-y' kid. I joined a 'start up' new Sixth Form College, a University Technical College (UTC) that had only been open about a year before me. They were good at encouraging young people to explore opportunities other than normal universities. I had done an Extended Project Qualification (EPQ) and my project allowed me to be really hands on in building something, applying physics knowledge to a practical application. Here I realised that I would love to do something like an apprenticeship that would be a more involved way of learning.

I found The Dyson Institute through a friend's Dad who had seen it in an engineering magazine, which was lucky. I applied and made it through the rounds of applications and when it came to results day, I felt that it made a lot of sense to go with The Dyson Institute, even though it was a risk. I liked the idea of a smaller group of people, and it being new made it interesting. Very quickly I knew I made the right decision as I liked being in engaging workplace rotations, with a supportive line manager who helped me to get settled in. I also loved that my peers were a group of talented, driven, likeminded people, and we all chose to have each other's backs, because we'd all pushed to be there. Which was a surprise from the competitive atmosphere I think I was expecting.

Initially I chose to work on the Automotive project, working on the new concepts for the future of Dyson cars, which was exciting, I loved how fast paced and high energy the whole team was, and that really resonated with me. After the project closed, I looked for something totally new to me. I decided to join the Energy Storage team, which has been a great experience, doing some important work surrounding the future of batteries, meeting amazing and skilled people and learning a lot about technologies I did not know existed.

The Dyson Institute has been supportive through the whole experience and I have always received the help when I needed it. The dedicated Student sSpport team has helped me throughout my experience - working and studying is a challenging thing to do and throughout my time I've used the services from the Student Support team and found them incredibly helpful. Particularly having conversations with my Student Support Advisor who knows about my exact situation; it's nice to know that there is someone who's keeping an eye out for me. I also found the Wellbeing and Development Days a great time to switch off and disconnect from how busy work and the degree is. It gave me a chance to reflect on how I was doing and put in steps to help improve my physical and mental health. I think it's a lot more in depth and supportive than a traditional larger institution.

In comparison to a normal student finishing university, I almost feel like nothing's changed. I've been working at Dyson for four years so I really understand how the business works and I've already got a job that I want to keep and have been working mostly full time for four months already, so after I graduate it will just feel like a continuation of what I've been doing in energy storage. It feels like quite a seamless transition. It's been a huge journey and I've learnt a whole lot, being exposed to such a wide range of disciplines, even within my field of electronics engineering. I feel privileged and grateful to have had this opportunity.