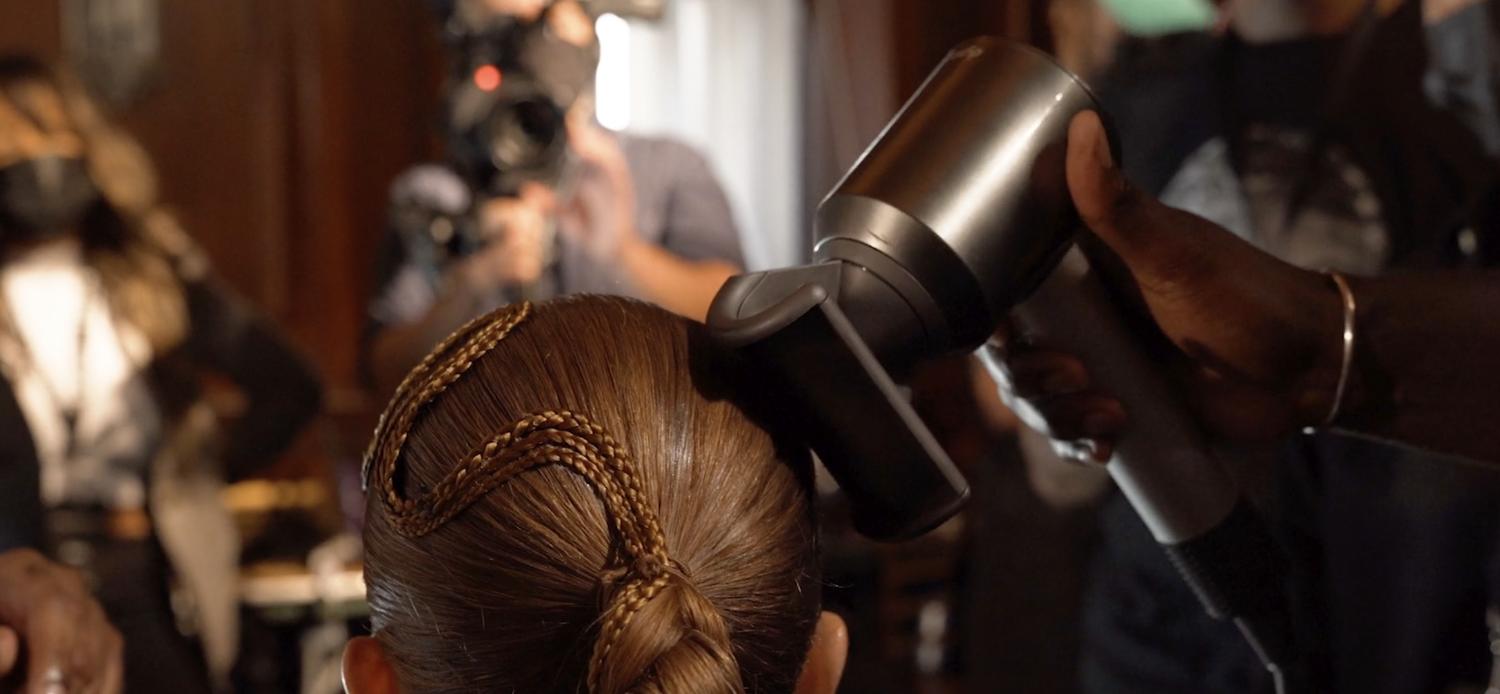 Backstage at Fashion Week with Dyson
Runway shows return this season, emerging with a vengeance from the challenges and compromises of COVID. Following a turbulent time for professional stylists, backstage is back as stylists harness Dyson hair tools to deliver trendsetting looks to catwalks around the world.
Dyson professional hair tools – the Dyson SupersonicTM hair dryer professional and it's precision engineered attachments, and the cord-free Dyson CorraleTM straightener – are engineered to meet the needs of demanding professional styling environments, such as Fashion Weeks, where the pace is fast and the stakes are high, yet the heat doesn't have to be.
With a range of attachments, heat settings and core Dyson engineering, stylists can tailor their tool to suit every model, of all hair types, all whilst preserving hair health. Dyson Global Styling Ambassadors Jawara Wauchope, Jon Reyman and Larry King have been behind some of the most talked about looks during Fashion Week, with Dyson professional hair tools at the ready.

Fashion Week 101 with Olivia Perez

Runway shows return this season. Olivia Perez takes us backstage at New York Fashion week, interviewing Dyson Global Styling Ambassador, Jawara on how he uses the Dyson Supersonicᵀᴹ hair dryer's range of precision engineered attachments to create looks across all hair types, as well as line-up touch-ups and runway ready refinements with the Dyson Corraleᵀᴹ straightener for the Brandon Maxwell  show.
Jawara for Christian Siriano

Backstage at New York Fashion Week, Dyson Global Styling Ambassador, Jawara curates pioneering styles with the Dyson SupersonicTM hair dryer's range of attachments. Here, Jawara shares how styling with Dyson hair tools bring simplicity and speed to his styling process for the Christian Siriano SS22 show, allowing him to cater to all hair types under time pressure. From stretching out tight curls with the Wide Tooth Comb, engineered with robust teeth to help lengthen and shape coily and afro hair, to line up touch ups with the Dyson CorraleTM straightener.
Larry King for Erdem

Styling for the Erdem show at London Fashion Week, Dyson Global Styling Ambassador, Larry King harnesses the Coanda technology of the new Flyaway attachment to create a smooth, sleek, high shine finish. In a 15th anniversary revival of some of Erdem's most iconic looks, the hair pays homage to English eccentrics, the Edwardian wardrobe and Edith Sitwell. Larry King references the designer's rich Edwardian influence and American Gothic paintings to demonstrate how a look back in time can be as fresh as the future. Here Larry shows today's modern Dyson technology at work to create this period look.

 

 
Sam McKnight for Vivienne Westwood

Styling for Vivienne Westwood's London Fashion Week presentation, Sam McKnight achieves a shipwrecked inspired style with the reengineered Diffuser attachment and Dyson SupersonicTM hair dryer. Simulating natural drying by dispersing air more evenly around curls and shape, Sam creates a defined yet windswept result, locking in the natural wave and texture, without creating unwanted frizz and flyaways. The Diffuser's longer prongs reach deeper into the hair to style larger sections of hair with greater control and more efficiently. Vivienne Westwood's core belief underpinning her collection to 'buy less, choose well, make it last', parallels with the lean engineering mindset underpinning the design of all Dyson hair tools.
Larry King for Roksanda

Larry King brings free flowing movement to the looks for the Roksanda show of London Fashion Week, switching attachments to suit each individual model and dancer's natural texture and moment. Set against the statement backdrop of the Serpentine Gallery, Larry drew from the evocative German dancer and choreographer, Pina Bausch, enhancing the models natural shape to achieve organic, effortless and contemporary styles that complement the show's dance inspired story and celebrate the model's hair health.

 

Straighter styles were refined with the Dyson Professional concentrator attachment – delivering a high-velocity blade of air for more direct and precise styling – and a high shine, frizz free finish later achieved with the new Dyson Flyaway attachment. Models with more prominent curls, waves and coils, were styled with the Dyson Diffuser, which delivers an accelerated natural drying effect for a defined result, without unwanted frizz.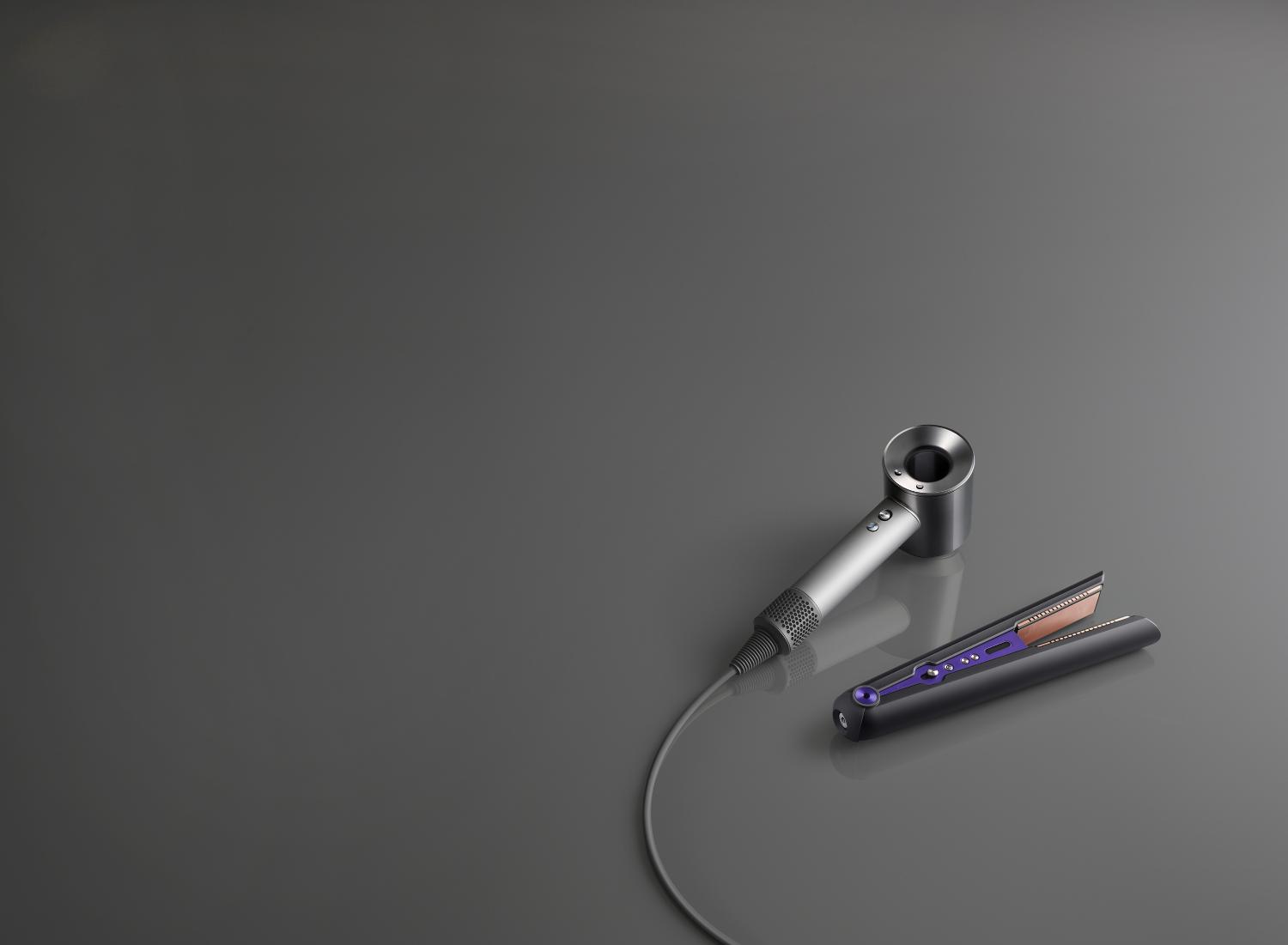 Hair care technology for salons and stylists
Re-engineered for stylists. For fast, effective styling.
Reporting from Milan Fashion Week, Dyson Ambassador, Davide Diodovich shares a download on this season's hair looks.

"More and more, we're seeing stylists celebrate tones and textures. In Milan this season, looks elevated the models' individuality, character and personality in complement of collections featuring bright bold pallets, embellishment and sharp structural tailoring.

 

"Short medium cuts with subtle hued highlights – a nod to the sun kissed season – were prominent on many runways, particularly a personal favourite of mine, the Versace show – always a standout moment in Milan.

 

"To achieve the show's signature look, I'd go in with the Dyson Diffuser attachment. Dyson have applied their expertise in airflow to reengineer the Diffuser, delivering more defined curls and waves and longer prongs to reach deeper into the hair for faster drying. This technique can work across all hair types and lengths, with the Diffuser designed to both define existing curls and coils, as well as introduce shape to straighter hair types.

 

"Once dry, you may wish to add more structure and shape to the final look. Do this with a straightener, twisting the tool horizontally from side to side as you style or by feeding the hair into plates in a curved shape, clamping and releasing as you make your way down the section."

 

"The secret to this style is not overworking the hair, no matter how tempting it may be to move the dryer around the head as you style. This will cause it to become frizzy and messy, rather than deliver the desired definition."