How to use your vacuum cleaner accessories
Vacuum cleaners aren't designed to only clean your floors and carpets. With the right attachments, they can be used to clean everything from your mattress to your air conditioning unit. But not all vacuum cleaner attachments are made equal. Dyson accessories are precision engineered, just like Dyson vacuum cleaners and are based on inspiring design icons, years of iteration and patented technologies. But are you getting the most out of yours?
Read on to find out more about how and where to use the accessories on your vacuum cleaner.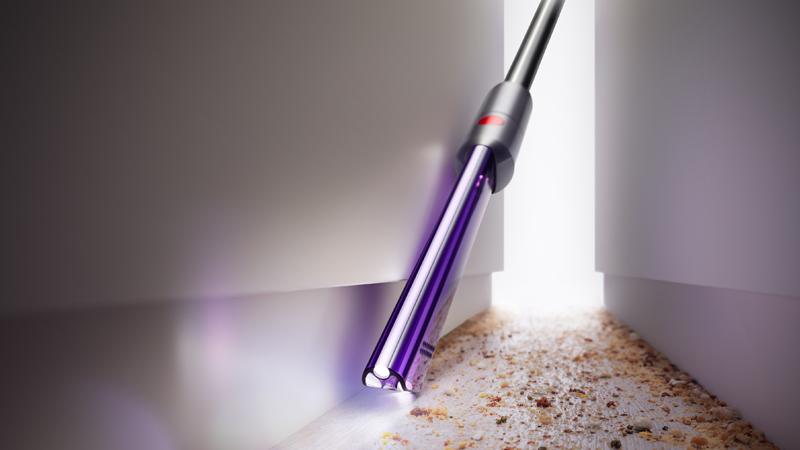 Light pipe crevice tool
Crevice tools are a must-have in your vacuum cleaning arsenal. They're perfect for getting into narrow spaces, hard-to-reach corners and awkward crevices. Dyson Crevice tools are designed to actually increase suction power as they move into tighter spaces, with an opening that is engineered at a 45° angle. Precisely designed vents protect the motor from blockages and stop the tool from sticking to surfaces. For spaces that are particularly difficult to navigate, such as behind radiators, between and under car seats as well as behind furniture, the Dyson Light pipe crevice tool is designed with LED lights to let you reach into dark, narrow spaces and see where you're cleaning.
Low-reach adaptor
If you think about the layout of your home, it's probable that most of the flooring is covered by furniture, making it hard to remove dust regularly. Invisible dust and dirt can settle all over your home and, in fact, once you can see visible dirt it's likely that colonies of dust mites, mould and bacteria might are already by thriving. The Dyson low-reach adaptor bends to comfortably reach down low, engineered to clean further under low furniture by adjusting the wand angle up to 90° – meaning you don't have to crouch to remove the nasties around your home. What's more, the high-density polyethylene (HDPE) lip seal inside the adaptor hinge helps maintain suction, so that that the dust and allergens you're picking up will go straight into the bin.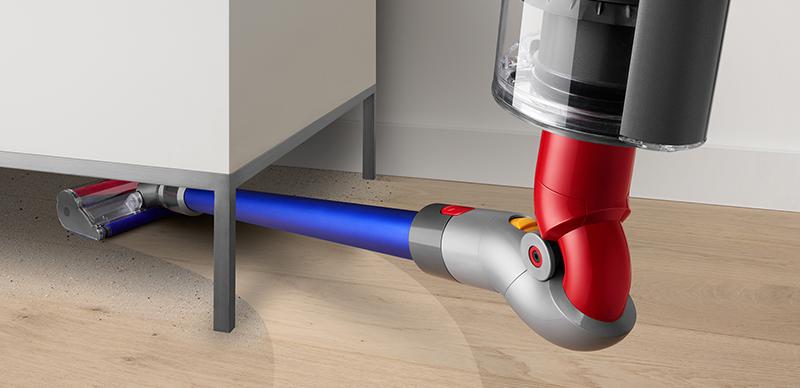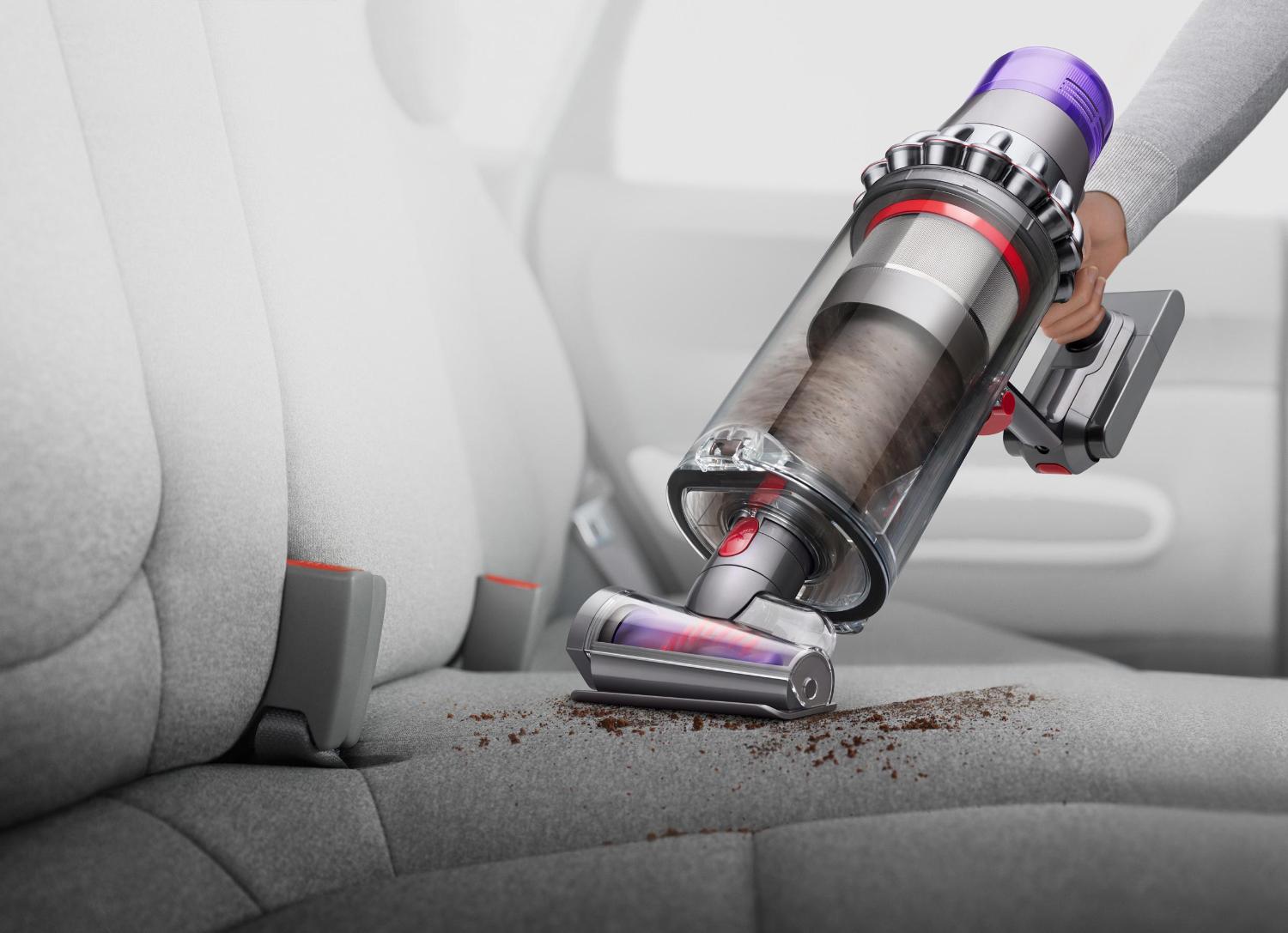 Hair screw tool
The Dyson Hair screw tool is the latest pioneering and patented accessory for vacuum cleaners. It's designed with an anti-tangle conical brush bar so that you can pick up long hair and pet hair – fast. Unlike other anti-tangle tools, Dyson's doesn't compromise on performance. An integrated motor in the brush bar spins at up to 3500rpm to remove ground-in dirt. A helix of stiff nylon bristles guarantees constant contact with the floor and the bristles themselves are precisely angled to let hairs 'leapfrog' them as they migrate off the patented brush bar. If shed pet hair or long hair is a problem in your home, this tool is a must-have.
Combination tool

For versatile cleaning, combination tools are an essential as they are really two tools in one. The Dyson Combination tool has a wide nozzle to help cover more of a surface with each sweep and is designed with a red woven nylon lint picker to help lift pet hair and other debris out of upholstery. By sliding down the brush, you can easily switch to concentrating on delicate surfaces and loose dried dirt and dust, which can be helpful for vacuuming between slats in blinds or aircon units. When used in handheld mode, a combination tool is particularly well suited to cleaning your car.
Accessory for tough cleaning
Stubborn dirt brush

For dirt and dried-mud that is hard to remove with a regular cleaner head, a stubborn dirt brush should be your go-to accessory. Stiff nylon bristles help to scrub dried dirt from high traffic areas and the tough, polypropylene design means you can put some elbow grease into cleaning, without damaging the attachment. Reach for a stubborn dirt brush when cleaning the footwells of a car or around door mats, where dirt and mud might be trodden into your floor surfaces.
Mini motorhead

To harness the benefits of a full-size cleaner head in a format suited to smaller spaces, look no further than a mini-motorised tool. Dyson's Mini motorhead is designed with a motorised brush bar that spins at up to 3500rpm to remove ground-in dirt but at just 144mm wide, the tool is perfect for removing stubborn dirt from mattresses, upholstery, stairs and other small spaces around your home and car. The soleplate – the part that's in contact with the surface being cleaned – is articulated, meaning that the tool maintains a strong suction seal, even when vacuuming at different angles on uneven surfaces like soft furnishings.
Accessories for delicate tasks
Mini soft dusting brush

Soft dusting brushes are engineered with soft nylon bristles to gently capture dust from all surfaces. They're perfect for dusting windowsills, bookshelves, lampshades and blinds, as well as framed art and computer keyboards. If you have variable suction on your vacuum cleaner, such as an Eco Mode, you can use the Soft Dusting brush for cleaning more delicate items too.
Mattress tool

Your mattress might not seem like an obvious place to vacuum, but it can actually harbour millions of dust mites, whose faeces are the most important inducer of allergens worldwide[1]. The Dyson mattress tool is engineered with an aperture, or opening, that ensures that the tool doesn't stick on the fabric and is extra wide so that it covers more mattress with each sweep. Mattress tools are also useful for deep cleaning sofas, armchairs and other upholstery.
Accessories for 360-degree cleaning
Up top adapter

Many of us wouldn't want to admit to when we last cleaned on top of our kitchen cabinets or shelves but just because these spaces are out of sight, it doesn't mean that invisible dust and allergens can't thrive there. An up-top adaptor is one of the most effective ways of cleaning high up spaces easily. Dyson's up-top adaptor bends up to 130° but also locks at 98°, 65° and 0° for flexible up-top cleaning.
Flexi crevice tool

To get to dust and debris that is particularly awkward to reach, a flexible crevice tool is a good option as it will extend and bend to get in tight gaps. For ultimate versatility, the Dyson Flexi crevice tool is engineered with a sliding brush, meaning its two tools in one, helping you protect delicate surfaces and loosed dried dirt and dust. The tool extends by an additional 19cm and is engineered to reach into spaces as narrow as 2.5cm, so is perfect for cleaning under the fridge or in and around car seats.
Extension hose

If you want to take your cleaning to extreme heights, an extension hose for your vacuum cleaner is a great solution. Dyson's Extension hose is compatible with any Dyson tool to reach up to 61cm further, ideal for cleaning up high or down low in your home or car. The flexible wire helix springs back into position when it's not in use and has been tested 2200 times for durability, meaning you can clean to the extreme with confidence.