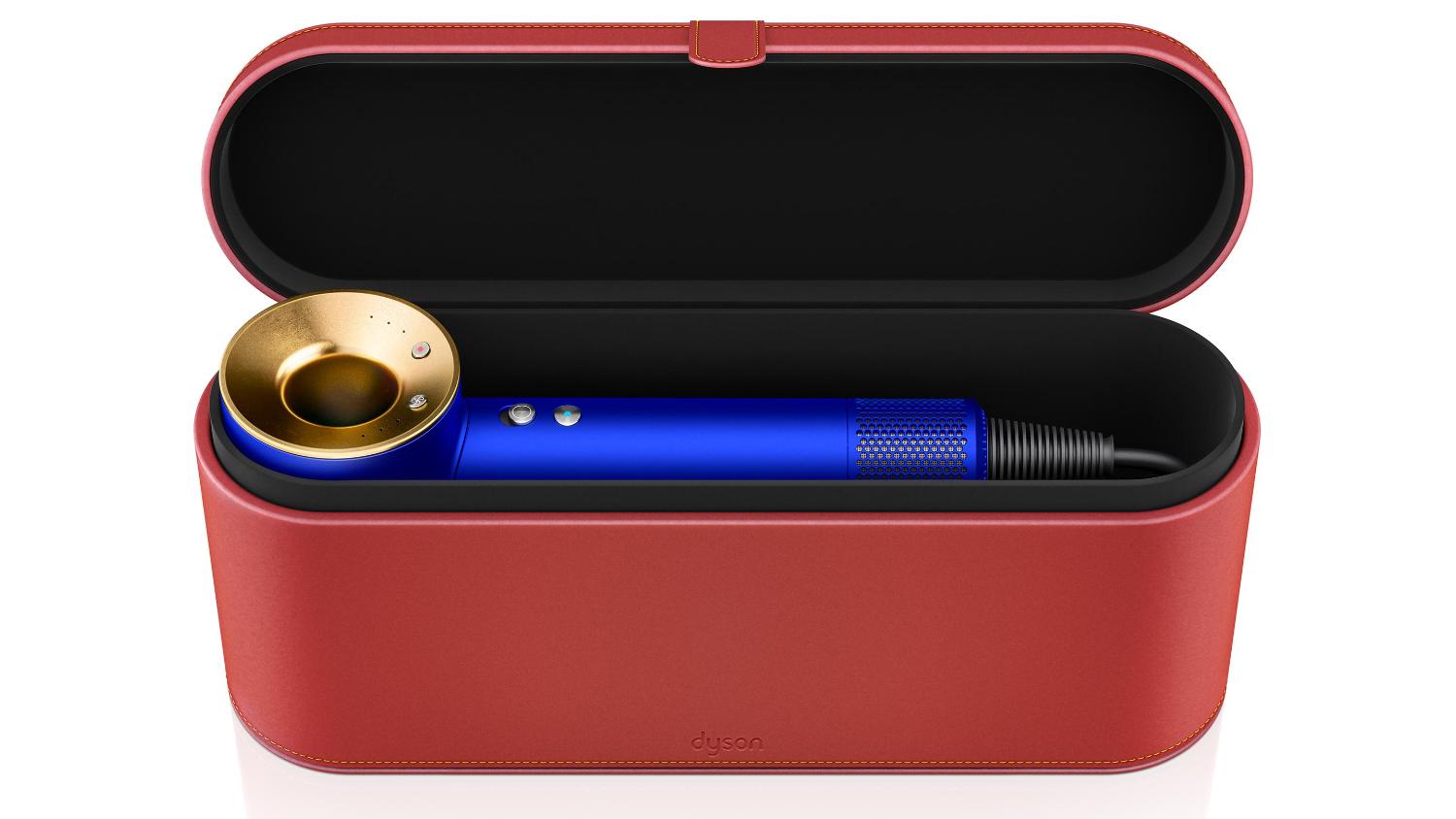 Something Blue, Gold Ring Design
The Dyson SupersonicTM hair dryer in limited edition blue and 23.75 karat gold
The Dyson Supersonic™ hair dryer in blue and 23.75 karat gold returns to Dyson Demo Stores and Dyson.com this wedding season. Finished in deep blue with a hand-crafted gold leafed circular aperture, the machine references traditional symbols of marriage. 
Available exclusively in Dyson Demo Stores and on Dyson.com, the machine's circlar gold aperture is hand-gilded in 23.75 karat using a traditional craftsmanship technique, a nod to the craftsmanship and gold used within wedding bands. The limited edition colourway is presented in a red case, which can be personalised with initials.
Gold leaf gilding

With a gold leaf measuring in at approximately 333 atoms thick - 1/666th the diameter of human hair - James Dyson challenged engineers to find a way to apply gold leaf to the Supersonic™ hair dryer.

 

While the art of gilding was first recorded over 4,000 years ago, the process still involves the application of thin leaves and foils of precious metals to a surface, giving it the appearance of solid or inlaid metal. In the past, the practice has been used to illustrate manuscripts, statues, buildings, sculptures and artwork.

 

Dyson design engineers and model makers first learned to gild under a master gilder, exploring the process and techniques used to apply gold leaf to an object. Each layer must be applied by hand on top of a coloured surface. Beneath the gold leaf is a red loop, which has been colour matched to the same colour found on artwork, sculptures and other artefacts to honour the traditional method of gilding. Like other gold-leafed pieces, the red loop on the product will reveal some of its colour over time, giving each Dyson Supersonic™ hair dryer 23.75 karat gold hair dryer a distinctive and unique patina. James Dyson chose the purity of 23.75 karat for its colour, lustre and quality.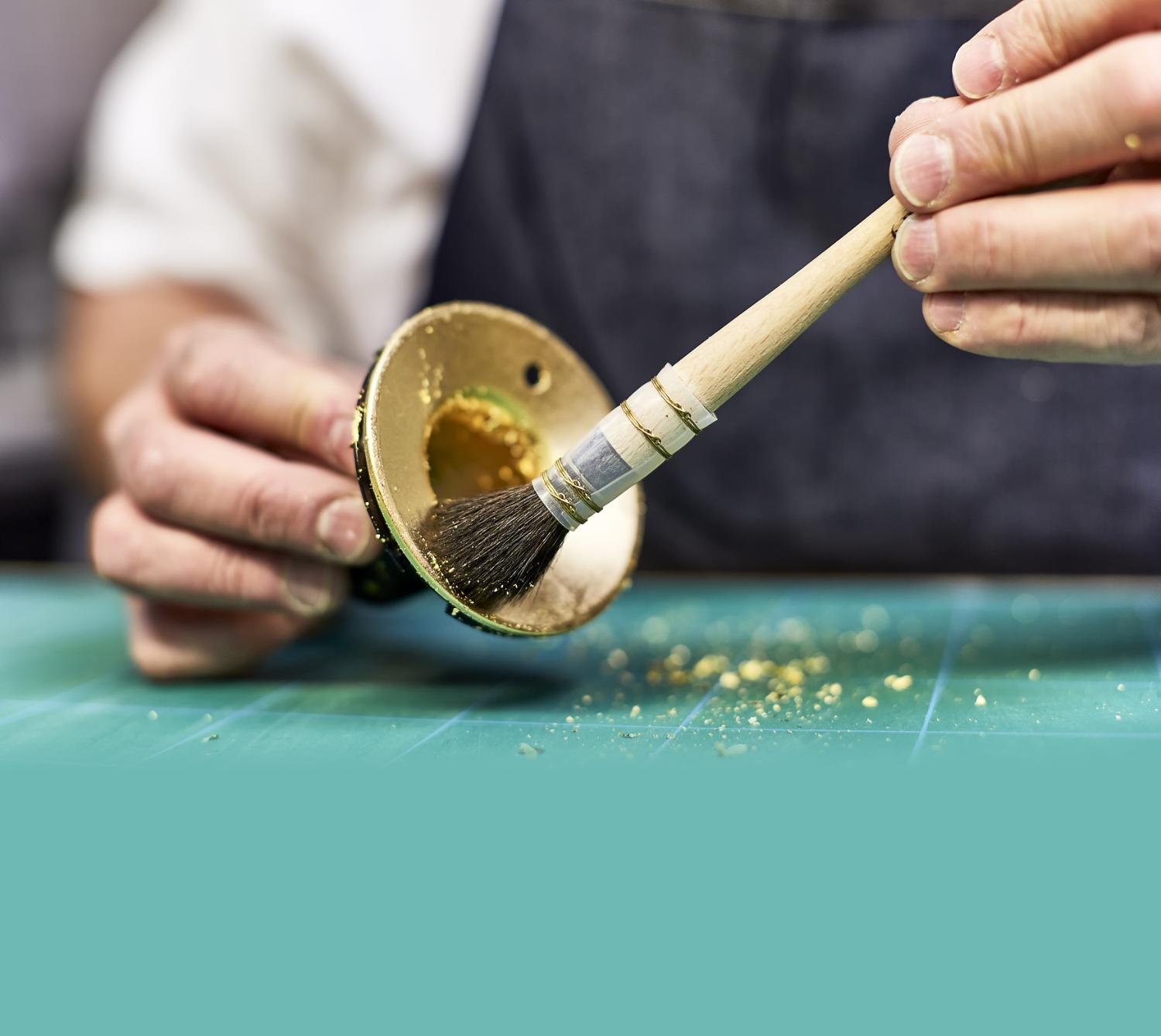 During development, Dyson engineers learned that aspects of the gilding process could be aided by technology. Rigging a robotic paint arm, the team programmed the machine to carefully apply an adhesive called 'size' onto the surface of the red loop. The robotic arm ensured consistency when the adhesive was repeatedly applied to each Dyson Supersonic™ hair dryer, creating a unblemished layer which could be gilded. Once sprayed, two layers of 23.75k gold leaf from Florence, Italy, are applied by hand and carefully brushed to form a smooth and even finish.
The fastest hair dryer, engineered for different hair types

The Dyson SupersonicTM hair dryer is the fastest hair dryer, powered by the small, yet powerful Dyson digital motor V9, which spins at up to 110,000rpm – up to six times faster than other hair dryer motors. The size of the Dyson digital motor V9 allowed engineers to reposition the motor to the handle for optimum balance in the hand. Intelligent Heat Control measures air temperature over 40 times a second and regulates the heat. This prevents extreme heat damage, to help protect your hair's shine. Air MultiplierTM technology amplifies air by three times to produce a high-pressure, high-velocity jet of controlled air, for fast drying and precision styling.
Sophie Godfrey-Phaure

Sophie Godfrey-Phaure


Email: sophie.godfrey-phaure@dyson.com