Webinar: The next generation of women in engineering STEM from The Dyson Institute
Inspiring the next generation of engineers
The Foundation organised a workshop, attended by 200 young women across the country, introducing them to life as an engineer at The Dyson Institute. Are you enthused by problem solving and how things work? Watch the webinar recording to learn more about your future career path.
Hosted by Dyson Undergraduate Engineers: Sophie Bloodworth, Tash Taylor, Emily Jones, Anoushka Patel, Joanna Crane and Oyemen Okes, schools learned the latest about The Dyson Institute, career paths in design and engineering and attended a taster lecture, led by Dyson Institute Electronics Lecturer Dr Nikita Hari. Find out about some of the session's spokespeople below.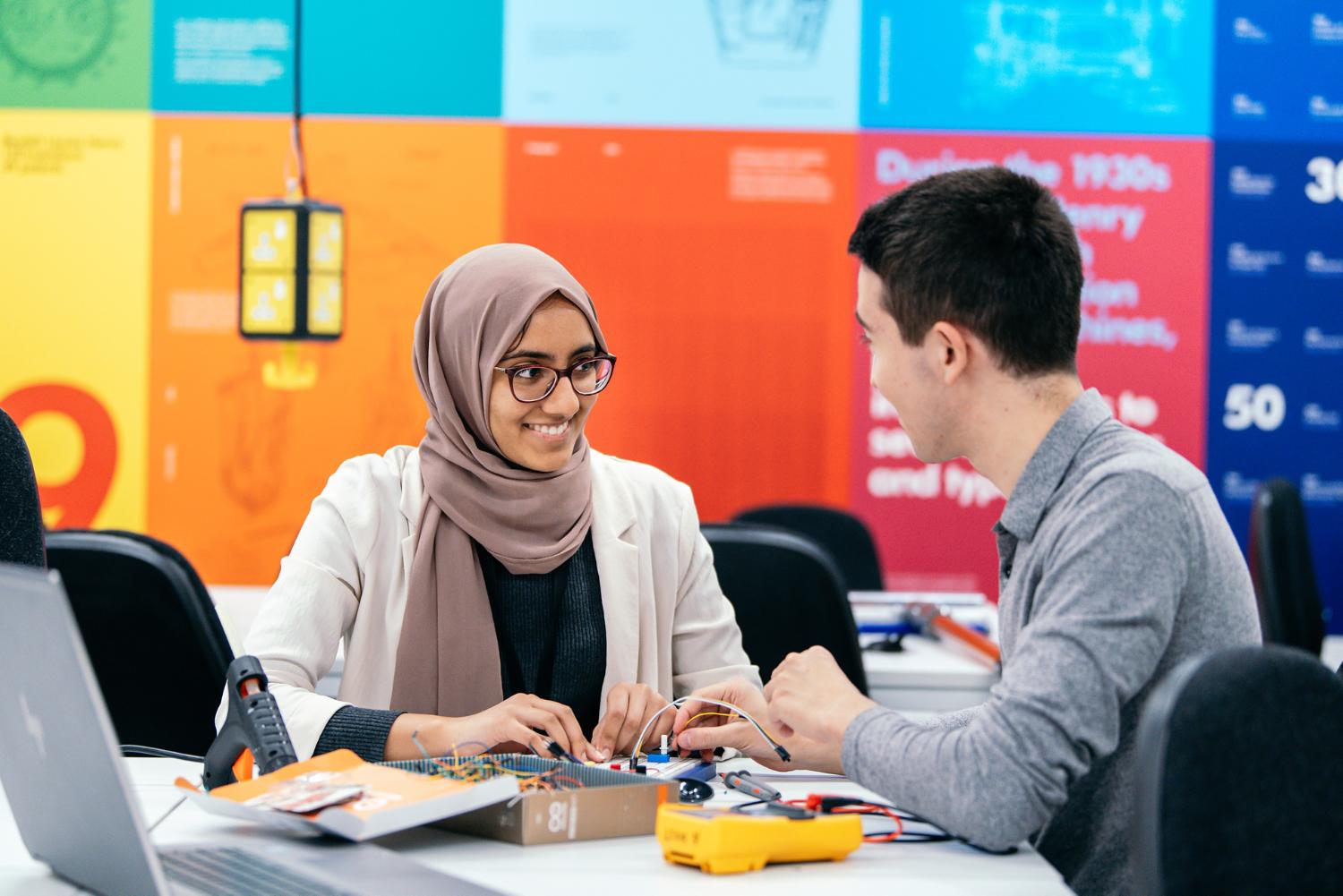 Dr Nikita Hari

Electronics Lecturer, The Dyson Institute

 

Nikita joined The Dyson Institute as a Lecturer in Electronics in Sept 2020. Before that, she was a Schlumberger Faculty for Future Post-Doctoral Fellow at the Department of Engineering Sciences, University of Oxford (2019-20) with a Doctorate in Electrical Engineering from University of Cambridge (2013-18).

Listed in the 'Top 50 Women in Engineering in UK' in 2017(Women's Engineering Society), Nikita is an invited Global Ambassador for the Queen Elizabeth Prize for Engineering and a TEDx Speaker. A passionate educator, STEM communicator and a champion for women in STEM, she mentors many aspiring young people in STEM and research.

 

"We need engineers to solve the world's problems; from farming and energy to automatization and space travel, there is a fascinating world of engineering life which knows no gender. Whether you are into sports or art, teaching or tech, there's a place in engineering for you! 
Anoushka Patel

Second Year Undergraduate Engineer

 

Anoushka has worked at Dyson for two years, having joined The Dyson as an undergraduate engineer in September 2019. Her role at The Dyson Institute has given her a unique opportunity to work within live global project teams, solving challenging problems, whilst simultaneously studying for an Engineering degree. She currently works in the Hair Care New Product Innovation team in a Design Engineering role helping devise the Dyson styling tools of the future.

 

"Being an 'engineer' is so much more than what society and the media may mislead you into thinking. It requires creativity, empathy and divergent thinking, and it is the lively intersection of these skills that creates a successful engineer."
Sophie Bloodworth

Fourth Year Undergraduate Engineer

 

Sophie has worked at Dyson for almost 4 years since starting as part of The Dyson Institute's first cohort in September 2017. She now works primarily on our environmental care projects, improving the auditory experience of Dyson machines.

As part of the undergraduate degree programme, Sophie had the opportunity to work in a variety of teams ranging from robotics, to new product innovation (NPI) in floorcare, all the way to automotive. She recently worked on the Dyson Purifier Cool Formaldehyde purifying fan and led the acoustics drive to widen the slots and reduce acoustics without compromising on fan performance.

 

"I feel very fortunate to have not faced too many challenges as a woman in engineering. For me, the main one has been a lack of understanding of the profession. At school, I had classmates who thought going into engineering meant being a car mechanic so I think it would be great for schools to teach just how wide ranging a field engineering is."

 
Tash Taylor

Third Year Undergraduate Engineer

 

 

Having joined Dyson in 2018, Tash spent her first and second year at The Dyson Institute working on a range of projects across all Dyson's product range, as well as an interesting rotation on the Automotive project. Her current, and favourite, role is in the Environmental Care research team. At school Tash enjoyed both creative and science subjects: physics, maths, art and music, seeing engineering as a blend to pursue them further. Over the past year, Tash co-founded the Women's Engineering Society at The Dyson Institute.

 

"Studying and working allows us to learn the essential theory behind key engineering topics whilst also developing practical skills and implementing our theory in the workplace. I find this to be a powerful way to learn, and Dyson provides such a supportive environment to do this in."
Joanna Crane

First Year Undergraduate Engineer

 

Joanna is in her first year studying at The Dyson Institute and is currently working in the Electronics team at Dyson. Motors are a core technology in Dyson products, and she's part of the team developing simulations to select the materials with the best performance within motor components. At school, Joanna always had a passion for maths and computer science and wanted to pursue a career that involved these skills. Since working at Dyson, she's found a "dynamic, creative and supportive space" to pursue projects in these areas.

 

"I always wanted to pursue a career involving maths, however it took a while to break down the 'men in workshops' stereotype and discover that engineering is so much more. Engineering encompasses all my passions and is a field in which technology is being pioneered for generations to come."
Applications

The Dyson Institute of Engineering and Technology is the first education provider in the UK to be given New Degree Awarding Powers. The milestone comes just three years after it was founded as an alternative to a traditional degree education during which time Dyson has invested £31.5 million. Dyson's Undergraduate Engineers pay zero tuition fees and earn a full salary. As well as their academic studies, from day one they learn by doing and contribute to new Dyson technologies to improve lives all around the world

 

Applications for the September 2022 intake, who'll receive a Dyson Institute awarded degree apprenticeship, open in Autumn 2021. Read the details here.

Already at university and have an eye for design?

Submit your idea to the James Dyson Award.


 

The 2021 James Dyson Award closes for entries on 30th June. Find out more about how to enter here .

Throughout this year's Award, stay up to date with how past winners are engineering our futures on the James Dyson Award Instagram page and the Dyson Newsroom.
Engineering Hero Technology

Discover the engineers behind Dyson's hero technology

Read more about the inspiring female engineers behind iconic Dyson technology this International Women in Engineering Day and hear their advice of the next generation of #EngineeringHeroes.

James Dyson Award Engineering Heroes

Discover the inventors behind game-changing future technology

Read more about the James Dyson Award's inspiring past female winners this International Women in Engineering Day.