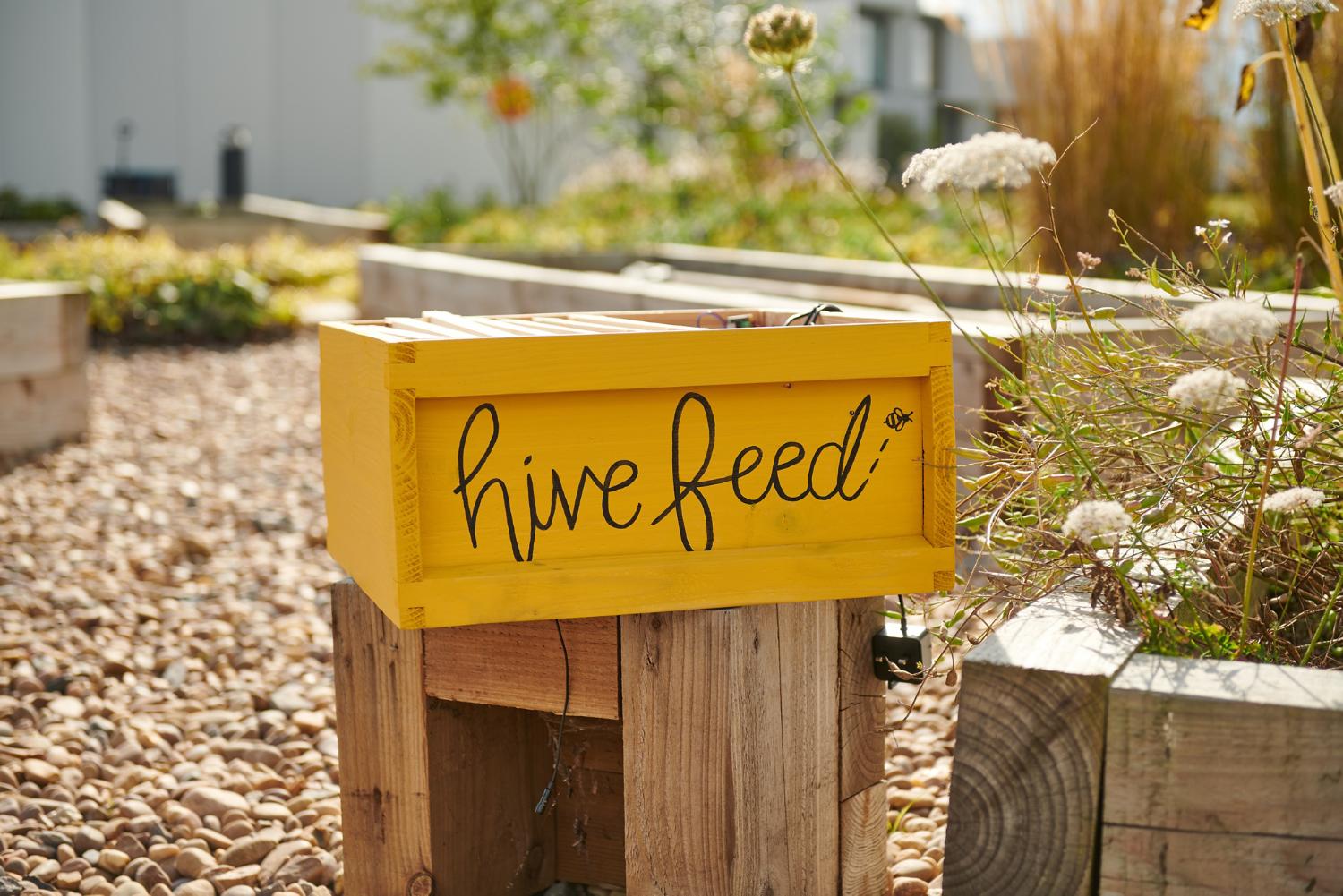 Inventions to save the world: what Dyson's Undergraduate Engineers do in their summer holidays
Engineers are the world's problem solvers. And in a world with mounting environmental and humanitarian crises, the Dyson Institute Undergraduate Engineers set about designing solutions in their summer holidays, aligned with the UN Sustainable Development Goals (SDGs). With only a short period of time to take their inventions from concept to reality, here's what the Dyson's First Year Institute students were able to achieve.
"Young people want to change the world and we must support them to do that."
 - Sir James Dyson, Founder and Chief Engineer at Dyson.
Hive Feed

Pollination is a fundamental process for the survival of our ecosystems, contributing to food security and biodiversity. Almost 90 per cent of the world's flowering plant species, 75 per cent of our planet's food crops and 35 per cent of agricultural land depend on animal pollination, with bees being one of the primary species of this important group. But pollinators are increasingly under threat from human activities.

 

"We were driven to design a smart solution centred around bee hives after reading research from world leading naturalists that suggests that if our bee populations die out, humans would have just four years left to live," explains Freya Moore, leader of the project. What's more, the survival of bees relates tomultiple UN SDGs, including protecting Life on Land and promoting Zero Hunger.

 

Being members of The Dyson Institute Bee Keeping Club, the project team identified some key problems they could solve. Keeping hive conditions favourable to the colony can be difficult as opening the hive up to inspect it disturbs bees. As such, parasites and unstable heat and humidity conditions can be hard to detect and lead to the decline of the hive.

 

The group's invention, Hive Feed, is a modular system that fits into any national standard-sized hive. Thanks to a sophisticated electronics system, comprising of temperature and humidity sensors, internal infrared cameras, microphones, an Arduino Feather and a Raspberry Pi, the smart sensing technology can permanently detect and measure the temperature, humidity and vibrations within the hive. These measurements are fed into a dashboard that shows the user the live conditions in the hive and alerts them when action needs to be taken.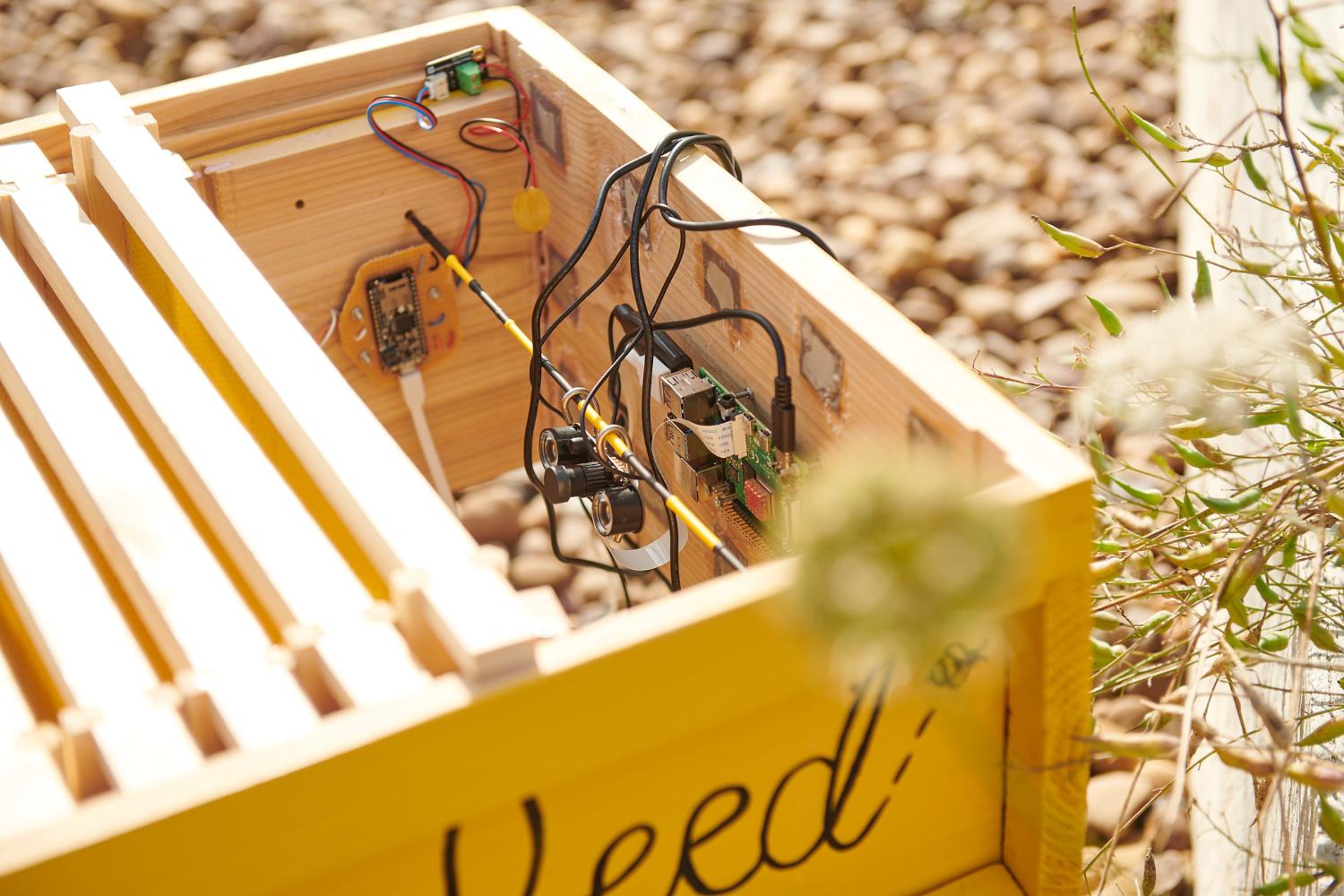 Smart Posture-Correcting Chair

While posture-correction may not seem like an obvious solution to the UN SDGs, after a year of working from home in a pandemic, bad posture has become an epidemic. One in three people state that back pain impacts their everyday life and its estimated that 186.7m working days a year are lost due to back pain[i]. This goes against the UNs commitment to support Good Health and Wellbeing as well as Decent Work and Economic Growth.

 

The Smart Posture-Correcting Chair project lead by Shrey Shah aims to develop a smart chair that gives the user feedback on their seated position and send communications via an app when their posture starts to slip.

 

The chair works through a system of 10 pressure sensors integrated in the back and seat of the chair. It monitors the way the individual is sitting 100 times per second and provides real time feedback to an app on the user's phone, converting the 10 sensor outputs into one easy to read 'posture score'. With all the electronics integrated in the chair it's designed to be compact, and not impact the comfort of the chair.

 

"Solving problems that others ignore is what we do at Dyson, and bad seated posture is often overlooked until it becomes a problem that can't be ignored. Integrating software to being seated could be the solution to an issue that impacts the health and wellbeing of so many".

- Shrey Shah, Dyson Undergraduate Engineer and project leader of Smart Posture-Correcting Chair.
Water-Saving Toilet Hand Wash Basin Conversion Kit

Access to clean water and sanitation is not only a recognised human right, but it is also part of the UN's SDGs. Despite this, the World Health Organisation and UNICEF estimate that more than 884 million people do not have safe water to drink and almost two billion people do not have access to basic sanitation – that's more than 25 per cent of the world's population[i],[ii]. Compounding this issue, its estimated that the average person in the UK produces 150 litres of waste water every day[iii].

 

"We were struck by the fact that so many of us take water for granted, despite it being so hard to come by for others" says Kuba Rogozinski, leader of the project. "About 30 per cent of total water used in a home is used to flush the toiletᶦᵛ, and in the UK this water is the same high-quality water that's in our taps. We wanted to design something that would recirculate water effectively and reduce waste."

 

To solve this problem, Kuba Rogozinski and his team developed a Water Saving Toilet Sink Conversion Kit, aimed at reducing the water consumption of typical households and providing an alternative solution to bathroom design. To do this, they removed the ceramic top of the toilet cistern and installed a 'toilet tap' through a universal mounting system designed to fit on top of any regular toilet.

 

A sink basin is mounted on top of this system to function as a regular hand washing station, but with added intelligent features. It tracks how much water is being used via an LCD display, which is motion activated through the use of proximity sensors to minimise contact and maintain hygiene. The water that would usually only refill the toilet ready to flush again is instead used to clean your hands before it's used to flush. Together, this technology promotes water saving, cleanliness and sustainable living in compact spaces.

 
Intelligent Composting

Supporting cities to be sustainable and promoting responsible consumption and production of goods are two of the UN's SDGs. Looking at ways in which to support this, Xander Goode and his team explored what a smart composting system could look like, making home composting easier, reducing food waste in cities and paving the way for new renewable energy sources.

 

After carefully considering the problems that needed to be addressed in current home composting, the team landed on a design could hold 27 litres of compost. The prototype includes an air-tight lid mechanism, an activated carbon odour filter and user interface to make the composting process more ergonomic, as well as liquid-solid separation system to create different types of compost of different usage. 

Key to the design is the sensor and UI technology, which measures and reports methane, ammonia, temperature and humidity levels. This, in turn, notifies the user and prompts behaviour change – such as adjusting the temperature – to optimise the composting conditions within the bin. The compost generated can in turn be used to improve soil quality for house plants or urban allotments.

 

"Composting is often regarded as this messy process that's only possible if you have a big garden and time to spare," says Xander. "We hope this invention could make composting far more feasible for city dwellers, derive more potential from our existing waste streams and support healthier urban growing of fruit and vegetables". 
Condensed Farming System

The UN estimates that 2.37 billion people are without access to food or unable to eat a healthy, balanced diet on a regular basis. Post-pandemic, this number is expected to have increased.

 

"Growing food is difficult at the best of times, but often people in need don't have ground to farm, or the ambient conditions and weather aren't favourable to food growth," says Ben Howick, leader of the Condensed Farming System project. "That's why we wanted to explore a low-cost, low-maintenance condensed farming system that could be easily transported and potentially work off-grid. Not only could this help support people who don't have access to food, but also provide a sustainable solution to disaster relief support when the existing food supply is disrupted."

 
The design is based on a hydroponic system – whereby plants are grown in a water-based nutrient-rich solution rather than soil – housed in an insulated, drainpipe-like module fitted with sensors. This enables the temperature, humidity and light source to be monitored and regulated, giving the crops inside the module what they need regardless of the conditions outside. The isolated and sectional design also means that the system can be manufactured easily and laid out in a shipping container or similar structure, maximising the yield of crops possible. 

 

"Not only are these projects globally relevant," explains Ben Edmonds, Principal Engineer at Dyson and a member of this year's judging panel of the Summer Series projects, "but they are also highly creative solutions. Combining hardware and software, it is amazing to see that many of these inventions can provide real-time information that catalyse behaviour change and improve people's lives – while looking out for the planet. It was a pleasure to judge this year's Summer Series, and I look forward to seeing the potential of these inventions realised outside of the lab one day soon."

 
"The Summer Series projects provide the perfect opportunity for first-year students to design, build and test creative solutions to some of the world's most pressing challenges. It provides the students with the space to develop their professional skills on a project that they own and manage, putting into practice the theory and tools that they learn in the accompanying workshops. This hands-on approach is at the core of The Dyson Institute's approach to learning and development and allows them to apply these skills in the other areas of the programme such as in the workplace".
 - Madeleine Steer, Project Manager in the Professional Development team and organiser of this year's Summer Series at the Dyson Institute.
Find out more about the Dyson Institute

An immersive engineering degree for the next generation.

Meet our first graduating cohort

Four years after the Dyson Institute was founded, 33 engineers graduate.
[i] American Physical Therapy Association (2020). Most Americans Live with Low Back Pain – and Don't Seek Treatment [Online]. Available from: https://www.prweb.com/releases/apta/low_back_pain_survey/prweb9366244.htm [Accessed 6 December 2020]
[ii] Prüss-Üstün A., Bos, R., Gore, F. & Bartram, J. 2008. Safer water, better health: costs, benefits and sustainability of interventions to protect and promote health. World Health Organization, Geneva.
[iii] World Health Organization and UNICEF Progress on household drinking water, sanitation and hygiene 2000-2017. Special focus on inequalitiesexternal icon. United States: United Nations Children's Fund (UNICEF) and World Health Organization (WHO) Joint Monitoring Programme for Water Supply and Sanitation, 2019.
[iv] https://www.waterwise.org.uk/wp-content/uploads/2018/02/Waterwise-2012_The-Facts_Why-do-we-need-to-think-about-Water.pdf